2009 Billabong Pipeline Masters Day 2
Day two of the final event of the Vans Triple Crown and ASP Men's World Tour hit the Banzai Pipeline Friday, and we were on the beach with the play-by-play.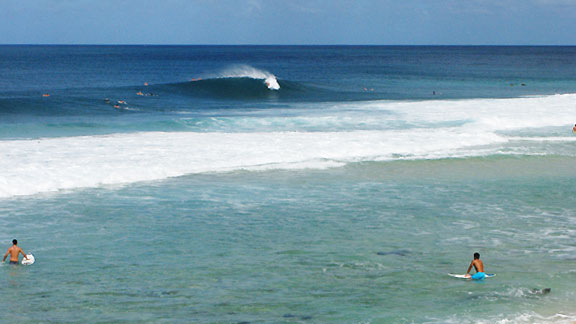 WhisperAn inviting Backdoor lineup.
Day Two was a proper Backdoor brawl. With Pipe pretty quiet, no one went left all day. But the rights provided plenty of action, and proved pivotal to a number of careers. Throughout the entire 2009 ASP season, wild cards have played a critical role -- just ask Kelly Slater -- but they're particularly deadly at Pipe, where the specialists have more slots than at other events and key local knowledge -- just ask Timmy Reyes.
Reyes came up against Bruce Irons yesterday and not only lost his heat; he lost his slot on the 2010 World Tour in the process. Today, it was Andy Irons' turn to play spoiler. In the final heat of Round 2, the three-time World Champ posted a 9.77 and a 9.54, showing Australia's Drew Courtney the door for next year's Tour while sending a message to those remaining that he's very serious about a 2010 campaign. But for now, he has his beloved Billabong Pipeline Masters.
The swell is already showing on outer buoys and a full day of competition is nearly certain for Saturday, with the World Title race between Joel Parkinson and Mick Fanning on the line. Keep it tuned to ESPN Surfing for more from the most sacred reef in the world.
---
11:05 a.m. HST: Thar she blows. Marine Mammals are here for the winter. You can see humpback whales breaching out on the horizon. --JC
---
10:41 a.m. HST: The last heat of the day appears to be in the water, Andy Irons vs. Drew Courtney. Courtney needs to keep making heats if he has any hopes of re-qualifying for the tour in 2010, Irons has to keep making heats if he's to get any momentum going into next year. After a year off, the three-time world champ needs a result at Pipe to feel good about himself. --JH
---
10:40 a.m. HST: The surf is fading pretty quick, but never fear, the forecast for the weekend looks solid. "It's going to be bombing on Saturday and Sunday," said longtime North Shore photog Pete Hodgson. "This could be a classic." --JH
---
10:35 a.m. HST: Hank Gaskell just murdered his heat. Gaskell won the Xcel Pro at Sunset back in early November. It was clutch, as he has been without a sponsor most of the year. In his heat against Ben Dunn, he not only smoked several barrels, but he managed to get off some of the best turns of the event thus far. Gaskell was still in the water and yelling for joy when the results were announced. He still has no sticker on his board, going to the third round of the Pipe Masters. --JC
---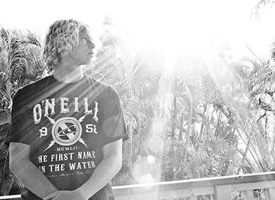 Sam OlsonLocal boy done good.
10:07 a.m HST: Looking at the results from Heat 12, you'd think Heitor Alves got hurt or something. He only caught four waves and earned a meager 3.24. But the only thing wrong with Alves was his competition. No one told John John Florence that this is the biggest event of his career. The kid put together arguably the most dominant performance of the event so far, surfing 11 waves and earning throwaway scores that the webcast announcers were joking he should sell to his competitors. His heat score of 18.9 is the second highest of the event.
Speaking of the North Shore's favorite former grom, Jon Coen caught up with Florence yesterday after that insane performance. You can read his interview here.--JH
---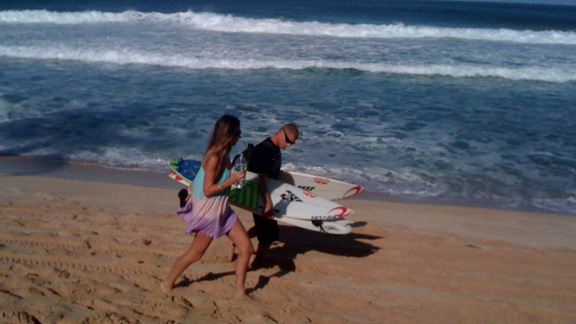 Jon CoenMick and his lady.
10:00 a.m. HST: Well, here comes Mick Fanning. The tone on the beach just changed. When Fanning won his title in 2007, he had clinched it before Hawaii. Chances are, however, that he still won't surf today.--JC
---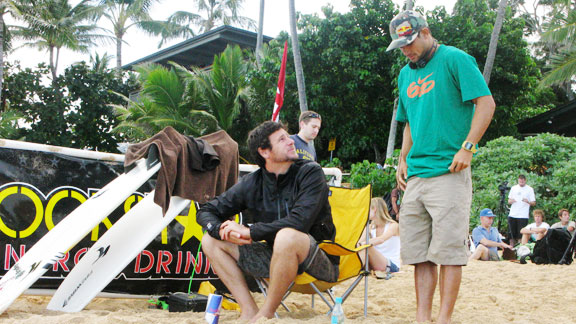 WhisperMichel Bourez and coach Andy King talking strategy.
9:27 a.m. HST: Yesterday after the contest ended the waves got really good and the pack out at Pipe, Backdoor, and Off The Wall was thick. Michel Bourez was out in the mix, and after a couple good ones the Tahitian took a licking. "I got hit in the throat by my board," he described this morning. "I think I'll be ok, but it hurt." Modesty is all well and good, but apparently Bourez's having a little trouble drawing deep breathes. He has less than four minutes left in his heat against Flynn Novak and it's not looking good. He's not out, but the injury could definitely be playing a roll. --JH
---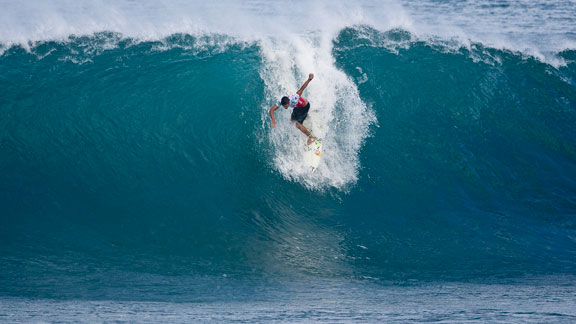 Joli
8:22 a.m. HST: "There's some weird wide ones at Backdoor that could be 9.5s easy," says Shane Beschen.--JH
---
8:19 a.m. HST: It's a little bit of a long shot, but should we go into Round 3, there is the possibility the world title race could be decided today. If Joel Parkinson and Mick Fanning should surf, Parko unquestionably has to win his heat to keep the dream alive. The two have been staying three houses apart from one another all winter, and everytime one paddles out the other is perched on their deck watching ... like two boxers watching each other workout with their sparing partner.--JH
---
8:02 a.m. HST: We're underway for Day 2 of the Billabong Pipeline Masters. The swell's declined a little bit, but there's still some crazy ones at Backdoor. Heats today are going to be won and lost at Backdoor today. The plan for the morning is to get through at least nine heats, which means finish Round 2 and revaluate after that. Yesterday 23 heats were surfed and 23 surfers were eliminated, it's game on. --JH
---
Also See

It's been a busy week in surfing, what with the Eddie, the Triple Crown, and the Swell Of The Decade all hitting at once. Keep up with ESPN Surfing.
FULL COVERAGE
RELATED GALLERIES
RELATED VIDEO
RELATED STORIES
MORE ACTION SPORTS HEADLINES
MOST SENT STORIES ON ESPN.COM