2010 U.S. Open of Surfing coverage
Full coverage from the biggest surf contest in America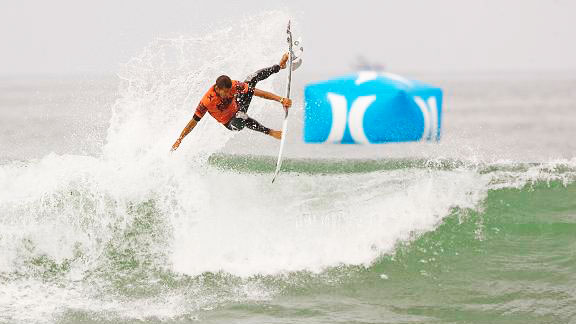 ASP North AmericaYoung Brazlian goofy-footer Jadson Andre continues to thrive in the playful Huntington conditions.
"Maybe one of you guys can win this since you couldn't win the World Cup," joked Peter King, interviewing Brazil's Jadson Andre.
Given that the first three heats of the day were won by Gabriel Medina, Miguel Pupo and Andre, it's not too much of a stretch to think that one of the Brazilians may go the distance. All three are young goofy-footers with nothing to lose and everything to gain. Medina and Pupo are still under 20, and their profiles have yet really hit the radar here in the States, but after winning the Billabong Santa Catarina Pro a couple months back, World Tour rookie Andre is rapidly making the name for himself.
"There wasn't this kind of support in Brazil 10 years ago, but thanks to what Adriano's been able to accomplish, we now have more support to go out and surf better waves and travel to more events," told Andre after his heat win.
"I'm so proud of how these guys are doing," said Adriano De Souza, who also advanced today and is kind of like the godfather at 24 years old. "We've been sticking together, firing each other up, and it's good to see how good this next generation is going to be for Brazil."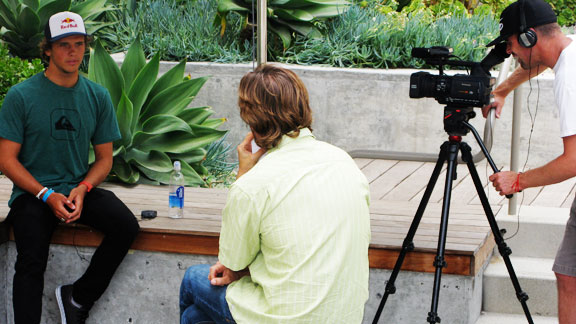 S. WhisperJulian Wilson's new film "Scratching The Surface" opens tonight in Costa Mesa, and with the big premier the star's been swamped by the obligatory media responsibilities.
But for as dominant as the Brazilians have been, a nod is owed to the Californians, who also have a tight, talented little pack. As the men's heats wound down for the day, Nathaniel Curran and Dane Reynolds took out Owen Wright, and Brett Simpson and Pat Gudauskas that were able to knock off Billabong Pro J-Bay finalist Adam Melling. All told, going into the final weekend there are four Brazilians, four Australians, five Americans, one Hawaiian and one South African left in the event.
Besides issues of global domination, it's worth pointing out that today the format of the event changed slightly, as heats went down from a four-man to a three-man structure, with first and second advancing. As most Pro Juniors utilize a four-man format the youngsters left surfing are slightly more familiar with that format, hence the advantage shifted to the more senior veterans.
"Everything becomes more focused when the number of surfers is reduced," described Rob Machado. "You're able to keep track of people better and you pay more attention to what everybody else is doing in the water.
And how to illustrate this point better than Kelly Slater, who continues to methodically handle his business. Withstanding the onslaught of De Souza and Heitor Alves today, he hardly broke a sweat. "I wasn't too pressured, just a little bit bored," he said afterward, referring to the two-foot mush he'd been bobbing around in.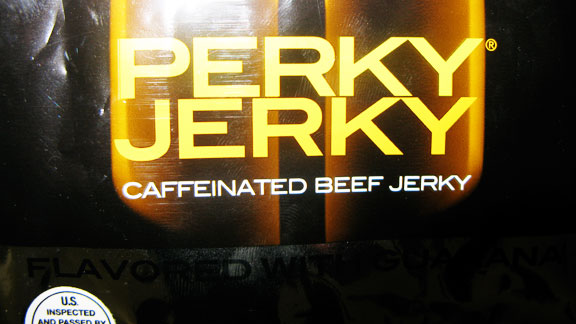 S. WhisperNothing like a Red Bull and hearty bag of "Perky Jerky" to get you through a long Friday at the U.S. Open. Note: the defibrillator's located at the base of the pier.
Unlike Slater, there were those that did succumb to the increased pressure. Wildcard Evan Geiselman and trialist Ola Eleogram were both finally eliminated, Geiselman went down to Cory Lopez and Nic Muscroft, while Eleogram fell to Medina and Bede Durbidge. "I can't be that disappointed," said Geiselman, keeping his chin up. "I got to surf in this crazy event, I got some really good experience, and I made a few heats, so it's been a good run."
It was all business on the ladies side, as they surfed through the quarterfinals today. Interestingly, even more so than the men, it's the young women that have been, in the words of Rabbit, bustin' down the door. At the start of the day, out of the eight girls left, seven are under 20. And with a record $50,000 on the line, women's surfing is remarkably more interesting than it once was ... and given how many people stayed on the beach to watch the quarters, folks actually seem to care. Carissa Moore and Sally Fitzgibbons were the big names, and considering they're on opposite sides of the draw, chances are pretty good that we'll see them duel in the final.
Today was supposed to be the smallest day of the entire event window, and there's forcast to be a nice, healthy southern hemi swell filling in for the weekend. So hopefully we've seen the last of the Huntington Hop, or as Barton Lynch calls it, "Killing cockroaches."
US Open of Surfing Men's Round of 24 Results:
Heat 1: Gabriel Medina (BRA) 15.50, Bede Durbidge (AUS) 9.77, Ola Eleogram (HAW) 7.17
Heat 2: Miguel Pupo (BRA) 15.00, Jordy Smith (ZAF) 14.03, Kiron Jabour (HAW) 11.00
Heat 3: Jadson Andre (BRA) 16.53, Mick Fanning (AUS) 13.00, Kekoa Bacalso (HAW) 8.93
Heat 4: Cory Lopez (USA) 12.04, Nic Muscroft (AUS) 9.03, Evan Geiselman (USA) 8.54
Heat 5: Granger Larsen (HAW) 14.26, Adrian Buchan (AUS) 12.00, Jay Thompson (AUS) 6.67
Heat 6: Kelly Slater (USA) 13.84, Adriano de Souza (BRA) 12.50, Heitor Alves (BRA) 6.07
Heat 7: Nathaniel Curran (USA) 12.70, Dane Reynolds (USA) 11.13, Owen Wright (AUS) 9.17
Heat 8: Brett Simpson (USA) 15.00, Patrick Gudauskas (USA) 13.00, Adam Melling (AUS) 12.93
US Open of Surfing Women's Quarterfinals Results:
Heat 1: Carissa Moore (HAW) 13.67 def. Laura Enever (AUS) 8.16
Heat 2: Lakey Peterson (USA) 10.77 def. Tyler Wright (AUS) 10.50
Heat 3: Sally Fitzgibbons (AUS) 11.50 def. Sarah Baum (ZAF) 6.30
Heat 4: Jacqueline Silva (BRA) 15.10 def. Justine Dupont (FRA) 10.27
US Open of Surfing Pro Junior men's Quarterfinals Results:
Heat 1: Kolohe Andino (USA) 16.00, Ian Crane (USA) 15.23, John Florence (HAW) 13.60, Nat Young (USA) 13.36
Heat 2: Evan Geiselman (USA) 10.33, Cooper Chapman (AUS) 6.94, Kiron Jabour (HAW) 5.93, Andrew Doheny (USA) 4.37
Heat 3: Miguel Pupo (BRA) 14.66, Granger Larsen (HAW) 14.04, Evan Thompson (USA) 12.93, Chase Wilson (USA) 11.16
Heat 4: Alejo Muniz (BRA) 8.70, Jacob Halstead (USA) 5.70, Luke Davis (USA) 3.27, Fisher Heverly (USA) 1.93
Also See

ESPN Surfing is all over the World Tour. The proof's in the links.
BILLABONG PRO JEFFREYS BAY COVERAGE
BILLABONG PRO BRAZIL COVERAGE
RIP CURL PRO COVERAGE
RIP CURL PRO VIDEO
RIP CURL PRO PHOTOS
QUIKSILVER PRO COVERAGE
QUIKSILVER PRO VIDEO
QUIKSILVER PRO PHOTOS
INTERVIEWS
RELATED VIDEO
RELATED PHOTOS
MORE ACTION SPORTS HEADLINES
MOST SENT STORIES ON ESPN.COM