Winds lie down, ladies step up
Fitzgibbons and Hareb shine as favorites advance at Taranaki, New Zealand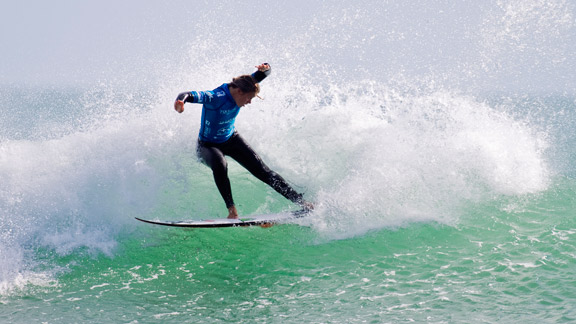 ASPLocal favorite Paige Hareb en route to her round one victory over Chelsea Hedges and Tyler Wright.
A cool $100,000 is up for grabs this week at the Subaru Pro TSB Bank Women's Surf Festival in Taranaki, New Zealand as the competition continues in the ASP's third of seven stops in 2011.
The contest, which was set to kick off on Wednesday, was pushed to Thursday due to gale-force winds. Competition remained delayed in the morning, but round one eventually got underway in knee-to-waist-high surf with favorable conditions.
The first heat of the day pitted World Tour rookie, 17-year-old Tyler Wright and her fellow Australian and former World Champion Chelsea Hedges, 27, against the World Tour's only New Zealand surfer: Paige Hareb.
"I was lucky to get the two better waves of the whole heat," Hareb told the ASP. "I just surfed them and didn't try too hard, I wanted to get a score under my belt and it paid off. It's my best result of the season so I'm stoked."
Hareb took the heat with a combined two-wave total of 15.0 over the veteran Hedges' 7.9 and Wright's 6.75, earning a round two bye. There were few surprises from that point on.
World number one Carissa Moore, defending and four-time world champion Stephanie Gilmore, and Sally Fitzgibbons -- winner of last week's Rip Curl Pro at Bells Beach -- all won their heats. Fitzgibbons did so with the day's highest individual wave scores: an 8.95 and a 9.50, which combined for the highest heat score of the day as well at 18.45.
"It still feels exciting coming straight off a win at Bells," Fitzgibbons told the ASP. "I feel like my surfing has been on the right track for the last couple of years but I was making a few mistakes. I think I've learned a lot from the ins and outs of losing as well as winning so it feels really nice to get another win out here today."
TSB Bank Women's Surf Festival Round 1 Results:
Heat 1: Paige Hareb (NZL) 15.00; Chelsea Hedges (AUS) 7.90; Tyler Wright (AUS) 6.75
Heat 2: Courtney Conlogue (USA) 16.10; Silvana Lima (PER) 14.10; Rebecca Woods (AUS) 11.20
Heat 3: Carissa Moore (HAW) 12.75; ); Sarah Mason (NZL) 11.30; Jessi Miley-Dyer (AUS) 10.50
Heat 4: Sally Fitzgibbons (AUS) 18.45; Claire Bevilacqua (AUS) 15.35; Pauline Ado (FRA) 10.00
Heat 5: Stephanie Gilmore (AUS) 16.10; Laura Enever (AUS) 9.15; Alana Blanchard (HAW) 3.10
Heat 6: Melanie Bartels (HAW) 13.95; Coco Ho (HAW) 13.40; Sofia Mulanovich (PER) 12.90
Round 2 Matchups:
Heat 1: Chelsea Hedges v Jessi Miley-Dyer
Heat 2: Sofia Mulanovich v Rebecca Woods
Heat 3: Silvana Lima v Sarah Mason
Heat 4: Tyler Wright v Claire Bevilacqua
Heat 5: Coco Ho v Alana Blanchard
Heat 6: Laura Enever v Pauline Ado
Also See

Follow the best women surfers in the world on ESPN.
Carissa Moore
2011 Roxy Pro Biarritz
2011 Billabong Pro Rio
2011Commonwealth Bank Beachley Classic
2011 Subaru Pro TSB Bank Surf Festival
2011 Rip Curl Pro
2011 Roxy Pro
MORE WOMEN'S SURFING
Surfing Blog | ESPN Action Sports
MORE ACTION SPORTS HEADLINES
MOST SENT STORIES ON ESPN.COM