Fitzgibbons wins 2011 ASP Subaru Pro
Fitzgibbons banks her second-consecutive ASP victory in Taranaki, New Zealand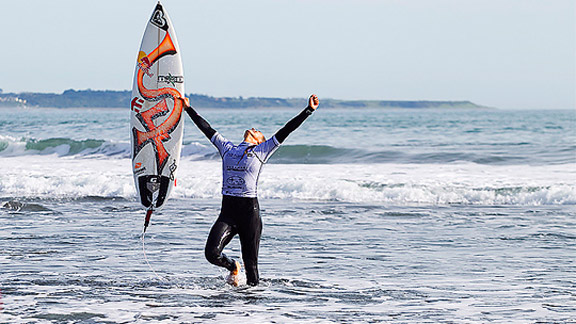 ASPSally Fitzgibbons emerges triumphant at the ASP Subaru Pro TSB Bank Women's Surf Festival in New Zealand.
Fresh off her inaugural ASP tour victory last week at Bells Beach, Australian Sally Fitzgibbons streaked to her second consecutive conquest at the ASP Subaru Pro TSB Bank Women's Surf Festival in New Zealand this weekend.
The final face-offs of the Subaru Pro went down on Friday at Back Beach with glassy three-foot waves, which flattened out and slowed their roll as the afternoon went on. The first horn sounded at 7:30 a.m. local time, and after round four repechage heats, quarterfinals, semis, and final showdown, the victor was crowned some six hours later.
Notable results from the morning sessions included the early exit of four-time and current ASP world champion Stephanie Gilmore. Gilmore, who placed ninth overall in the event, fell at the hands of goofy veteran Chelsea Hedges, who loved the left-handers gifted throughout the three-day festival. Hedges later fell in the quarterfinals at the hands of Fitzgibbons in a heat that didn't offer too many quality bowls to choose from. In fact, in the following heat between Coco Ho and Paige Hareb had to be reset on account of exceptionally slow conditions.
The closest heat of the day was the quarterfinal back-and-forth between the young Hawaiian, Carissa Moore and rookie Californian, Courtney Conlogue in a 13.77 to 13.10 squeeker.
Despite solid peripheral performances from the field, the Subaru Pro storyline was undeniably Sally Fitzgibbons surging in the spotlight. "This means the world to me," Fitzgibbons told the ASP. "I'm so stoked to get a win here in New Zealand. Last year I got runner-up so to take the win today is extra special."
Fitzgibbons defeated Moore, the festival's defending champ, in the finals. After winning the first event of the season, Moore has twice since been forced to settle for second place behind to Fitzgibbons. Only 500 points now separate the two competitors in the hot campaign for the 2011 ASP Women's World Title.
Moore, who is riding her first full-time year on the tour (she was only part-time in 2010 so she could graduate from high school), posted two strong performances on the day but was unable to find the waves she needed to beat Fitzgibbons in the final. "I definitely chose the wrong spot in the lineup," Moore explained. "Sally did a really good job, she was really smart. She picked the right spot in the lineup and she definitely came into play and put on a good performance."
Said Fitzgibbons of her winning strategy, "The waves today were pretty challenging. Entering the water I saw a little peak down the beach ... I just went out there and thought, I'm in the final and I just wanted to go for it and that's where I was going to surf."
The risky move paid off.
ASP rookie Tyler Wright, 17, netted a third place overall finish after falling to Moore in the semifinals for the second time this season. Said Wright, "I'm a rookie so obviously I've made a lot of rookie mistakes. Every heat I learn as I go and to be at World No. 3, I couldn't really ask to be in a better spot right now."
The next event on tap for the ladies comes this week on the Northern Beaches of New South Wales, Australia. The Commonwealth Bank Beachley Classic marks the fourth of seven events on the 2011 schedule.
Mary Buckheit is a freelance writer based in San Diego, California.
Subaru Pro TSB Bank Women's Surf Festival Final Results:
Sally Fitzgibbons (AUS) 16.00 def Carissa Moore (HAW) 8.86
Subaru Pro TSB Bank Women's Surf Festival Semifinal Results:
Heat 1: Carissa Moore (HAW) 14.50 def. Tyler Wright (AUS) 9.67
Heat 2: Sally Fitzgibbons (AUS) 13.34 def Coco Ho (HAW) 0.80
 
Subaru Pro TSB Bank Women's Surf Festival Quarterfinal Results:
Heat 1: Tyler Wright (AUS) 14. 50 def. Pauline Ado (FRA) 11.50
Heat 2: Carissa Moore (HAW) 13.77 def. Courtney Conlogue (USA) 13.10
Heat 3: Sally Fitzgibbons (AUS) 15.67 def. Chelsea Hedges (AUS) 13.40
Heat 4: Coco Ho (HAW) 13.40 def. Paige Hareb (NZ) 8.73
Subaru Pro TSB Bank Women's Surf Festival Repechage Round:
Heat 1: Pauline Ado (FRA) 11.65 def. Silvana Lima (BRA) 8.35
Heat 2: Carissa Moore (HAW) 17.05 def. Rebecca Woods (AUS) 15.8
Heat 3: Chelsea Hedges (AUS) 16.75 def. Stephanie Gilmore (AUS) 15.5
Heat 4: Paige Hareb (NZL) 13.0 def. Melanie Bartels (HAW) 8.15
Also See

Follow the best women surfers in the world on ESPN.
Carissa Moore
2011 Roxy Pro Biarritz
2011 Billabong Pro Rio
2011Commonwealth Bank Beachley Classic
2011 Subaru Pro TSB Bank Surf Festival
2011 Rip Curl Pro
2011 Roxy Pro
MORE WOMEN'S SURFING
Surfing Blog | ESPN Action Sports
MORE ACTION SPORTS HEADLINES
MOST SENT STORIES ON ESPN.COM