Slater, Martinez no shows at J-Bay
Big news at J-Bay happens out of the water for round one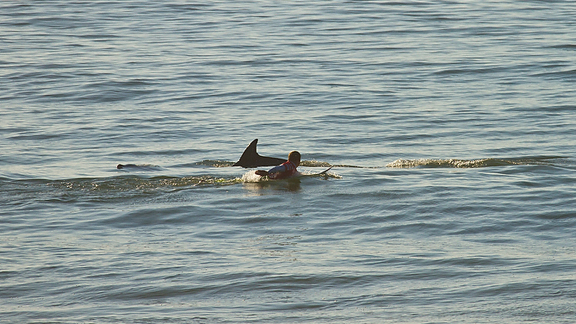 Peter 'Joli' WilsonWhile Slater was still in Fiji, Mick Fanning played with dolphins and won his heat at J-Bay.
Kelly Slater has done a lot for pro surfing during his 20-plus year career, but even he would be surprised by how fast a new ASP contest rule was made around his actions.
With round one of the Billabong Pro South Africa called on this morning in three-to-four-foot surf, Slater had let ASP officials know he was still in Fiji and wouldn't be making it in time for his heat. He also made it known that he wasn't withdrawing from the contest, because he believes he can still make it in time for round two.
Slater's decision got ASP officials talking, and within an hour that included a frantic ring around between the ASP board members, surfer representatives, and the ASP Tour Manager, a new rule had been put in place.
Basically it now says that if a World Tour surfer misses his first round heat and has not checked in within five minutes of the start of his round two heat, an alternative surfer can take his place.
Under the former rules, if a surfer hadn't withdrawn from an event and was a no show for both rounds one and two, then his opponent received a "walk through" to the round three.
Kieren Perrow, the Surfer Representative for the top 32, feels the rule change is a long time coming, but still far from perfect.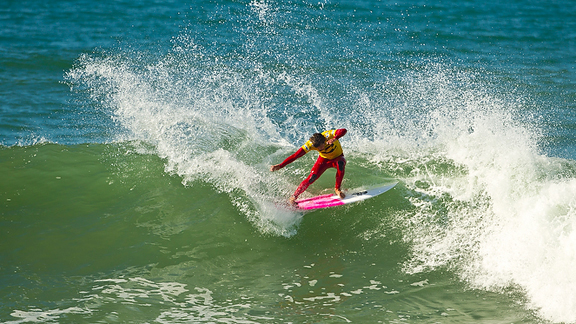 Peter 'Joli' WilsonJ-Bay virgin, Julian Wilson, gets comfortable in his first heat ever at the famed point.
"It gives the opportunity for an alternative surfer to be used if there is a no show, but it does throw the seeding out of wack for round two," he explained, "In this case, if Kelly doesn't make it for round two, then the alternate, who looks like it will be Travis Logie, will end up in heat one of round two against one of the contest wildcards. In Bobby's (Martinez) case it will be completely different, because he is such a low seed at the moment that whoever gets put in for him will get a higher-seeded surfer. At least round three gets re-seeded, so I guess it will sort out then. One other thing we have to keep our eye on is the five-minute part of the rule. We'll have to monitor really closely, so that it's not abused by event sponsors, to get alternative surfers into the contests."
Slater's no show was the talk of the contest today, especially with the prospect that they could have run all of round one and six heats of round two. The decision to hold off was because of the waves. It had nothing to do with Slater's absence. Because he's number one seed, and his no show counts as a loss today, he gets a second chance in the round two repercharge round. Slater is in the first heat against wildcard Shaun Payne.
The northeasterly sideshore wind and disappearing swell saw the contest stopped at the end of the first round and the execution of the new rule delayed. With the prospect of little or no surf over the next few days, round two could be delayed, giving both Slater and Martinez time to arrive in J-Bay. The word from the Quiksilver entourage is that Slater is still scoring epic eight-second barrels at Restaurants and is reluctant to leave. There is still no word from Martinez.
While all the fuss about rule changes, no-shows and monetary fines took place behind the scenes, in the water it was business as usual.
Mick Fanning and Dusty Payne had been dominating the free surf session over the past few days and continued that form into their respective heats. Julian Wilson, a J-Bay virgin, had looked reserved in his free surf sessions, but he unleashed today with tail sliding turns on the face and air time whenever the opportunity arose. Jordy Smith had the home crowd cheering when he casually tore Supertubes apart, and Joel Parkinson dominated the last heat of round one with a tight and controlled display.
Jordy Smith is the event's defending champion, and in a seeding twist that seems to happen from time to time, he was up against last year's fellow finalist Adam Melling and wildcard Sean Holmes, who has developed the reputation of being a J-Bay lion killer.
Holmes defeated Andy Irons at Jeffreys Bay three years running and has also knocked out Kelly Slater. He's a wildcard that nobody wants to draw, but Smith made sure he nailed the win today.
"We had a pretty close heat up in Durban last week," said Smith later of his heat against Payne at the Mr. Price Pro, "I got the win there and Sean was probably after me today to score one back, so I'm pretty happy to go two up against him."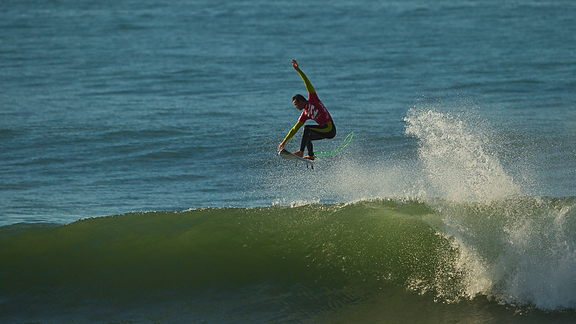 Peter 'Joli' WilsonJordy Smith soared right over perennial lion killer, Sean Holmes.
Smith had more than Holmes on his mind today. "I just got a new batch of Darren's (DHD Surfboards) and I hadn't really had a chance to try them but the one I rode today went really well so I'm happy."
When it was pointed out that he spent half the heat in the air he just laughed and said, "Well it worked pretty well when it was in the water."
So when will we see the surfers back in the water? That's a hard question to answer, even the contest officials are saying it's touch and go about tomorrows conditions and the prospect for good surf could be as far out as next Thursday. If we wait that long, the epic waves in Fiji could be over, Slater will be in J-Bay, Martinez could be here, and the new ASP rule may not come into play.
2011 Billabong Pro J-Bay Results
Round one:
Heat 1: Tiago Pires (PRT) 11.04, Bede Durbidge (AUS) 6.66, Cory Lopez (USA) 6.60
Heat 2: Jeremy Flores (FRA) 13.10, C.J. Hobgood (USA) 12.17, Fredrick Patacchia (HAW) 9.67
Heat 3: Jadson Andre (BRA) 12.90, Taj Burrow (AUS) 10.00, Gabe Kling (USA) 8.13
Heat 4: Mick Fanning (AUS) 15.73, Heitor Alves (BRA) 12.17, Bobby Martinez (USA) 0.00
Heat 5: Jordy Smith (ZAF) 16.87, Sean Holmes (ZAF) 14.93, Adam Melling (AUS) 14.57
Heat 6: Alejo Muniz (BRA) 12.77, Shaun Payne (ZAF) 7.46, Kelly Slater (USA) 0.00
Heat 7: Kai Otton (AUS) 13.50, Adriano de Souza (BRA) 8.50, Chris Davidson (AUS) 4.73
Heat 8: Josh Kerr (AUS) 12.70, Owen Wright (AUS) 8.43, Matt Wilkinson (AUS) 7.56
Heat 9: Daniel Ross (AUS) 11.70, Adrian Buchan (AUS) 7.80, Kieren Perrow (AUS) 7.73
Heat 10: Julian Wilson (AUS) 14.10, Taylor Knox (USA) 10.46, Damien Hobgood (USA) 9.70
Heat 11: Dusty Payne (HAW) 16.03, Michel Bourez (PYF) 9.10, Patrick Gudauskas (USA) 8.77
Heat 12: Joel Parkinson (AUS) 12.66, Brett Simpson (USA) 8.87, Raoni Monteiro (BRA) 7.60

Round two match-ups:
Heat 1: Kelly Slater (USA) vs. Shaun Payne (ZAF)
Heat 2: Taj Burrow (AUS) vs. Sean Holmes (ZAF)
Heat 3: Bede Durbidge (AUS) vs. Bobby Martinez (USA)
Heat 4: Adriano de Souza (BRA) vs. Gabe Kling (USA)
Heat 5: Owen Wright (AUS) vs. Fredrick Patacchia (HAW)
Heat 6: Adrian Buchan (AUS) vs. Cory Lopez (USA)
Heat 7: Damien Hobgood (USA) vs. Taylor Knox (USA)
Heat 8: Michel Bourez (PYF) vs. Raoni Monteiro (BRA) Heat 9: Brett Simpson (USA) vs. Adam Melling (AUS) Heat 10: Patrick Gudauskas (USA) vs. Heitor Alves (BRA) Heat 11: Kieren Perrow (AUS) vs. C.J. Hobgood (USA) Heat 12: Matt Wilkinson (AUS) vs. Chris Davidson (AUS)
Also See

ESPN Surfing is all over the ASP World Tour. The proof's in the links.
Billabong Pipeline Masters
Rip Curl Pro Search San Francisco
Rip Curl Pro Portugal
Quiksilver Pro France
Hurley Pro Trestles
Quiksilver Pro New York
Billabong Pro Tahiti
Billabong Pro J-Bay
Billabong Pro Rio
Rip Curl Pro Bells Beach
Quiksilver Pro Gold Coast
2011 ASP Prime events
2010 ASP World Tour Coverage
INTERVIEWS
MORE ACTION SPORTS HEADLINES
MOST SENT STORIES ON ESPN.COM