No Slater or Martinez at J-Bay
New rules imposed for missing surfers puts Travis Logie into round two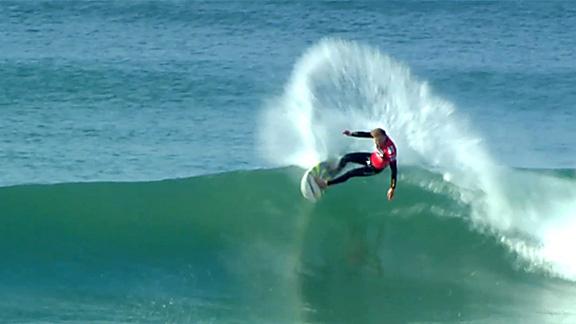 Billabong Pro J-Bay Day Two
A surprise swell allows organizers to run six heats of round two, and replace a missing Kelly Slater with Travis Logie.
Billabong Pro J-Bay Day Two
It's a rare occurrence in this day of computer modeling and long-range surf predictions when the forecasters get it wrong, but today was one of those days. Nobody involved with the running of the Billabong Pro J-Bay had the slightest inkling that they would be running heats today until first light this morning, when they were greeted with three foot of swell.
Jeffreys Bay usually gets swell from the south as the winter storms pass under the tip of Africa, but today's swell was coming in from the east. It turns out that there is a storm off the coast of Northern Africa, and it's pushing an east swell down the coast. Durban, to the north, was getting pounded today, while spots to the south, normally the indicator for J-Bay, were showing no swell at all.
The only problem was the inconsistency of the waves and consequently, heat were extended to 35 minutes. The Taj Burrow/Sean Holmes heat had to be re-started because of lack of waves in the first 10 minutes. The organizers used the rising tide to advantage and ran six heats before calling a stop. The high tide killed off the swell.
Six heats might not sound like a lot to change the history of pro surfing, but two of those six heats could have far reaching consequences. Kelly Slater was in the first heat of round two and according to whom you talk to, he was still in Fiji or on his way to J-Bay. Regardless of which story you believe, he wasn't there to check in five minutes before his heat, so under the new ASP rule enacted just two days ago, South African Travis Logie stepped in to take his place. Logie won his heat over Wildcard Shaun Payne, gaining valuable World Rating points along the way.
Logie had been playing a waiting game since the ASP created the new rule allowing alternative surfers entry into an event if a Top 32 surfer doesn't show for either his round one or round two heat.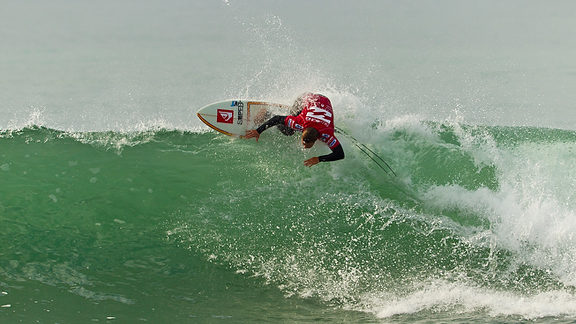 JoliKelly Slater's loss was Travis Logie's gain -- if epic Cloudbreak was a "loss" for Slater.
"You hear rumors, 'you're in, you're not in, Slater's coming, he's not coming,'" explained Logie about the pressure of hanging around and not knowing if he was going to get a start in the contest or not.
"I came down to the beach this morning not even expecting to see waves and all of a sudden, I had to start thinking about surfing a heat," he continued, "I really started to feel the pressure when they called the contest on. I didn't want all that drama of the last few days to be for nothing, especially after they made a new rule. I certainly didn't want to go out there and lose. Lucky there was one good wave, I got it, surfed it well and got through, so I'm stoked. The World Ranking points are huge in this event so it's really going to help me towards qualifying. I was injured in the early part of this year so I'm really up against it -- all the points count."
Logie will be re-seeded in round three and it looks like he will draw Jordy Smith, the defending champion, so he might not earn too many more ratings points, but figures at least one South African will be advancing into the fourth round.
Slater will use this contest as one of his 'throwaways' for this year's world title race, as only eight results count out of the 11 events. It might not seem like a big deal right now, but Slater has won here before and it's a place where he's traditionally done well. It could conceivably play a role in deciding this year's world title.
The other heat of consequence today was the heat three match-up between Bobby Martinez and Bede Durbidge. Martinez was also a no show and the second placed trialist, South African Shaun Joubert, was slotted in his place. Durbidge was successful and advanced to round three while Martinez will most likely miss the mid year Top 32 cut off and drop out of the World Title race.
Martinez has been outspoken about the ASP recently and today's missed heat is sure to add to the controversy. He hadn't contacted ASP officials until yesterday to explain his absence from the contest. He'd expressed his wish to surf in round two, but dealing with Mother Nature, nobody could give him a definite answer as to when round two would run. Apparently Martinez had landed in South Africa from California and was on his way to Jeffreys Bay when his heat was in the water. There was one story that he'd made it as far as the contest car park and if that is true Martinez's frustrations will only increase.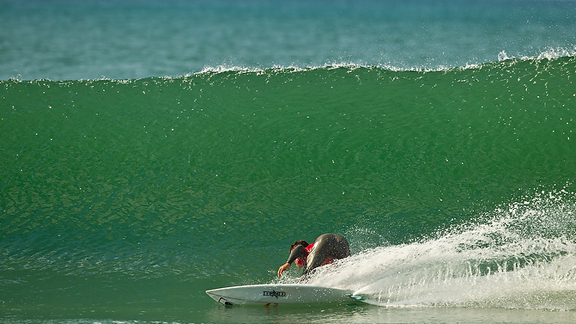 JoliAdriano de Souza's knee issues appear to be well in hand.
On the positive side of today's heats, Taj Burrow wailed his heat against lion killer Shaun Holmes, Adriano de Souza kept his ranking lead on track with an emphatic win, and Adrian Buchan put a first round shocker behind him.
The long-range surf prediction for Jeffreys Bay has waves, solid waves, for the last two days of the waiting period, but it's also showing strong onshore winds and looking like a relatively messy forecast. After today's six heats, the pressure has come off the organizers because everything can be wrapped up in two days. Now we just have to wait to see if the computer forecasts are right or wrong or will Mother Nature spring us another surprise at sunrise.
BILLABONG PRO JEFFREYS BAY ROUND 2 RESULTS:
Heat 1: Travis Logie (ZAF) 12.33 def. Shaun Payne (ZAF) 7.30
Heat 2: Taj Burrow (AUS) 14.33 def. Sean Holmes (ZAF) 6.04
Heat 3: Bede Durbidge (AUS) 15.10 def. Shaun Joubert (ZAF) 11.06
Heat 4: Adriano de Souza (BRA) 14.03 def. Gabe Kling (USA) 12.50
Heat 5: Owen Wright (AUS) 11.86 def. Fredrick Patacchia (HAW) 10.77
Heat 6: Adrian Buchan (AUS) 15.80 def. Cory Lopez (USA) 6.50

REMAINING BILLABONG PRO JEFFREYS BAY ROUND 2 MATCH-UPS:
Heat 7: Damien Hobgood (USA) vs. Taylor Knox (USA)
Heat 8: Michel Bourez (PYF) vs. Raoni Monteiro (BRA)
Heat 9: Brett Simpson (USA) vs. Adam Melling (AUS)
Heat 10: Patrick Gudauskas (USA) vs. Heitor Alves (BRA)
Heat 11: Kieren Perrow (AUS) vs. C.J. Hobgood (USA)
Heat 12: Matt Wilkinson (AUS) vs. Chris Davidson (AUS)

Also See

ESPN Surfing is all over the ASP World Tour. The proof's in the links.
Billabong Pipeline Masters
Rip Curl Pro Search San Francisco
Rip Curl Pro Portugal
Quiksilver Pro France
Hurley Pro Trestles
Quiksilver Pro New York
Billabong Pro Tahiti
Billabong Pro J-Bay
Billabong Pro Rio
Rip Curl Pro Bells Beach
Quiksilver Pro Gold Coast
2011 ASP Prime events
2010 ASP World Tour Coverage
INTERVIEWS
MORE ACTION SPORTS HEADLINES
MOST SENT STORIES ON ESPN.COM