Familiar feeling
Joel Parkinson keeps No. one slot as Jordy Smith wins Billabong Pro J-Bay again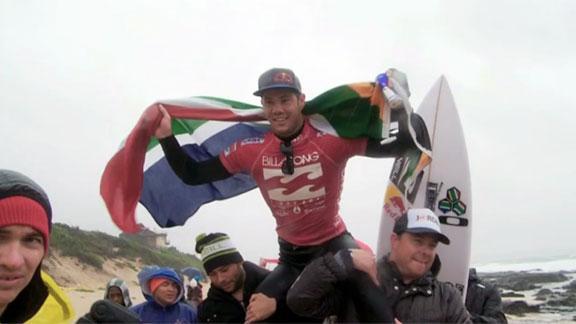 Jordy Smith Wins J-Bay
Jordy Smith defeated Mick Fanning to win his second J-Bay trophy.
Jordy Smith Wins J-Bay
2011 Billabong Pro J-Bay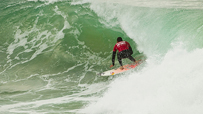 Jordy Smith excels in all conditions to win at J-Bay. Gallery

"It is such an amazing feeling, possibly the best feeling in the world, to win back-to- back contests here in front of my family and friends," said Jordy Smith, wrapped in a South African flag. "I don't even think I have even won back-to-back club contests, nevermind World Championship events."
Along with fellow finalist Mick Fanning, Smith was the survivor today at the Billabong Pro J-Bay. The predicted onshore winds had blasted through J-Bay around 4 a.m. bringing driving rain with it. With just seven heats to finish the event, the conditions were going to be tough on the competitors.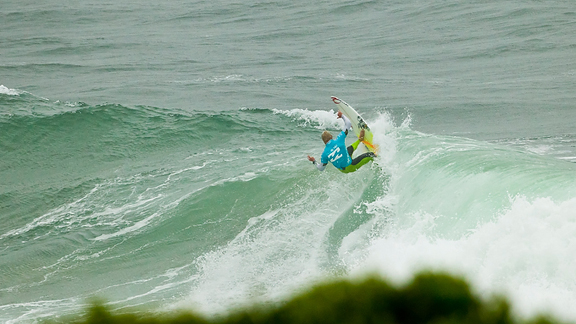 JoliMick Fanning was tough today, whippping Josh Kerr and Joel Parkinson in the quaters and semis, before halting to Smith.
The gray and stormy day started on a somber note with one minute of silence in memory of Andy Irons. He would have been 33-years-old today and as a past event champion, his spirit was on a lot of surfers' minds.
Yesterday's high performance extravaganza was replaced with tactics and the right choice of equipment, plus a dose of luck. It was virtually impossible to pick the right wave as the onshores had turned the swell lines into random peaks.
The two remaining goofy footers, Damien Hobgood and Adrian Buchan, were totally disadvantaged by the conditions and young guns Julian Wilson, Josh Kerr and Alejo Muniz were left struggling in the mayhem.
With today's dismal conditions, the betting man would have put his money on a Jordy Smith/Joel Parkinson final. Both big guys can muscle their way through the chop and still pull big moves whenever an open face appears.
Parkinson and Mick Fanning met in the final of the Bells Beach Rip Curl Pro earlier this year and it was Parkinson who sliced his way to victory through the onshore conditions. Everyone expected a similar result when the good friends lined up for the second semi-final toady. The pair has met ten times in recent years and the record stood at 8-2 in Parkinson's favor but Fanning got one back today, winning comfortably. Parkinson needed a 9.78 and just couldn't find one last wave in the dying minutes.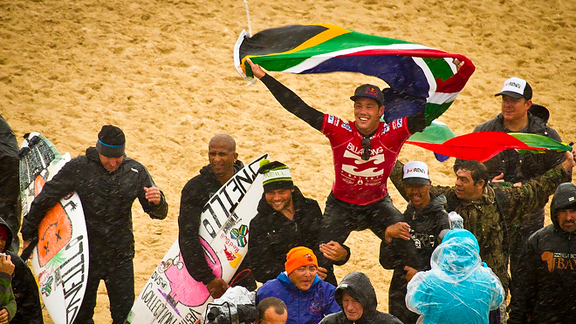 JoliJordy Smith celebrates his win in the rain and snot of Sunday morning.
The final was a strategic battle. Smith's coach was standing in the rain talking to himself, willing Smith to use the strategy they'd discussed before coming up against Fanning.
"Once Mick and I made the final, I knew it was going to be the battle of the fittest and a battle of positioning," explained Smith later. "Mick is one of the fittest guys on tour, plus he is such a hard guy to come up against. I actually tried to take a lot of tips out of Mick's book today. I guess it worked."
In the choppy conditions, Fanning made a tactical error when he half paddled for a lump of ocean and lost priority to Smith. It seemed to unsettle Fanning, but in the end it came down to Smith looking the more powerful surfer in the tough conditions.
"I've been battling throughout the contest to find the right board," said Smith, "I found one in round five, and have stuck with it right to the win."
It was an Al Merrick board that Jordy was talking about with a very flat bottom, that he was able to drive around the bumpy sections and release the fins to jam his trademark tail-sliding top turns.
"I won the watch," laughed Smith. "I always wanted to win the watch and I got back-to-back wins as well."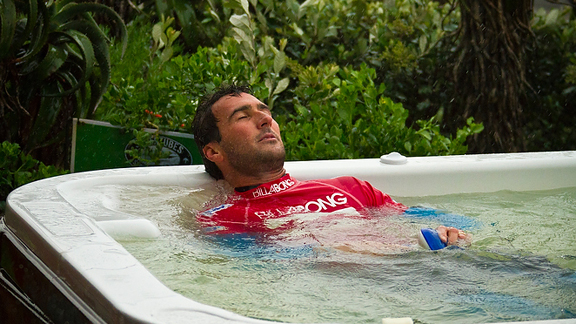 JoliJoel Parkinson is still in first place, but he certainly can't relax.
If you look at the contest stats you can see Smith's domination of the event. Three out of the top ten wave scores, three out of the best average heat scores, the $10,000 Nixon watch for the highest combined heat score (18.30 points out of 20 in round five) and a second Billabong Pro J-Bay trophy for his trophy cabinet. The win also pushed him into second place on the World Championship Tour ratings, within spitting distance of Joel Parkinson.
BILLABONG PRO JEFFREYS BAY FINAL RESULTS:
1: Jordy Smith (ZAF) 15.60
2: Mick Fanning (AUS) 14.83

BILLABONG PRO JEFFREYS BAY SEMIFINAL RESULTS:
SF 1: Jordy Smith (ZAF) 17.46 def. Adrian Buchan (AUS) 11.87
SF 2: Mick Fanning (AUS) 17.47 def. Joel Parkinson (AUS) 11.93

BILLABONG PRO JEFFREYS BAY QUARTERFINAL RESULTS:
QF 1: Jordy Smith (ZAF) 15.10 def. Damien Hobgood (USA) 8.94
QF 2: Adrian Buchan (AUS) 16.77 def. Julian Wilson (AUS) 14.90
QF 3: Joel Parkinson (AUS) 16.83 def. Alejo Muniz (BRA) 8.16
QF 4: Mick Fanning (AUS) 15.40 def. Josh Kerr (AUS) 5.43

ASP WORLD TITLE TOP 10 (After Billabong Pro Jeffreys Bay):
1. Joel Parkinson (AUS) 25700 pts
2. Jordy Smith (ZAF) 24750 pts
3. Adriano de Souza (BRA) 22250 pts
4. Mick Fanning (AUS) 19500 pts
5. Taj Burrow (AUS) 18250 pts
6. Kelly Slater (USA) 16950 pts
7. Michel Bourez (PYF) 16000
8. Bede Durbidge (AUS) 15000
9. Josh Kerr (AUS) 13900 pts
9. Owen Wright (AUS) 13900 pts

Also See

ESPN Surfing is all over the ASP World Tour. The proof's in the links.
Billabong Pipeline Masters
Rip Curl Pro Search San Francisco
Rip Curl Pro Portugal
Quiksilver Pro France
Hurley Pro Trestles
Quiksilver Pro New York
Billabong Pro Tahiti
Billabong Pro J-Bay
Billabong Pro Rio
Rip Curl Pro Bells Beach
Quiksilver Pro Gold Coast
2011 ASP Prime events
2010 ASP World Tour Coverage
INTERVIEWS
MORE ACTION SPORTS HEADLINES
MOST SENT STORIES ON ESPN.COM