Women's top six own Day 1
Men on hold while Tyler Wright lights up Rio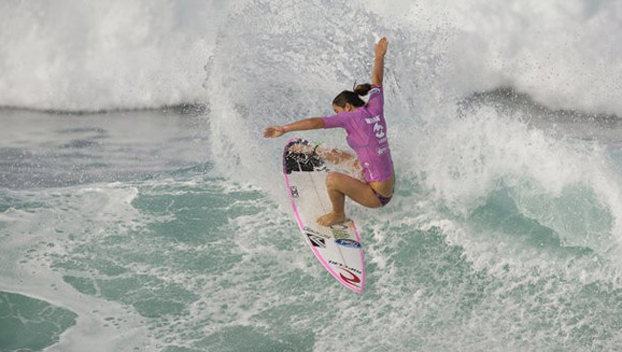 Courtesy ASPTyler Wright put up an impressive 14.27 in rRound 1, Heat 1.
The ASP is off and running at one of these exciting new destinations for 2011. While the Billabong Pro Rio certainly does like an exotic beach on the outskirts of a vibrant city, it's not exactly new for the Women's Tour.
Granted, it has been three years since the ladies competed at Barra da Tijuca. Way back then, the standouts were Stephanie Gilmore, Jessi Miley-Dyer, Sofia Mulanovich and Silvana Lima. That year's semifinal included Layne Beachley. Women's surfing is a different sport these days, but other than the legendary Beachley (now retired), most of those ladies still make up the varsity squad. Gilmore, Lima and Mulanovich won their first-round heats.
Of course, the other first-round heats were won by Tyler Wright, Carissa Moore and Sally Fitzgibbons -- a few teenage girls who have taken the Tour by storm this year. Wright had the highest heat total of the day at 14.27, while Moore and Fitzgibbons sit in the No. 1 and 2 slots on Tour, respectively.
It's been a hard road for Stephanie Gilmore. Gilmore has made the world tour her personal vacation the past four years, but this season she's struggling.
"It's new territory, and I don't really like it," Gilmore told reporters, "I haven't made a final yet and I feel like I'm sort of learning how to surf heats again. I'm definitely learning a lot. It's so funny how you can feel so familiar with something for so long, but it has been a good challenge and it's now or never at this event."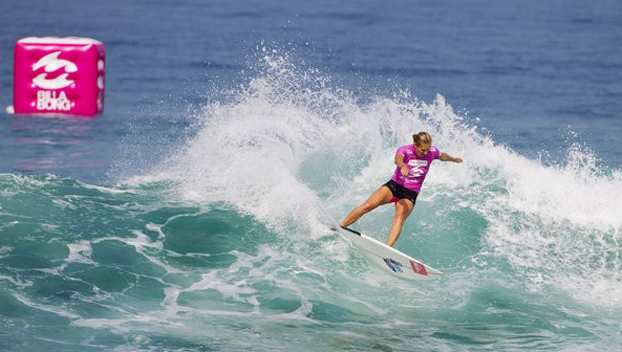 Courtesy ASPStephanie Gilmore isn't content to not make finals.
The surf was decent, with sets up to chest high rolling in through that crystal Brazilian blue, but it didn't offer a whole lot of power and some heats were just downers. One note of interest is that Maya Gabiera, international big-wave specialist and Brazilian native, received a wildcard into the event. Gabiera has never surfed a World Tour event, but seemed gracious in front of her hometown crowd.
Overall, the top six dominated. The women got through two rounds before the wind killed the good time. Billabong's event directors will re-asses the conditions tomorrow morning at 7 a.m. local time. The forecast does not look very promising.
Billabong Rio Pro Women's Round 1 Results:
Heat 1: Tyler Wright (AUS) 14.27, Courtney Conlogue (USA) 10.17, Claire Bevilacqua (AUS) 4.70
Heat 2: Silvana Lima (BRA) 12.50, Paige Hareb (NZL) 11.50, Felicity Palmateer (AUS) 9.47
Heat 3: Carissa Moore (HAW) 8.30, Jessi Miley-Dyer (AUS) 5.00, Maya Gabriera (BRA) 3.56
Heat 4: Sally Fitzgibbons (AUS), 13.84, Laura Enever (AUS) 11.07, Andrea Lopez (BRA) 9.23
Heat 5: Stephanie Gilmore (AUS) 12.16, Pauline Ado (FRA) 8.43, Suelen Naraisa (BRA) 7.17
Heat 6: Sofia Mulanovich (PER) 12.83, Coco Ho (HAW) 10.87, Alana Blanchard (HAW) 9.30

Billabong Rio Pro Women's Round 2 Results:
Heat 1: Laura Enever (AUS) 14.40 def. Claire Bevilacqua (AUS) 12.60
Heat 2: Pauline Ado (FRA) 11.03 def. Felicity Palmateer (AUS) 8.00
Heat 3: Coco Ho (HAW) 14.94 def. Maya Gabeira (BRA) 4.17
Heat 4: Courtney Conlogue (USA) 13.44 def. Andrea Lopes (BRA) 8.17
Heat 5: Paige Hareb (NZL) 10.33 def. Suelen Naraisa (BRA) 5.96
Heat 6: Alana Blanchard (HAW) 13.10 def. Jessi Miley-Dyer (AUS) 8.70

Billabong Rio Pro Men's Round 1 Match-Ups:
Heat 1: Owen Wright (AUS), Heitor Alves (BRA), Bobby Martinez (USA)
Heat 2: Adrian Buchan (AUS), Adam Melling (AUS), Kai Otton (AUS)
Heat 3: Taj Burrow (AUS), Alejo Muniz (BRA), TBA
Heat 4: Mick Fanning (AUS), Dusty Payne (HAW), TBA
Heat 5: Jordy Smith (ZAF), Patrick Gudauskas (USA), TBA
Heat 6: Kelly Slater (USA), Julian Wilson (AUS), TBA
Heat 7: Bede Durbidge (AUS), Jadson Andre (BRA), Gabe Kling (USA)
Heat 8: Jeremy Flores (FRA), C.J. Hobgood (USA), Josh Kerr (AUS)
Heat 9: Damien Hobgood (USA), Tiago Pires (PRT), Raoni Monteiro (BRA)
Heat 10: Michel Bourez (PYF), Chris Davidson (AUS), Cory Lopez (USA)
Heat 11: Adriano de Souza (BRA), Kieren Perrow (AUS), Daniel Ross (AUS)
Heat 12: Joel Parkinson (AUS), Matt Wilkinson (AUS), Taylor Knox (USA)

Also See

ESPN Surfing is all over the ASP World Tour. The proof's in the links.
Billabong Pipeline Masters
Rip Curl Pro Search San Francisco
Rip Curl Pro Portugal
Quiksilver Pro France
Hurley Pro Trestles
Quiksilver Pro New York
Billabong Pro Tahiti
Billabong Pro J-Bay
Billabong Pro Rio
Rip Curl Pro Bells Beach
Quiksilver Pro Gold Coast
2011 ASP Prime events
2010 ASP World Tour Coverage
INTERVIEWS
MORE ACTION SPORTS HEADLINES
MOST SENT STORIES ON ESPN.COM