Not winning but still exciting
Joel Parkinson and Adam Melling post top waves, while Julian Wilson cuts loose
As a surf fan, there's nothing better than seeing a hungry rookie up against the ropes. It's when a surfer is comboed, desperate and struggling in the final minutes that we see truly electrifying surfing.

The surf at Aprador today was the best the Billabong Pro Rio has seen so far, 3-to-4 feet with more open walls. There were two 9-pointers put up . They came from Joel Parkinson, who executed three backside gouges in a row, flowing from one to another without so much as a stutter step. Fellow Aussie, Adam Melling put up the other, with a monster freefall floater and several thwacks of his own.

But the truly futuristic surfing was that of Julian Wilson, who didn't even win his heat with CJ Hobgood. Hobgood started out with his usual, calculated, build-a-house approach, which included a nice blend of frontside air and rail surfing, for an 8.57 and a 7.93. With 17:30 still remaining, Hobgood was able to relax.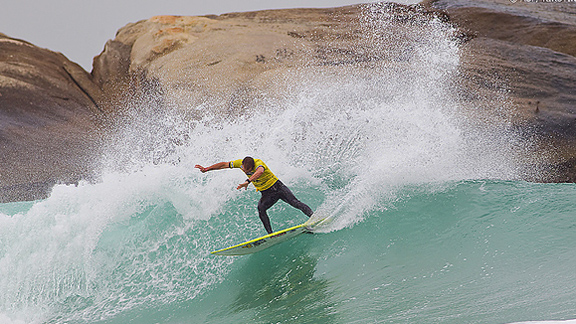 Kirstin/ASPWe can thank CJ Hobgood's solid Round 2 surfing for forcing Julian Wilson to throw exciting "Hail Marys."
Wilson went into wild-fireman mode, stalling for a backside barrel, whipping shuvits and pushing his tail where it had no business being. At the height of the run, he got full projection and landed a backside pop shuvit with a grab. He rode out of it switch, spun back around and corrected his stance. One can only imagine what was going on in the tower. But beside that, Wilson wasn't sticking his moves, and Hobgood advanced.
"I was sitting out the back when he went for that one turn," admitted Hobgood, who is still riding for his friend's non-profit group, called To Write Love On Her Arms, three events in, "I was thinking 'Whoa, that must have looked sick from the beach.'"
Overall, the Tour leaders held off a wolfpack of Brazilians today -- Jordy Smith smoking Peterson Crisanto; Bede Durbidge holding off Igor Morais by bending himself into a backside shack; Michel Bourez edging out Simao Romao; and Melling trouncing Alejo Muniz with the highest heat total so far.
But the Brazilians aren't out. Not by a long shot. The Brazzo who opened the door for so many behind him, Adriano de Souza, stayed busy to send countryman Ricardo Santos home in one of the better performances of the day.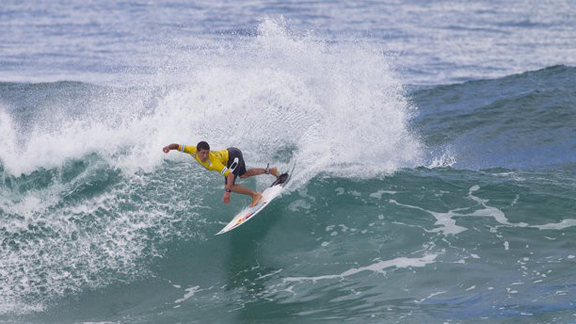 Kirstin/ASPAdriano de Souza has led a long line of Brazilians to this point and still looks the strongest.
There is finally some news on Dane Reynolds not appearing in Brazil. According to the ASP, Reynolds surfed a little hard on the knee he recently had surgery on before and during the Nike 6.0 Lowers Pro. It's still giving him problems and he pulled out of the Rio event two weeks ago. Reynolds has some time until the start of the Billabong Pro Jeffrey's Bay (July 15). There are two injury wildcards reserved for the midseason shuffle, but his One World ranking could still keep him on tour.
With the swell backing off, the Billabong Pro may move back to Barra da Tijuca, which generally picks up more pulse, for Round 3 tomorrow. Taj Burrow faces Cory Lopez in Heat 1 and Kelly Slater has Bobby Martinez in Heat 6.
Billabong Rio Pro Round 2 Results:
Heat 1: Jordy Smith (ZAF) 11.67 def. Peterson Crisanto (BRA) 7.10
Heat 2: Bede Durbidge (AUS) 11.60 def. Igor Morais (BRA) 10.17
Heat 3: Michel Bourez (PYF) 12.50 def. Simao Romao (BRA) 12.10
Heat 4: Adriano de Souza (BRA) 16.43 def. Ricardo Santos (BRA) 12.66
Heat 5: Joel Parkinson (AUS) 13.33 def. Kai Otton (AUS) 11.77
Heat 6: Bobby Martinez (USA) 12.77 def. Matt Wilkinson (AUS) 11.07
Heat 7: Kieren Perrow (AUS) 11.50 def. Gabe Kling (USA) 11.40
Heat 8: Josh Kerr (AUS) 12.74 def. Chris Davidson (AUS) 12.17
Heat 9: Raoni Monteiro (BRA) 12.53 def. Tiago Pires (PRT) 9.40
Heat 10: C.J. Hobgood (USA) 16.50 def. Julian Wilson (AUS) 14.70
Heat 11: Heitor Alves (BRA) 12.44 def. Dusty Payne (HAW) 10.40
Heat 12: Adam Melling (AUS) 15.00 def. Alejo Muniz (BRA) 9.27

Upcoming Round 3 Match Ups:
Heat 1: Taj Burrow (AUS) vs. Cory Lopez (USA)
Heat 2: Damien Hobgood (USA) vs. Heitor Alves (BRA)
Heat 3: Adrian Buchan (AUS) vs. Dan Ross (AUS)
Heat 4: Jeremy Flores (FRA) vs. Adam Melling (AUS)
Heat 5: Joel Parkinson (AUS) vs. Kieren Perrow (AUS)
Heat 6: Kelly Slater (USA) vs. Bobby Martinez (USA)
Heat 7: Jordy Smith (ZAF) vs. Josh Kerr (AUS)
Heat 8: Adriano de Souza (BRA) vs. C.J. Hobgood (USA)
Heat 9: Bede Durbidge (AUS) vs. Patrick Gudauskas (USA)
Heat 10: Owen Wright (AUS) vs. Taylor Knox (USA)
Heat 11: Michel Bourez (PYF) vs. Jadson Andre (BRA)

Also See

ESPN Surfing is all over the ASP World Tour. The proof's in the links.
Billabong Pipeline Masters
Rip Curl Pro Search San Francisco
Rip Curl Pro Portugal
Quiksilver Pro France
Hurley Pro Trestles
Quiksilver Pro New York
Billabong Pro Tahiti
Billabong Pro J-Bay
Billabong Pro Rio
Rip Curl Pro Bells Beach
Quiksilver Pro Gold Coast
2011 ASP Prime events
2010 ASP World Tour Coverage
INTERVIEWS
MORE ACTION SPORTS HEADLINES
MOST SENT STORIES ON ESPN.COM