The Great Upsetting
Joel Parkinson post top wave as Slater, Fanning, and Smith are upset
Rounds 2and 3 of the Billabong Pro Rio are in the books, and the story they tell is one of upsets. The first and most important came in Round 3, Heat 6, in which Bobby Martinez chopped down the giant tree that is 10-time ASP champ Kelly Slater.
In 3-to-5-foot surf, with a rising tide, mostly lefts and ever-changing conditions, Slater came out predictably strong with a 6.83, but Martinez stayed with him. Slater bobbled one then, with priority, let a rare right get through.
Martinez, the goofy-foot who has ironically been so vocal about the lack of lefts on tour, scraped into the right, powered down the line and launched into an inverted backside air. His original intent was for an air reverse, but he landed halfway through rotation and pulled it out for a 7.5.
In one of the most action-packed volleys of the day, Martinez lacerated two long lefts. Slater finally found the right he was looking for. Needing a 7.24, he threaded an impressive little right tube for a 7.27. Martinez took it.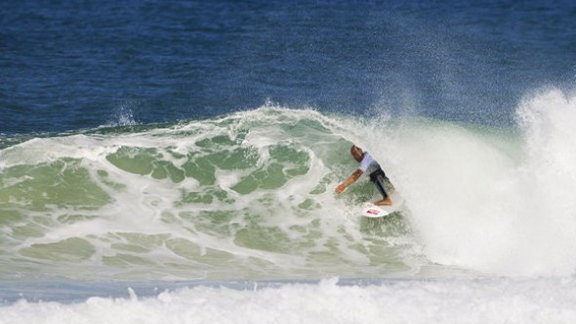 Courtesy ASPKelly Slater's barrel answer to Bobby Martinez's air wasn't enough.
Since arriving in Brazil, Slater hasn't been able to get into a sleep pattern. He stayed in the water for four heats following his loss, and when he finally came out of the water, he claimed he was unmotivated for his heat with Martinez.
"I wasn't out of sync, but I wasn't in sync," he said. He then expressed those old wishy-washy feelings toward the rest of the season, but did mention chalking this event up as a throw away.
The air was the move Martinez needed to not only fell Slater, but save his own season, which has been a disappointing one thus far.
The upset train kept steaming right through Barra da Tijuca. In the next heat, Jordy Smith went down hard to Josh Kerr. Later Michel Bourez had the heat of his life, capping defending champ Jadson Andre with a 19.10 heat total. In the last heat, Brazil's Raoni Monteiro sent Mick Fanning packing.
Adriano de Souza went on a tear, backing CJ Hobgood into the same corner of desperation that Hobgood had backed Julian Wilson into in Round 2. Hobgood responded the same, going for a series of massive, spinning airs. Nothing was completed, but it was fun to watch.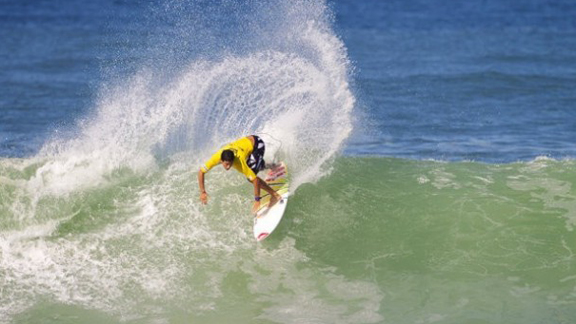 Courtesy ASPGuess the knee is healed. Jeremy Flores has been sharp the whole event.
Round 4, aka the "Dane Round," actually lacked Dane Reynolds, although the surf did get better. Taj Borrow, Josh Kerr and Owen Wright had convincing wins and will go directly to the quarterfinals. Joel Parkinson blew up for a 9.73 to edge out Jeremy Flores. Flores and the rest have to slug it out when the event continues for the last couple of quarterfinal slots.
Event directors will re-asses the conditions tomorrow morning for a potential 7:30 a.m. start, local time. The swell is predicted to hold, although winds may be an issue in the afternoon. Slater and Smith are out, and the ASP World Tour rankings will look radically different at the end of this contest. Parkinson actually holds the No. 1 spot at the moment.
"It's too early to think about this early in the year," Parkinson said, "It's only the third event of the year to start worrying about. If it was later on in the season, then sure, but as of now, who knows what can happen."
Billabong Rio Pro Round 4 Results:
Heat 1: Taj Burrow (AUS) 18.40, Damien Hobgood (USA) 14.60, Daniel Ross (AUS) 8.76
Heat 2: Joel Parkinson (AUS) 17.23, Jeremy Flores (FRA) 16.53, Bobby Martinez (USA) 10.73
Heat 3: Josh Kerr (AUS) 16.30, Bede Durbidge (AUS) 12.07, Adriano de Souza (BRA) 4.67
Heat 4: Owen Wright (AUS) 16.67, Michel Bourez (PYF) 11.20, Raoni Monteiro (BRA) 9.26

Billabong Rio Pro Round 3 Results:
Heat 1: Taj Burrow (AUS) 14.66 def. Cory Lopez (USA) 10.84
Heat 2: Damien Hobgood (USA) 11.33 def. Heitor Alves (BRA) 4.03
Heat 3: Dan Ross (AUS) 12.17 def. Adrian Buchan (AUS) 7.97
Heat 4: Jeremy Flores (FRA) 16.50 def. Adam Melling (AUS) 6.77
Heat 5: Joel Parkinson (AUS) 15.07 def. Kieren Perrow (AUS) 7.83
Heat 6: Bobby Martinez (USA) 14.50 def. Kelly Slater (USA) 14.10
Heat 7: Josh Kerr (AUS) 13.87 def. Jordy Smith (ZAF) 13.17
Heat 8: Adriano de Souza (BRA) 15.93 def. C.J. Hobgood (USA) 11.87
Heat 9: Bede Durbidge (AUS) 12.17 def. Patrick Gudauskas (USA) 11.50
Heat 10: Owen Wright (AUS) 11.66 def. Taylor Knox (USA) 9.80
Heat 11: Michel Bourez (PYF) 19.10 def. Jadson Andre (BRA) 6.83
Heat 12: Raoni Monteiro (BRA) 14.84 def. Mick Fanning (AUS) 13.73

Also See

ESPN Surfing is all over the ASP World Tour. The proof's in the links.
Billabong Pipeline Masters
Rip Curl Pro Search San Francisco
Rip Curl Pro Portugal
Quiksilver Pro France
Hurley Pro Trestles
Quiksilver Pro New York
Billabong Pro Tahiti
Billabong Pro J-Bay
Billabong Pro Rio
Rip Curl Pro Bells Beach
Quiksilver Pro Gold Coast
2011 ASP Prime events
2010 ASP World Tour Coverage
INTERVIEWS
MORE ACTION SPORTS HEADLINES
MOST SENT STORIES ON ESPN.COM