Brazilian romp
Brazil's Adriano de Souza wins Billabong Pro Rio in front of massive crowd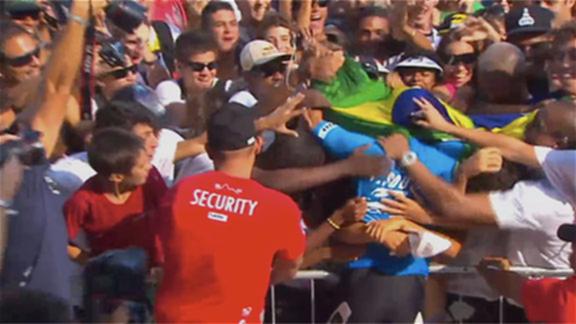 Billabong Pro Rio Men's Final
Local favorite Adriano de Souza scored an emotional win in front of the Brazilian crowd.
Billabong Pro Rio Men's Final
VIDEO PLAYLIST
Billabong Pro Rio Final Gallery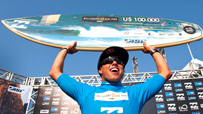 Brazil goes crazy as Adriano de Souza wins the Billabong Pro Rio. Gallery

If Billabong had any second thoughts about the decision to bring its Brazilian event to the bigger crowd but questionable waves of Rio, those questions were long forgotten when Adriano de Souza sobbed through a dramatic jet ski victory lap.
The tears were the manifestation of uncontrollable emotion after winning the event in his home country. De Souza had to surf every heat and eventually bested Taj Burrow in the final. Thousands of Brazilians packed the beach for the historic event.
The story couldn't have been written any better for a Brazilian sports fan, from de Souza losing the non-elimination rounds and having to surf eight heats in front of his passionate supporters to perhaps the highest-scored floater ever and a final full of sharp surfing and tactics.
Friday's action included Rounds 5 through the final. After upsetting 10-time world champ Kelly Slater Thursday, Bobby Martinez kept his run alive by beating Damien Hobgood 14.60-12.63 but fell to Burrow in the quarterfinal. After scoring the highest wave of the event in Round 4, Joel Parkinson ceded to Jeremy Flores, 16.26-14.43.
De Souza's road to the final included a win over CJ Hobgood, 15.93-11.87. De Souza finished last in the non-elimination Round 4 but came back to top Tahiti's Michel Bourez, who was coming off the best heat of his life (19.10) by a solid three points. De Souza's most interesting heat came in his quarterfinal heat against Owen Wright.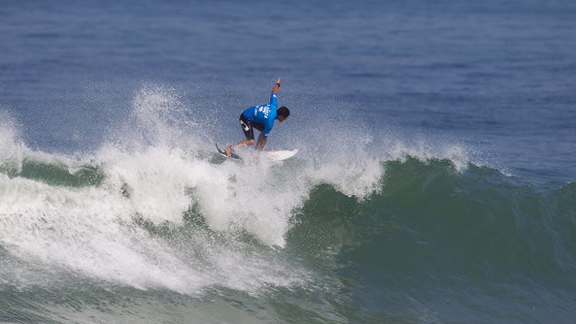 Courtesy ASPAdriano De Souza's 8.2-point floater will be talked about on the beaches of Rio for years to come.
Wright was a bulldog and surfed flawlessly throughout, posting an early 7.50. Then de Souza took off into a growing left. He pushed off the bottom and launched into an overhead floater for an 8.23. It was controversial for a single move to garner that kind of score (one judge gave it a 9), but an impressive move, nonetheless. Wright answered back with a forehand snap, wrap and slob air. He thought he'd won. The heat ended, and De Souza was already back in the competitors' area watching Wright's score drop on the screen as a 6.60. De Souza won 14.23-14.10.
Burrow smoked Jeremy Flores in the semis. Flying high on his momentum, De Souza was able to knock off Bede Durbidge in a wave-starved heat, though it was Durbidge's best result in some time.
Throughout the day, the crowd had been swelling with infectious support for De Souza. Since Durbidge had knocked off Raoni Monteiro in Round 5, De Souza was the nation's last hope. Brazil has always been passionate about sports, but with the Olympics and the World Cup coming to Rio in the next few years, it's a full-blown fervor, and the support Brazilians show for their own is borderline obsession.
Burrow drew first blood with a 7.0 -- solid and consistent, the way he surfed the whole event. De Souza had some throwaways but kept busy until he inscribed three backside 12-nooners on one face and a fast projected floater on another for an 8 and a 7.63. He shifted into defense mode, keeping Burrow off the next scorable wave.
Burrow then fell three times in a row on suck-up waves, with the beach getting progressively more ravenous each time. With priority, but time dwindling, Burrow finally found a decent wall but could only get a 5.17 on it.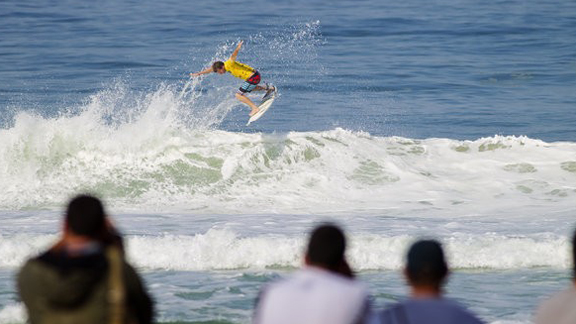 Courtesy ASPMaking two finals in the first three events of the season could mean this is Taj Burrow's year. With those odds, he has to win one eventually ...
"It's fun making finals, but you want to win 'em," said Burrow, who has lost two finals already this season.
As the horn blew, the implications of the day's events fell on De Souza. He had just beaten Burrow after five straight losses to the Aussie; won this monumental event; and taken the top slot on the World Tour rankings, and all in front of a Brazilian crowd. Thus, the tears flowed.
This will be some night in Rio de Janeiro.
Billabong Rio Pro Final:
1: Adriano de Souza (BRA) 15.63
2: Taj Burrow (AUS) 12.17

Billabong Rio Pro Semifinals Results:
SF 1: Taj Burrow (AUS) 16.27 def. Jeremy Flores (FRA) 10.50
SF 2: Adriano de Souza (BRA) 9.00 def. Bede Durbidge (AUS) 8.40

Billabong Rio Pro Quarterfinals Results:
QF 1: Taj Burrow (AUS) 16.26 def. Bobby Martinez (USA) 14.43
QF 2: Jeremy Flores (FRA) 15.60 def. Joel Parkinson (AUS) 12.17
QF 3: Bede Durbidge (AUS) 16.03 def. Josh Kerr (AUS) 6.27
QF 4: Adriano de Souza (BRA) 14.23 def. Owen Wright (AUS) 14.10

Billabong Rio Pro Round 5 Results:
Heat 1: Bobby Martinez (USA) 14.60 def. Damien Hobgood (USA) 12.63
Heat 2: Jeremy Flores (FRA) 12.60 def. Dan Ross (AUS) 11.63
Heat 3: Bede Durbidge (AUS) 13.43 def. Raoni Monteiro (BRA) 12.67
Heat 4: Adriano de Souza (BRA) 10.73 def. Michel Bourez (PYF) 7.90

Top 10 on the ASP World Title Series After the Billabong Rio Pro:
1. Adriano de Souza (BRA) 20,500
2. Joel Parkinson (AUS) 19,200
3. Kelly Slater (USA) 16,950
4. Taj Burrow (AUS) 16,500
5. Jordy Smith (ZAF) 14,750
6. Owen Wright (AUS) 12,150
7. Michel Bourez (PYF) 12,000
8. Mick Fanning (AUS) 11,500
9. Bede Durbidge (AUS) 11,000
9. Tiago Pires (PRT) 11,000
Also See

ESPN Surfing is all over the ASP World Tour. The proof's in the links.
Billabong Pipeline Masters
Rip Curl Pro Search San Francisco
Rip Curl Pro Portugal
Quiksilver Pro France
Hurley Pro Trestles
Quiksilver Pro New York
Billabong Pro Tahiti
Billabong Pro J-Bay
Billabong Pro Rio
Rip Curl Pro Bells Beach
Quiksilver Pro Gold Coast
2011 ASP Prime events
2010 ASP World Tour Coverage
INTERVIEWS
MORE ACTION SPORTS HEADLINES
MOST SENT STORIES ON ESPN.COM