Yet another Brazilian?
Paulino and Medina excel in big surf at Mr. Price Pro Ballito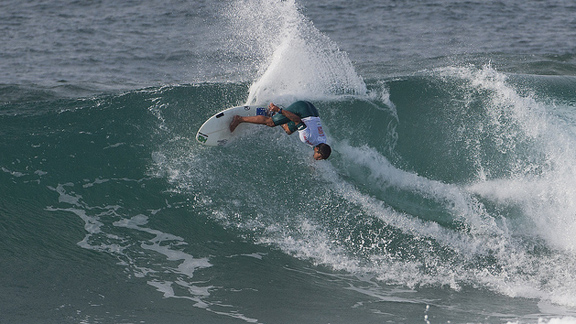 Courtesy ASPAdd Pablo Paulino to that list of Brazzos you should know.
It seems that every day, this ballistic Brazilian blitz takes on a new angle. We all know that there's a Brazilian in the No. one slot in the world. We've talked about their collective national pride. We've examined their drive and work ethic. But what about the sheer numbers of Brazzos that wind up dominating events? It's not just the same guy or a trio of rippers. Every day of competition, there's a new shredder on top.
Today at the Mr. Price Pro Ballito, that man was two-time ASP World Junior champ, Pablo Paulino. Paulino took off on some heavy waves and not only managed to come through some barrels, but also bust some lip trickery for the highest scoring wave (8.93) and highest heat total (16.86). The surf pushed up to eight feet on sets, with powerful rights grinding down the beach.
"The waves were really heavy out there today," Paulino said, "I tried to stay in tune with what conditions were doing and I was lucky to find that barrel."
Brazilians Junior Faria, Wiggoly Dantas, Jesse Mendes, Jano Belo, and Felix Messias all advanced today. Displaying keen consistency, Gabriel Medina had another great showing, picking off meaty set waves and getting a rewarded for his aggressive attack.
It was a mixed bag for American surfers. Austin Ware and Damien Hobgood both got the axe. Kolohe Andino and Cory Lopez, who looked so sharp posting those perfect 10 on day one, fell today as well -- Lopez actually posted a 2.33 heat total.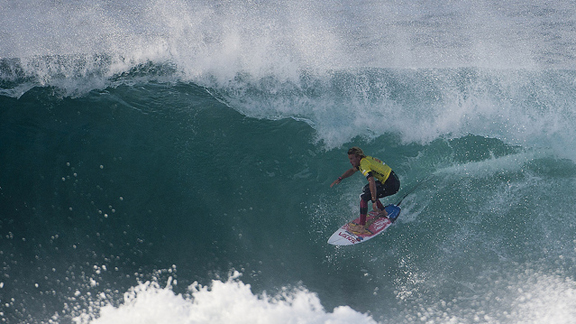 Courtesy ASPPatrick Gudauskas wasted no time in getting shacked in heat one this morning.
John John Florence and Patrick Gudauskas, both known to excel in serious stuff, won their heats. Gudauskas started the morning by getting straight into a deep cavern for a 7.50. Florence downed three World Tour surfers in Kai Otten, Tiago Pires, and Damien Hobgood.
Defending Mr. Price champ, Jordy Smith, had another solid day, and only needed two waves to take a convincing first place in his heat. South Africans in general fared well, as Shaun Joubert and Sean Holmes took one and two to advance over Jay Quinn and Sebastian Zietz.
The swell train shows no sign of slowing down into the start of round three, tomorrow. The heat to watch will certainly be Sean Holmes and Jordy Smith. Holmes, of Cape Town, has a way of killing lions. He beat Andy Irons and Kelly Slater at last year's Billabong Pro J-Bay. Might he have Smith in his crosshairs? Also, many of the Brazilians will fall tomorrow, simply because they face each other in man-to-man heats.
2011 Mr. Price Pro Ballito Round of 48 results
Heat 1: Patrick Gudauskas (USA) 13.83; Wiggolly Dantas (BRA) 10.66; Josh Kerr (AUS) 8.20; Dale Staples (ZAF) 5.27
Heat 2: Junior Faria (BRA) 12.67; Brandon Jackson (ZAF) 9.20; Kolohe Andino (USA) 7.53; Hodei Collazo (EUK) 7.33
Heat 3: Pablo Paulino (BRA) 16.86; Nic Muscroft (AUS) 13.90; Glenn Hall (IRL) 10.37; Rudy Palmboom (ZAF) 9.27
Heat 4: Kieren Perrow (AUS) 15.16; Jesse Mendes (BRA) 10.47; Granger Larsen (HAW) 9.17; Royden Bryson (ZAF) 4.70
Heat 5: Shaun Joubert (ZAF) 11.34; Sean Holmes (ZAF)11.00; Jay Quinn (NZL) 6.20; Sebastien Zietz (HAW) 4.53
Heat 6: Jordy Smith (ZAF) 11.84; Kiron Jabour (HAW) 10.40; Austin Ware (USA) 5.27; Corey Lopez (HAW) 2.37
Heat 7: Maxime Huscenot (REU) 11.37; Brendon Gibbons (ZAF) 9.10; Stu Kennedy (AUS) 7.83; Adam Robertson (AUS) 2.33
Heat 8: Julian Wilson (ZAF) 14.16; Blake Thornton (AUS) 8.37; Beyrick De Vries (ZAF) 7.60; Alain Riou (PYF) 7.00
Heat 9: Gabriel Medina (BRA) 16.00; Jano Belo (BRA) 8.60; David Van Zyl (ZAF) 6.03; Joan Duru (FRA) 5.80
Heat 10: Richard Christie (NZL) 13.27; Heath Joske (AUS) 12.17; William Cardoso (BRA) 9.84; Matt Wilkinson (AUS) 6.53
Heat 11: John John Florence (HAW) 15.40; Kai Otton (AUS) 14.86; Tiago Pires (PRT) 12.53; Damien HObgood (USA) 8.90
Heat 12: Aritz Aranburu (EUK) 12.27; Felix Messias (BRA) 11.47; Adrian Toyon (REU) 10.33; Dave Cathels (AUS) 7.93

Also See

ESPN Surfing is all over the ASP World Tour. The proof's in the links.
Billabong Pipeline Masters
Rip Curl Pro Search San Francisco
Rip Curl Pro Portugal
Quiksilver Pro France
Hurley Pro Trestles
Quiksilver Pro New York
Billabong Pro Tahiti
Billabong Pro J-Bay
Billabong Pro Rio
Rip Curl Pro Bells Beach
Quiksilver Pro Gold Coast
2011 ASP Prime events
2010 ASP World Tour Coverage
INTERVIEWS
MORE ACTION SPORTS HEADLINES
MOST SENT STORIES ON ESPN.COM