Who would have thought?
Pat Gudauskas wins Mr. Price Pro Ballito
This week was a rough one for the Yanks at the Mr. Price Pro Ballito. Most of the East Coasters hit the bricks in the first two rounds. Then the Californians fell. Even Cory Lopez and Kolohe Andino, who had posted perfect 10's early, got sent packing. The idea of an American flag being draped over the surfer shouldered up the beach after the final seemed a long shot -- or just plain impossible. The Hawaiians tend to fly their own flag out on the road (both figuratively and literally.) So while still technically a US citizen, John John Florence doesn't keep the stars and stripes in his boardbag.
But when the final hooter blew today at Surfer's Beach, it was San Clemente's Patrick Gudauskas wearing the red, white and blue.
Gudauskas, 25, was a force all week, as conditions at Ballito have been downright insane. Every round, Guduaskas made some kind of hell drop into a deep pit and emerged. Through the course of the week, he beat Billy Stairmand of New Zealand, South African Brandon Jackson, Brazil's Junior Faria, and major World Tour talent Josh Kerr, Keiren Perrow and Jordy Smith to get to the finals where he tackled Florence 11.84 to 8.03.
In a slower semifinal, he found round ones to beat defending champ, Jordy Smith. Though he got through earlier rounds on hollow waves, Gudauskas was able to change up his approach from barrel master to rail man in the final.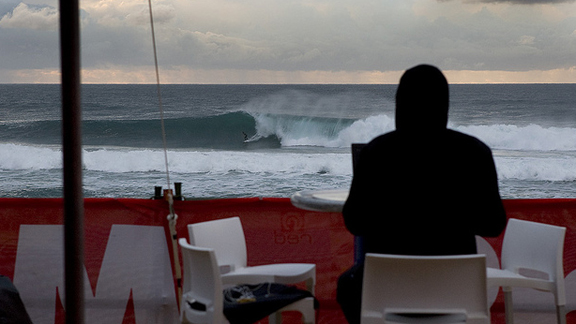 Cestari/ASPThe Mr. Price Pro fired for the sixth day in a row.
"This is crazy! I'm so psyched right now. This is definitely the best event I've ever competed in and maybe the best one I've ever watched. It has been flawless for a whole week and we're all psyched to be in Ballito," he said, after the win.
This is the fourth ASP win of his career, after the Ferrolterra Pantin Classic in Spain, the Vendee Surf Pro in France, and the Sebastian Inlet Pro in Florida. This was his first Prime victory and had a special meaning, as he chaired brother Tanner up the beach at this event two years ago. Incidentally, Andy and Bruce Irons also claimed titles here in 2004 and 2005.
"People were asking me about that all week and I knew it would be a difficult task to defend Tanner's title," Gudauskas said, "Somehow I pulled it off and the fact that Andy and Bruce did it, makes it even more special."
The other cave charger all week was Florence, who lives at Pipe. During the quaterfinals, he posted a 19.40 heat total with barrels that blew everyone away. The result comes after winning (unsanctioned) Da Hui Backdoor Shootout and the ASP's Volcom Pipe Pro, and taking third at the Prime in Portugal already this year. He now sits at number 39 on the World Rankings -- not a bad spot with the mid year cutoffs around the corner.
Florence had to take out World Tour rookie Julian Wilson in his semi, a feat he also accomplished with his tube riding skills. After the heat, Wilson gave Florence his due for his ability to come out of the hole, even with the weird winds.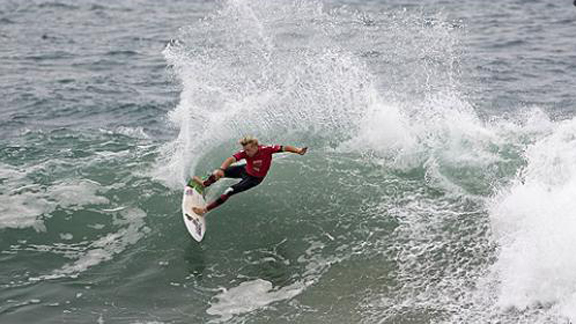 Cestari/ASPGudauskas switched it up in the final to beat John John Florence with his rail work.
Overall it was pretty much as good as you can get at any level of surf events. Many of the surfers are now headed to the Billabong Pro at J-Bay, which starts Thursday, July 14.
2011 Mr. Price Pro Ballito Final Results:
1 Patrick Gudauskas (USA) 11.84
2 John John Florence (HAW) 8.03

Semifinal
SF 1: Patrick Gudauskas (USA) 11.70 def. Jordy Smith(ZAF) 11.56
SF 2: John John Florence (HAW) 11.20 def. Julian Wilson(AUS) 10.83


Quarterfinals:
QF 1: Patrick Gudauskas (USA) 17.10 def. Junior Faria (BRA) 13.76
QF 2: Jordy Smith (ZAF) 14.07 def. Jesse Mendes (BRA) 12.73
QF 3: Julian Wilson (AUS) 16.03 def. Heath Joske (AUS) 8.87pts
QF 4: John John Florence (HAW) 19.40 def. Blake Thornton (AUS) 9.34pts

Also See

ESPN Surfing is all over the ASP World Tour. The proof's in the links.
Billabong Pipeline Masters
Rip Curl Pro Search San Francisco
Rip Curl Pro Portugal
Quiksilver Pro France
Hurley Pro Trestles
Quiksilver Pro New York
Billabong Pro Tahiti
Billabong Pro J-Bay
Billabong Pro Rio
Rip Curl Pro Bells Beach
Quiksilver Pro Gold Coast
2011 ASP Prime events
2010 ASP World Tour Coverage
INTERVIEWS
MORE ACTION SPORTS HEADLINES
MOST SENT STORIES ON ESPN.COM