Testing the waters at Trestles
Slater withdraws from Lowers Pro while Reynolds returns to competition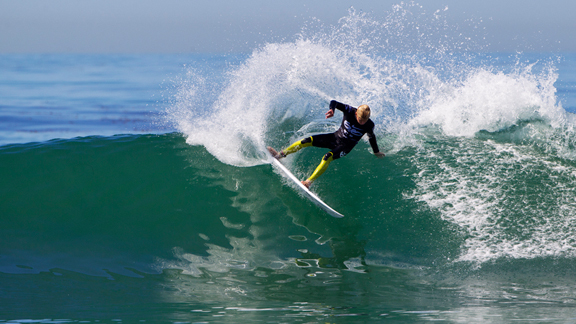 Jason KenworthyLocal star Kolohe Andino opened with one of the strongest heats of the day.
"You're not going to stay down and watch Dane's heat?" asked Shane Beschen of Kolohe Andino. (Beschen was looking for a ride home.)
"No, I can't be down here all day," answered Andino.
Last year Andino, a diehard Dane Reynolds fan, would have stayed down at the beach all day long just to watch his hero stick an inverted slob grab or lofty air reverse. But in the last six months 17-year-old Andino's grown two inches, added some much needed man strength to his wraps, and won his first ASP men's event (the Vans Pier Classic in February). Meanwhile, Reynolds has been sidelined with a knee injury, produced a few doodles that make my three-year-old's scribbles look like high art, and unveiled a new Channel Islands model called the "Neck Beard." Don't really know what any of that means, but Andino would appear to be putting adolescent hero worship behind him.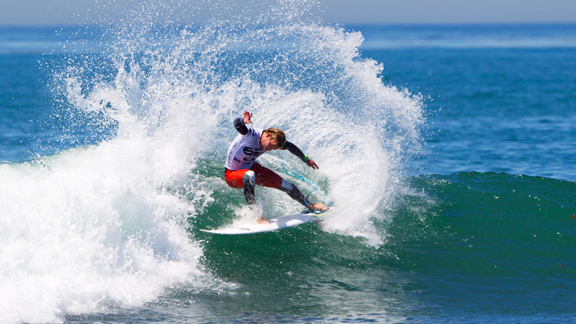 Jason KenworthyComing off an ankle injury, Tanner Gudauskas surfed sharp and was admitedly eager to get the jersey on again.
But beyond Andino's generation-now statement in the morning, and Reynolds' mediocre but passable return to competition in the afternoon, there was plenty else to talk about throughout the day. Kelly Slater, who'd been given a wildcard into the event, opted out at the last second after seeing a not-so-promising forecast for the week. Instead he stayed in Australia and got kegged out of his mind at Snapper Rocks while recent San Clemente transplant Eric Geiselman filled the wildcard spot.
After suffering a sidelining ankle injury in Australia two months ago Tanner Gudauskas, youngest of the brothers Gudang, made his return to competition today and didn't waste any time before loggin a nine-point ride, which allowed him to comfortably cruise into the next round.
"It felt good," said Gudauskas, who was just cleared by doctors to surf last week. "The family was down here supporting me, and it was just good to get out there and get a few waves under the belt. The lefts were pretty good, there's a lot of sand out there."
And then there was Bobby Martinez, who surfed tack sharp on the playful left-handers. Looking like the Bobby of old on a new, white Channel Islands shape, he appears to be finding his footing after a run of not-so-great results over the last six-plus months.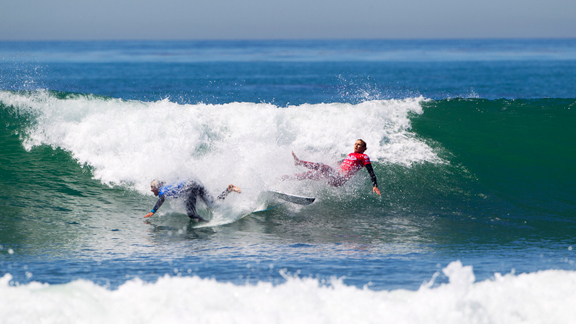 Jason Kenworthy"It's not always pretty," said Dusty Payne, who got through his heat thanks to an interference call on Shaun Joubert
"He's been really happy with his boards," told CI's Travis Lee, noting Martinez's quiver for both the Rip Curl Pro at Bells and this event.
And because it's impossible to go to a Nike event without taking note of how they're trying to push things to another level, this year they introduced a Most Valuable Performer (MVP) award. Recognizing that last year the performance level was through the roof -- but somehow traditionalists Gabe Kling and Chris Davidson made it to the final -- the concept behind the MVP award is to pick the top three maneuvers of the day, let an online community vote on their favorite, and give a cash prize to the community's favorite at the end contest's end on Saturday. They also dropped a mysterious campaign today called "The Chosen." You can see the embedded preview clip below. They're not giving out much information, but from what I was told they are taking into consideration that whoever wins will have to pay taxes on the prize, so make of that what you will.
Other than that, looks like the sunshine and fun surf will hang in there tomorrow before eddy conditions bring south winds and gray skies to the second half of the week. Stay tuned, we'll be bringing you more from Lowers all week.
Nike 6.0 Lowers Pro Round of 96 Results:
Heat 1: Michel Bourez (PYF) 12.10, John John Florence (HAW) 11.37, Leonardo Neves (BRA) 9.53, Dale Staples (ZAF) 6.57
Heat 2: Aritz Aranburu (EUK) 13.13, Dan Ross (AUS) 12.60, Blake Thornton (AUS) 11.07, Jayke Sharp (AUS) 10.37
Heat 3: Gabriel Medina (BRA) 15.50, Patrick Gudauskas (USA) 14.77, Sebastian Zietz (HAW) 9.57, Brandon Jackson (ZAF) 8.07
Heat 4: C.J. Hobgood (USA) 13.76, Joel Centeio (HAW) 12.57, Royden Bryson (ZAF) 11.87, Richard Christie (NZL)10.90
Heat 5: Kolohe Andino (USA) 13.57, Kai Barger (HAW) 11.87, Wiggolly Dantas (BRA) 11.20, Chris Davidson (AUS) 7.60
Heat 6: Tanner Gudauskas (USA)14.60, Dusty Payne (HAW) 11.54, Dylan Graves (PRI) 10.73, Shaun Joubert (ZAF) 10.13
Heat 7: Granger Larsen (HAW) 12.03, Pablo Paulino (BRA) 11.06, Jeronimo Vargas (BRA) 10.43, Dion Atkinson (AUS) 9.8
Heat 8: Bobby Martinez (USA) 16.04, Adriano de Souza (BRA) 14.84, Shaun Cansdell (AUS) 12.87, Dane Gudauskas (USA) 12.40
Heat 9: Jesse Mendes (BRA) 11.13, Taylor Knox (USA) 8.84, Tim Boal (FRA) 8.43, Luke Stedman (AUS) 8.37
Heat 10: Heitor Alves (BRA) 15.77, Mason Ho (HAW) 13.90, Billy Stairmand (NZL) 12.87, Ricardo Santos (BRA) 11.93
Heat 11: Tom Whitaker (AUS) 14.30, Pedro Henrique (BRA) 13.10, Bernardo Miranda (BRA) 12.93, Josh Kerr (AUS) 10.17
Heat 12: Hizunome Bettero (BRA) 15.70, Masatoshi Ohno (JPN) 10.77, Chris Ward (USA) 9.80, Eric Geiselman (USA) 6.83
Heat 13: Kekoa Bacalso (HAW) 16.07, Dane Reynolds (USA) 14.33, Conner Coffin (USA) 13.60, Gony Zubinarreta (ESP)
12.20 Heat 14: Willian Cardoso (BRA)14.14, Cory Lopez (USA) 12.53, Adam Robertson (USA) 12.04, Joan Duru (FRA) 7.76
Heat 15: Alejo Muniz (BRA) 15.86, Junior Faria (BRA) 12.10, Jay Quinn (NZL) 10.90, Nat Young (USA) 8.50
Heat 16: Nic Muscroft (AUS) 15.07, Matt Wilkinson (AUS) 9.57, Hodei Collazo (EUK) 9.39, Rudy Palmboom (ZAF) 7.26
Also See

ESPN Surfing is all over the ASP World Tour. The proof's in the links.
Billabong Pipeline Masters
Rip Curl Pro Search San Francisco
Rip Curl Pro Portugal
Quiksilver Pro France
Hurley Pro Trestles
Quiksilver Pro New York
Billabong Pro Tahiti
Billabong Pro J-Bay
Billabong Pro Rio
Rip Curl Pro Bells Beach
Quiksilver Pro Gold Coast
2011 ASP Prime events
2010 ASP World Tour Coverage
INTERVIEWS
MORE ACTION SPORTS HEADLINES
MOST SENT STORIES ON ESPN.COM