Sambas and stalefish
Brazilians on the move in Rd 3 of Lowers Pro while Andino keeps it cool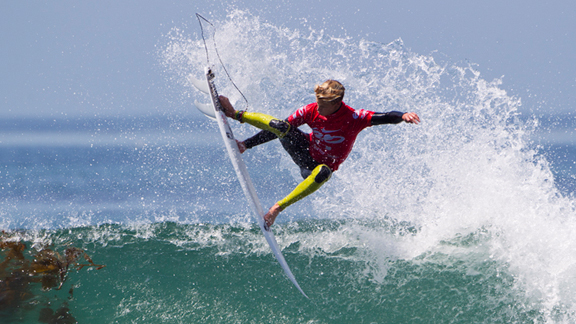 Jason KenworthyFor those that don't know, that there's a pretty legit stalefish by Kolohe Andino.
The only Brazilian that lost today was to a Brazilian. Of the 12 surfers left in the Nike 6.0 Lowers Pro, eight of them are South American in origin, and there was a spree at the end of the day where the Brazilians breezed through seven heats in a row.
In the morning Gabe Medina broke Patrick Gudauskas's poor, aching heart -- a loss Gudauskas admitted stung especially bad with a month-long stint in the samba capital of the world coming up. Heitor Alves teed off on Mason Ho. Jesse Mendes upset Taylor Knox. Who? Jesse Mendes. What, you haven't heard of him? Then it reached a point of absurdity when big, bad Willian Cardoso knocked out Cory Lopez, which wouldn't have been surprising if it had been a MMA fight, but nimble like an aqua cat, the smart money was on the less bulky Lopez.
Maybe it was the odd lack of green and yellow flag waving, but at the end of the flurry the only heat that anybody was really talking about was the Kolohe Andino/Dusty Payne duel.
"Kolohe absolutely blew up out there," surmised his father Dino. "He was pulling out some freaky stuff."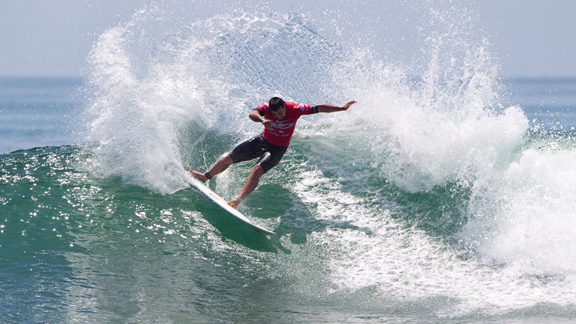 Jason KenworthyAs far as we can tell there's no typo in his name, that there is big Willian Cardosa.
Freaky indeed -- Andino pulled what was most likely the first stalefish air in a surf contest -- and it was maybe so freaky the judges didn't quite know what to make of it. In his post-win interview Andino politely made mention that the judges might not understand how hard it is to successfully pull and land a grab that runs completely counter to a surfer's momentum. He may have had a point; any one of the top 100 surfers in the world should be able to land a standard frontside grab, we've seen too many to count this week, but an inverted slob like Dane Reynolds pulled on Tueday, or Andino's stalefish today, is an entirely different level of technical wizardry.
When it comes to scoring differing airs, the intricacy of the grab should be a key component. Over the course of the week, some have taken issue with a few of the judges' calls, noting that the difficulty of a maneuver's not always being rewarded. Of course, in the judges' defense, if Lowers is billed as the progressive hot bed of the pro surf scene, it only makes sense the scoring struggles to keep up as the surfers push to another level. Don't forget, Christian Fletcher was complaining about the same thing when he won Lowers back in 1990.
Rounding out the charge for the Americans, Tanner Gudauskas continued on with his tail-stomping ways. "The sand on the lefts is good, we're getting some really fun little runners," said Gudauskas after besting Bobby Martinez in a battle of the goofy-footers.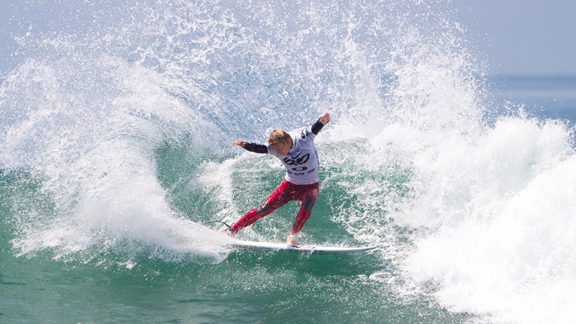 Jason KenworthyDusty Payne put up a good fight, but Andino's new era skills were just a little too much.
And speaking of goofy-footers, CJ Hobgood's been quietly going about his business, and as the business end of this event looms, he's very much looking like a contender. He's won at Lowers before in ridiculously small conditions, and as the swell wanes and the low pressure starts to move in, his experience and abilities in meager conditions could prove the deal breaker.
Then there's unlikely long-hair Timmy Reyes, who after dropping off the world tour a couple years ago and going on a free-surfing bender seems to be ripping with some newfound energy. "It's been feeling good out there," he said. "Kind of tricky conditions, but fun if you can get the right ones."
There's not a heap more surfing left. The men will knock off a couple rounds tomorrow, but expect most of the day to feature the Oakley Pro Junior. Then this thing should be signed, sealed and delivered by early afternoon Saturday. Stay tuned.
Nike 6.0 Lowers Pro Round of 24 Results:
Heat 1: C.J. Hobgood (USA) 17.07 def. Joel Centeio (HAW) 11.70
Heat 2: Gabriel Medina (BRA) 17.17 def. Patrick Gudauskas (USA) 14.07
Heat 3: Tanner Gudauskas (USA) 15.33 def. Bobby Martinez (USA) 13.33
Heat 4: Kolohe Andino (USA) 17.50 def. Dusty Payne (HAW) 17.03
Heat 5: Heitor Alves (BRA) 11.83 def. Mason Ho (HAW) 9.17
Heat 6: Jesse Mendes (BRA) 13.74 def. Taylor Knox (USA) 10.67
Heat 7: Willian Cardoso (BRA) 13.74 def. Cory Lopez (USA) 13.74
Heat 8: Willian Cardoso (BRA) 14.77 def. Damien Hobgood (USA) 13.60
Heat 9: Jadson Andre (BRA) 17.87 def. Kai Otton (AUS) 10.93
Heat 10: Miguel Pupo (BRA) 14.77 def. Damien Hobgood (USA) 13.60
Heat 11: Thiago Camareo (BRA) 12.83 def. Adam Melling (AUS) 12.07
Heat 12: Timmy Reyes (USA) 12.60 def. Tonino Benson (HAW) 10.30
Nike 6.0 Lowers Pro Round of 48 Results:
Heat 10: Damien Hobgood (USA) 12.03, Kai Otton (AUS) 10.45, Julian Wilson (AUS) 10.16, Lincoln Taylor (AUS) 8.90
Heat 11: Thiago Camareo (BRA) 13.67, Tonino Benson (HAW) 12.40, Heath Joske (AUS) 12.34, Adrian Buchan (AUS) 7.00
Heat 12: Tim Reyes (USA) 13.00, Adam Melling (AUS) 11.30, Nathaniel Curran (USA) 11.00, Nathan Yeomans (USA) 10.50
Oakley Pro Junior Round of 32 Results:
Heat 1: Tayler Brothers (USA) 10.96, Jack Freestone (AUS) 10.30, Kiron Jabour (HAW) 9.90, Jack Robinson (AUS) 7.90
Heat 2: Luke Davis (USA) 14.57, Doug Van Mierlo (USA) 11.00, Evan Thompson (USA) 8.98, Taylor Clark (USA) 7.50
Also See

ESPN Surfing is all over the ASP World Tour. The proof's in the links.
Billabong Pipeline Masters
Rip Curl Pro Search San Francisco
Rip Curl Pro Portugal
Quiksilver Pro France
Hurley Pro Trestles
Quiksilver Pro New York
Billabong Pro Tahiti
Billabong Pro J-Bay
Billabong Pro Rio
Rip Curl Pro Bells Beach
Quiksilver Pro Gold Coast
2011 ASP Prime events
2010 ASP World Tour Coverage
INTERVIEWS
MORE ACTION SPORTS HEADLINES
MOST SENT STORIES ON ESPN.COM