Pressure's on at Quik Pro Portugal
Action gets underway at Quiksilver Pro Portgual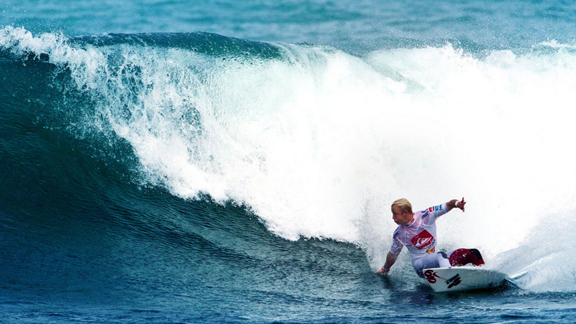 ASP/Quiksilver Pro PortugalHigh score honors in the opening round of the Quiksilver Pro Portugal went to Nat Young.
With the start of the Quiksilver Pro Portugal today in Ericeira we're starting to get down to nail-biting time for those hovering on the ASP World ranking bubble. There's only one more Prime event left on the schedule until the much-anticipated mid-season cutoff, and for those tangled up between 20th and 40th on the chart, every measly point counts.
Round 1 of the Quik Pro got underway today at Ribera D'Ilhas in contestable three-to-four-foot surf. As expected, the Brazilians continued to apply ample pressure. Lowers Pro winner Miguel Pupo and Super Surf International winner Gabriel Medina moved on into the next round, along with countrymen Tiago Camarao, Leonardo Neves Junior Faria and several others.
As for World Tour veterans, Fred Patacchia and Jeremy Flores both successfully returned to competition after coming back from injury and illness. For Patacchia, who has struggled with a knee injury, it was his first heat since the Quiksilver Pro Australia in February. He's currently at 30th on the ASP Title ranking and 38th on the World ranking. Flores is at 11th on the Title ranking and not in immediate jeopordy of falling off the World Tour, but he hasn't surfed seriously in weeks.
"I got a blood infection in Brazil and I was stuck there for 10 days and now I have just come back from a week at home on Reunion Island," told Flores. "I just arrived last night so I got to have a free sur and I am stoked to get through that one to start."
Of the Americans that are vying for fortune and glory, Cory Lopez, Austin Ware and Pat Gudauskas lived to fight another day, while it was Santa Cruz goofy-footer Nat Young that bagged the highest heat score of the round.
"There are waves similar to this where I live and I thought that I was in rhythm every time I paddled back out. I would catch a wave and it was a lot of fun. Everything just kind of went my way, which was awesome," said Young. "I am not really looking to qualify at the halfway mark. Right now it would be pretty tough and I would probably have to win at least two contests. I just want to do well and get a good result under my belt because I haven't had one yet this year."
Of the top seeds in the event, CJ Hobgood, Brett Simpson and Josh Kerr bowed out early."73rd place Quik Pro Portugal ... you're only as good as your last contest ... don't let the thought of failure keep you from your dreams," tweeted Hobgood afterwards.
Competition will resume tomorrow in Portugal, stay tuned.
Remaining Quiksilver Pro Portugal Round One Matchups
Heat 17: Raoni Monteiro (BRA), Jay Quinn (NZL), Stuart Kennedy (AUS), Ian Gouveia (BRA)
Heat 18: Tanner Gadauskas (USA), Masatoshi Ohno (JPN), Maxime Huscenot (FRA), Diego Rosa (BRA)
Heat 19: Gabe Kling (USA), Marc Lacomare (FRA), Davey Cathels (AUS), Charles Martin (GLP)
Heat 20: Heitor Alves (BRA), Hodei Collazo (EUK), Pedro Henrique (BRA), Nic von Rupp (DEU)
Heat 21: Julian Wilson (AUS), Gony Zubizarreta (ESP), Joan Duru (FRA), Medi Veminardi (REU)
Heat 22: Tom Whitaker (AUS), Nic Muscroft (AUS), Jano Belo (BRA), Eneko Acero (EUK)
Heat 23: Dion Atkinson (AUS), Hizunome Bettero (BRA), Eric Geiselman (USA), Vincent Duvignac (FRA)
Heat 24: Tiago Pires (PRT), Bernardo Miranda (BRA), Royden Bryson (ZAF), Filipe Jervis (PRT)
Quiksilver Pro Portugal Round One Results
Heat 1: Austin Ware (USA) 14.63, Dimitri Ouvre (BRB) 11.73, Blake Thorton (AUS) 11.20, C.J. Hobgood (USA) 11.17
Heat 2: Richard Christie (NZL) 13.50, Ben Dunn (AUS) 12.83, Mitch Coleborn (AUS) 11.27, Adrien Toyon (REU) 10.47
Heat 3: Cory Lopez (USA) 12.93, Aritz Aranburu (EUK) 12.53, Robson Santos (BRA) 10.56, Tomas Hermes (BRA) 8.27
Heat 4: Gabriel Medina (BRA) 15.10, Jihad Khodr (BRA) 12.77, Yujiro Tsuji (JPN) 9.83, Nate Yeomans (USA) 9.60
Heat 5: Tiago Camarao (BRA) 15.10, Pat Gudauskas (USA) 14.33, Pablo Paulino (BRA) 11.24, Hugo Savalli (REU) 7.60
Heat 6: Junior Faria (BRA) 11.60, Fredrick Patacchia (HAW) 11.20, Jean Da Silva (BRA) 10.77, Marlon Lipke (DEU) 10.73
Heat 7: Nat Young (USA) 16.97, Travis Logie (ZAF) 13.77, Messias Felix (BRA) 12.04, Marco Fernandez (BRA) 11.67
Heat 8: Heath Joske (AUS) 13.17, Jadson Andre (BRA) 10.60, Dale Staples (ZAF) 10.60, Lincoln Taylor (AUS) 10.26
Heat 9: Leonardo Neves (BRA) 11.83, Jeronimo Vargas (BRA) 11.27, Jack Perry (AUS) 9.64, William Cardoso (BRA) 9.30
Heat 10: Granger Larsen (HAW) 13.86, Brandon Jackson (ZAF) 11.90, Kai Barger (HAW) 11.77, Kevin Sullivan (HAW) 9.27
Heat 11: Billy Stairmand (NZL) 14.67, Andre Silva (BRA) 13.47, Mason Ho (HAW) 9.37, Brian Toth (PRI) 6.71
Heat 12: Jeremy Flores (FRA) 14.26, John John Florence (HAW) 11.74, Dylan Graves (PRI) 11.20, Ramzi Boukhiam (MAR) 8.87
Heat 13: Jonathan Gonzalez (CNY) 14.33, Vasco Ribeiro (PRT) 12.50, Shaun Joubert (ZAF) 11.84, Brett Simpson (USA) 10.26
Heat 14: Tim Boal (FRA) 12.37, Jesse Mendes (BRA) 11.63, Mickey Picon (FRA) 9.86, Charlie Brown (BRA) 8.97
Heat 15: Alain Riou (PYF) 13.77, Caio Ibelli (BRA) 12.20, Wiggolly Dantas (BRA) 11.74, Josh Kerr (AUS) 11.60
Heat 16: Ruda Carvalho (BRA) 11.16, Miguel Pupo (BRA) 10.67, Adam Robertson (AUS) 9.37, Yuri Sodre (BRA) 8.27

Also See

ESPN Surfing is all over the ASP World Tour. The proof's in the links.
Billabong Pipeline Masters
Rip Curl Pro Search San Francisco
Rip Curl Pro Portugal
Quiksilver Pro France
Hurley Pro Trestles
Quiksilver Pro New York
Billabong Pro Tahiti
Billabong Pro J-Bay
Billabong Pro Rio
Rip Curl Pro Bells Beach
Quiksilver Pro Gold Coast
2011 ASP Prime events
2010 ASP World Tour Coverage
INTERVIEWS
MORE ACTION SPORTS HEADLINES
MOST SENT STORIES ON ESPN.COM