Preview
Day 1
Day 2
Day 3
Day 4
Day 5
Day 6
Day 7
Final
This week former world champion CJ Hobgood tweeted, "Correctly guess how many air reverses will be performed @usopenofsurf and I will give u my surfboard."
He followed the thread up with, "The correct answer should be fairly obvious: Too many."
The Nike U.S. Open of Surfing is upon us, and yes, sure as the Huntington Hop defined the event in the '80s, this year the world's best will be peacocking around with their own trademarked rendition of the air reverse. But whatever maneuver is in vogue at the moment, the Open's much more than just a surf contest.
2011 Nike U.S. Open of Surfing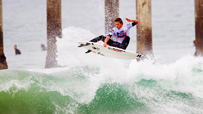 WIDTH="203" HEIGHT="114" BORDER="0" ALT="">
Brace yourself, here comes the biggest show in surf. Gallery

The circus, the zoo, the madness, the freak show, Sodom, Mos Eisley Cantina, the Open goes by many monikers, and rightly so. Landing in Surf City USA from July 30 through Aug. 7, the actual event site stretches over 14 acres of sand. A literal tent city is constructed, complete with stadium seating, plush VIP digs, a skateboard park, a ding repair station, a concert stage, and a massive complex that serves as a retail and concession space. Last year the contest, rated a Prime event by the ASP, drew over 500,000 people to the beach, making it the biggest event on the calendar.
This year Nike's backing the event in its entirety, and it's the culmination of their summer-long "Just Do It" campaign, which debuted during the NBA Finals this past June. Think of it as their coming out party in the world of action sports. For so long they struggled to gain traction, but they're here to stay, so as a few sarcastic bloggers have noted, "Just get used to it."
But to the point, there is a $460,000 prize purse up for grabs, which makes it the richest event of the year, and thusly attracts the world's most prominent surfers. So who to watch?
You have to like the chances of hometown hero Brett Simpson, who's won back-to-back Open titles the last two years.
"The difference between the '09 victory and the '10 victory is the confidence," tells Simpson, who learned to surf under the shadow of the pier. "I feel like I was on a run in '09, but when I came back in 2010 I knew what to expect, I'd beaten some pretty big names on a big stage, and so I had that peace of mind."
The wins have earned Simpson $200,000 over the past two years, but giving him a run for his money this time around are a number of very talented, and very hungry surfers. The biggest threat may come in the form of South African Jordy Smith, who's fresh off a win at the Billabong Pro J-Bay (an event he's now won twice in a row).
But he's a rather big bloke, and the preliminary forecast isn't calling for much more than two- to four-foot surf. That'd leave the door open for somebody like 17-year-old San Clemente local Kolohe Andino. Posting numerous notable results this year, a U.S. National title among them, the teen phenom has set his sights squarely on the Open. "I haven't been traveling," he says, "I've just been trying to say around Orange County and focus on the Open."
Also one to watch will be Julian Wilson. Wilson just finished fifth at J-Bay, and has fared well in recent ASP Prime events, winning the Quiksilver Pro in Portugal and finishing third at the Mr. Price Pro. Like Smith and Andino, Wilson boasts a very lethal array of airs, tricks and turns. One of the most creative surfers on tour, this could very well be his event to win.
"Board bag in the shed and the golf clubs come out," tweets Wilson of his brief respite between events. "3 days of golf before heading to cali."
On the women's side, it begins and ends with Carissa Moore. "I'm really excited to be returning to Huntington Beach to try to defend my US Open title," she notes.
With the Women's World Title race in the bag, she sits atop the ratings, making her an obvious target for all the other ladies -- namely her archrival Sally Fitzgibbons, who's been palling around the O.C. with Santa Ana's Courtney Conlogue, who also has to be considered a threat.
As for an early, long-range surf forecast, the Pacific Ocean is a refreshing 70 degrees at present, beach temps are averaging 75, and while charts aren't calling for waves to be historically huge, a minor southern hemisphere swell in the middle of the week should offer contestable conditions.
And if surf's not your thing, no sweat. You can dig on the Converse Coastal Carnage pro/am skateboard event. Look for Rune Glifberg, Tom Remillard and Sammy Baca to be the headliners in the bowl. For those that prefer two wheels over four, the Nike 6.0 HB BMX Pro will be offering something unique to the bikers in the crowd. Presenting a new format for BMX, and featuring all-star Garrett Reynolds, it promises to be pretty spectacular. And then there's the Hurley Walk-The-Walk, a high school fashion show competition in which the winning school takes home $25,000. As if that's not enough, a concert series at the end of every day will keep things jammin' late into the evening in Surf City U.S.A.
Oh yeah, and Kelly Slater? Will he be there? Lets say, umm, probably ... so long as Cloundbreak doesn't go haywire again.