"You never do anything like this by yourself," says Danilo Couto, $50,000 check in hand. Twitching nervously in front of a live audience of 5,000 and lord knows how many millions streaming around the world, the emotion bubbles up. His lips purse, then start to quiver.
"You're just one little thing in it all. You got blessed and the wave came to you," he continues, gaining traction. "But you get inspired by so many people, supported by so many friends."
2011 Billabong XXL Big Wave Awards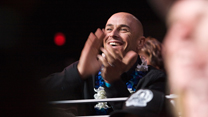 WIDTH="203" HEIGHT="114" BORDER="0" ALT="">
Images from the biggest night in surfing. Gallery

After a year's worth of record-breaking waves and monumental sessions, Couto has just taken Ride of the Year honors at the Billabong XXL Awards. Surviving a near cataclysmic air drop on a wind-whipped beast at Jaws on Feb. 8, 2011 (that he paddled into), Couto's mind, like most in the room, is on fallen comrade Sion Milosky.
"He was a man, you know," Couto concludes. "It's not about who you are and what you do. What matters is how you treat other people and how you respect other people. That's what Sion taught us all."
With the world's most preeminent big-wave riders gathered in Anaheim, Calif., for the yearly awards show, Milosky, who tragically drowned while surfing Maverick's on Mar. 17, 2011, was the focus of most every acceptance speech.
"Mark told me to give whatever money he won to the Milosky fund," said Mark Healey earlier in the show, who was onstage accepting the Wipeout of the Year award for Mark Mathews, who couldn't make the flight up from Australia.
Shane Dorian quickly followed suit as he won the Monster Tube and Monster Paddle Award for his 57-foot bomb at Jaws, which now officially stands as the new world record for the largest wave paddled into by a human.
"That was one of the best waves of my life, and I'll never forget it, but tonight, this end-of-the-year culmination, it is a celebration of everything that's happened and is a way to remember all of the rides and riders," told the ever-humble Dorian.
So it goes without saying that when Milosky's name was announced as the winner of the 2011 Surfline Performance award, the crowd roared. His widow, two daughters and father arrived at the podium via a standing ovation. Stoically they expressed their gratitude and love to the big-wave community for all of its support.
Of course, to be fair, this is the XXL Awards, and like every other year the show wasn't without its more off-the-cuff moments. Infused with celebrity presenters, Rohan Marley (son of Bob Marley) and Brandon Boyd from Incubus (a surfer himself) doled out the women's performance award. Having MMA hero Tito Ortiz and NHL legend Scott Niedermayer present the wipeout award added a touch of irony, while relegating Greg Long to share the mic with a Bieber-esque pair from MTV added a touch of nausea (until Long went off script, spoke from his heart and ignored the two teenage twits to his left).
But true to surfing's rebellious nature, the crowd wasn't so much impressed by the A-list types, who came off kooky (as most non-surfers do in these kinds of environs). The line of the night went to Ken "Skindog" Collin for his critique of Healey's Davey Crocket-esque buckskin affair (with tassels): "Hey Mark, Geronimo called, he wants his jacket back."
All told, after 12 years of XXL Awards, this was by far the most somber. The loss of Milosky has caused all to reflect on the fragility of life and their reasoning for putting it all on the line. As a collective us surfers have learned something from all this, and done some considerable growing in the process. Greg Noll didn't have to tell Flea to put out the joint this year. There were no fights between Hawaiians and Californians in the audience, which was cool. And Christian Fletcher didn't make any Hitler references, so we got that going for us ... which is nice. Beyond all of the silly wisecracks, spilled drinks and odd celebrity appeal, the fact remains that what all of these XXL contenders do is serious business. Big-wave surfing is a life-and-death pursuit, and as Couto dedicated his Ride of the Year win to the memory of Sion Milosky, that fact was all too apparent.
2011 Billabong XXL Results:
Billabong XXL Ride of the Year:
Danilo Couto, Jaws, Maui, Hawaii on Feb. 8, 2011
Monster Paddle Award:
Shane Dorian, Jaws, Hawaii, Mar. 15, 2011 (world record for largest wave ever paddled into at 57 feet)
Billabong XXL Biggest Wave Award:
Benjamin Sanchis, Belharra, France, Feb. 16, 2011
Monster Tube Award:
Shane Dorian, Maui, Hawaii, Mar.15, 2011
Verizon Wipeout Award:
Mark Mathews, Shipstern Bluff, Tasmania, Apr. 6, 2010
Surfline Best Performance Award:
Sion Milosky
Billabong Girls Best Performance:
Keala Kennelly