There's nothing safe about 20-foot Cloudbreak. Perfect, sure, but by every definition of the word, deadly.
"I almost kind of drowned," said Bruce Irons, who by his own admission was more excited for this South Pacific swell than any other facet of surfing for the last five-plus years. Specifically, the wave he's referring to stands out as the best wave in a dramatic, hard-charging, much-hyped week in Fiji.
Cloudbreak Session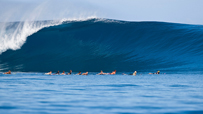 WIDTH="203" HEIGHT="114" BORDER="0" ALT="">
Irons, Slater, Healey and more hit Fiji for an insane session. Gallery

"I visualized it five minutes before I got that wave, it will stick in my mind forever. I get chicken skin thinking about it, even though I almost drowned," Irons said.
Irons joined good friend Nathan Fletcher, 10-time world champ Kelly Slater, Mark Healey, Reef McIntosh, Dave "Wasselhoff" Wassel, Mike Pietsch, Kohl Christensen, Jon Roseman, Fergal Smith, Alex Gray and Garrett "G-Mac" McNamara for what to date has proven to be the swell event of the year.
Forecast charts and satellite maps showed the swell a week to ten days out, and unlike most other swells, this one held true. No last-minute downgrading, no lack of living up to the hype -- of which there was plenty. Come Monday, July 11, most of the players were in place, some staying on the island resort of Tavarua, others on the mainland, content to ferry out to the famed lineup every morning. The forecast was calling for the swell to arrive on Tuesday, and that's exactly what happened.
By the time the surf really started pulsing and pushing a consistent 15-plus feet, there were 20 to 30 boats fringing the Cloudbreak reef, plus a handful of jet skis buzzing in and out of the lineup. You could probably have bought a new Mercedes with all the camera equipment seen in just about every boat. Needless to say, there were some really big waves ridden, and most everyone got one.
"It's the biggest, most perfect dream session you could ever imagine," Fletcher said from the boat. "Just to be here, for Bruce and I to be part of this, I just feel really fortunate to be here with all these guys and witness this."
And although it may not have been quite the biggest wave of the swell, no one will deny that Irons bagged the roundest, gnarliest and most photogenic wave of the swell. If there had been only one photographer on hand and he was lucky enough to get the singular sequence, the value of those photos would have paid the mortgage for a year. From the channel it looked heavy, but it was so beautiful it made it seem almost safe. It was the essence of what a backside tube ride can be on a huge wave and a huge board. But as Bruce reiterated after the session, "I got super rag dolled … I almost drowned."
The set played out like this. Fletcher, who was staying with Irons and is a constant travel buddy, brought a 10'1" gun down that he had picked up from Todd Morcom in Central America. The waves really weren't big enough for the board on Tuesday, but Fletcher was eager to try it out. He patiently waited for a bomb. He ended up getting the wave of the day up to that point. Not wanting to tempt fate further, he came straight back to the boat.
Then Irons decided to have a go of it. Like Fletcher, he patiently waited for a bomb. The very next wave gave Irons the wave of the trip. The board was christened the
"Pink Pony."
By all accounts, this was a very special trip for everyone. Surfers were crying in the channel, hugging each other in the channel and probably puking in the channel. Some suffered two-wave hold downs that could have easily killed them. Others, like Australian Ryan Hipwood, rode the waves of their lives. At one point, Kelly Slater blew minds, riding a 5'11" in the monster conditions … and missing the first round of the Billabong Pro at J-Bay. You know if Slater's willing to miss a chance to surf J-Bay with only one other person out (and there's a world title on the line), he's into something special.
"Ooops … just watched my heat, but I'm getting barreled off my face in Fiji. No disrespect towards @aspworldtour or @billabongpro. Small surf," tweeted Slater on July 15.
As for Irons, he will remember this run as "definitely one the best three surf sessions of my life. … I would have been crying if I had missed that one."
Be sure to tune in to ESPN.com/Action during X Games for an in-depth interview with Bruce Irons.