No one was going to stand between Carissa Moore and her world title Friday at the Roxy Pro Biarritz. Moore, 18, became the youngest ASP women's world champion in history after counting down the last, flat seconds of challenger Sally Fitzgibbons' semifinal heat that she lost to reigning world champ Stephanie Gilmore.
Carissa Moore Gallery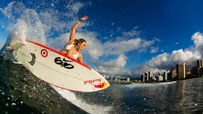 WIDTH="203" HEIGHT="114" BORDER="0" ALT="">
From South Shore keiki to world champ, Carissa Moore's come a long way. Gallery

There's some irony in Gilmore handing the trophy to Moore, seeing as she had to break her own four-year streak of titles to do it. But if there was any solace for the 23-year-old who's now the grande dame of the Women's World Tour, it was her victory over Moore in the final. Still, by then, Moore had the only trophy that really mattered.
An ecstatic Moore said: "I'm so excited right now. It's a little weird to win on the beach; I've always imagined myself coming in from a final and winning that way. It's crazy. I've had this goal written on my door and it's been waiting there for a long time to be checked. I can't wait to go home and cross it out. It's definitely an honor to be surfing against the reigning world champ [in the final]."
After Thursday, Moore found herself in the loser-goes-home Round 4 on Friday and, ever the survivalist, ran away with her heat. She knew that a loss here would send the world title race to the U.S. Open at Huntington Beach next month, and fought hard with constant roundhouse cutbacks and backhand 360s, a tactic that left few choice waves for opponent Tyler Wright.
In the quarterfinal, Moore again faced the feisty Courtney Conlogue, who had beaten her in Round 3. The lone remaining American in the event, Conlogue opened with a 6.00 for her first wave. There was some contention in the commentator's booth after Moore earned a 7.33 for a two-turn wave, but the score turned out to be irrelevant as she picked up a 9.17, followed by an 8.17, and promptly secured the heat.
"I was antsy about that quarterfinal heat and the waves have actually gotten really fun. I just had a ball out there," Moore said after the heat.
On her first wave in the quarterfinal, Fitzgibbons -- the only surfer in the event who could derail Moore's title hopes -- rode all the way to the sand, displaying excellent technique and precision that would propel her to the semifinals.
In the first semifinal, Moore staged a backhand attack on a neverending left and scored a 9.50, ultimately beating Pauline Ado without breaking a sweat.
Fitzgibbons and Gilmore managed to extract some 7-plus scores from a bit of a lull during the second semifinal. With a minute and a half remaining, Gilmore paddled into the beach, and the ocean went flat as Fitzgibbons waited out her 2011 title dream's final seconds.
"I'm calmer than I thought I would be," father and coach Chris Moore said. "I'm really proud of her. She worked really hard for this."
After a very laid-back initial 10 minutes, the final transformed into an aggressively good-natured showdown in clean three- to four-foot surf. With four minutes left, Gilmore got barreled and accumulated a heat total of 17.27 to take the 2011 Roxy Pro Biarritz crown.
"Her turns out there were really strong and I thought she was surfing better than me, but I got a little head dip," Gilmore said afterward. "It feels good to beat her and she has definitely raised the bar for all the girls this year. She was definitely the strongest of everyone this whole year, and she has been in every single final and that is a new record. To beat the freshly crowned world champ is pretty cool."
Moments later, during the awards ceremony, Gilmore handed the humongous silver cup earned by every world champion to Moore. To call it the end of an era would be premature. With an 18-year-old world champ and a 23-year-old four-time champ digging in on the Women's World Tour, we should have some interesting title races for years to come.
Roxy Pro Round 4 Results:
Heat 1: Pauline Ado (FRA) 12.34, Lee-Ann Curren (FRA) 13.16
Heat 2 : Carissa Moore (HAW) 15.94, Tyler Wright (AUS) 7.97
Heat 3 : Sofia Mulanovich (PER) 10.00, Laura Enever (AUS) 4.60
Heat 4 : Coco Ho (HAW) 12.40, Paige Hareb (NZL) 11.30
Roxy Pro Quarterfinal Results:
Heat 1: Pauline Ado (FRA) 11.50, Silvana Lima (BRA) 11.23
Heat 2: Carissa Moore (HAW) 17.34, Courtney Conlogue (USA) 12.50
Heat 3: Sally Fitzgibbons (AUS) 14.37, Sofia Mulanovich (PER) 9.67
Heat 4: Stephanie Gilmore (AUS) 16.30, Coco Ho (HAW) 15.87
Roxy Pro Semifinal Results:
Heat 1: Carissa Moore (HAW) 17.77, Pauline Ado (FRA) 9.67
Heat 2: Stephanie Gilmore (AUS) 15.30, Sally Fitzgibbons (AUS) 12.67
Roxy Pro Final Results: Stephanie Gilmore (AUS) 17.27, Carissa Moore (HAW) 15.50