On Nov. 3, 2010, pro surfer-turned-methamphetamine addict Anthony Ruffo, one of the pillars of the Santa Cruz surf community for over 30 years, found himself at the crossroads. The devil came looking to make a trade, and like so many times before, Ruffo was willing to oblige. "I came back from a trip to Indo," he explains, "my court case was uncertain, I was using again, I had some relationship issues and started using more. Basically, in a nutshell, Andy Irons dies and I hit rock bottom."
Ruffo Retrospective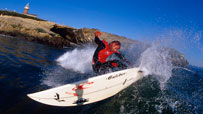 WIDTH="203" HEIGHT="114" BORDER="0" ALT="">
From Santa Cruz surf star to meth user to community activist, the crazy life and times of Anthony Ruffo. Gallery

For 47-year-old Ruffo, rock bottom meant awaiting trial for a charge of possession with intent to sell, a decade-old drug problem, and, in Irons, the loss of somebody he considered to be one of his closer friends. But having no illusions about what he thinks ultimately killed Irons, for the first time in his life he understood his own mortality was very much at stake.
"He was a friend from way back," Ruffo says of Irons. "I loved his energy, and losing him affected me in a very radical way. We always saw ourselves as misfits, like rebelling against that clean, preppy surfer thing that was going around then."
During this time Ruffo was supposed to be making arrangements to attend a court-ordered rehab in Aspen, Colo. "I couldn't afford it. So what was I supposed to do? I've been through rehab and it just did not work for me. I'd get six months clean and then start using again, because you know what, the fact of the matter is that I'd fix the immediate problem, but it didn't fix me. It didn't fix my issues."
Ruffo is currently scheduled to appear before a judge on May 9, a result of his July 15, 2010 arrest. He has served short stints in the past, but this time could be facing upwards of five years or more behind bars due to his prior record. His trouble with the law dates back to a marijuana bust in 1998, then another drug-related arrest in 2005. Before that second arrest, I'd known Ruffo only by reputation, but that year I had my first interaction with him.
That year I wrote a short, front-of-the-book story for Surfer magazine. It pertained to Ruffo's recent arrest, and maybe not surprisingly, it was met with a fair amount of backlash, which climaxed with a petition being circulated around Santa Cruz calling for my termination. Prior to Andy Irons' death this past year, and in select few other instances, substance abuse wasn't really a mag talking point, and if it was it came only in passing references or off-the-cuff, insider-only asides. Simply by regurgitating the police report, the story stirred up such a response you'd have thought I'd drawn a cartoon of the prophet Muhammad.
src="http://assets.espn.go.com/i/story/design07/dropQuote.gif" />
I've made a lot of bad decisions, and I'm living with them now, but I'm not a bad person.
src="http://assets.espn.go.com/i/story/design07/dropQuoteEnd.gif" />
--Anthony Ruffo
I survived, although my sessions in Santa Cruz considerably diminished. Meanwhile Ruffo's wild ways continued. "Surfing and partying, not giving a f---, really. That's what I was up to. Santa Cruz was falling deep into it. There were a lot of guys getting really messed up. But nobody said anything, so it just kept going. Even when Peter Davi -- who was one of my best friends in the world -- died at Ghost Tree, not a lot was said publicly about his using, and whatever was said was quickly quieted," Ruffo says. Davi drowned while surfing the Monterey Bay big-wave spot on Dec. 4, 2007. Results of his autopsy showed that he had high levels of meth in his system at the time of his death.
"I was pissed at that Surfer story about me because I didn't get a chance to comment or defend myself," Ruffo says, "plus, that kinda s--- never shows up in the mags. The surf industry doesn't like to talk about it. It was devastating our community, people were literally dying, and nobody was saying a word. You're a surf star one day then they use you up, leave you with no life skills and a drug problem and say, 'good luck.' Look at Flea, he lost all his sponsors after getting out of rehab."
Skip ahead several years, and Ruffo and I rekindled our relationship. After his 2010 bust, knowing full well what I was getting into, I published another 300-word story, this time here on ESPN.com. In my July 19 post I discussed Ruffo's most recent arrest, as well as touched on the Surfer story. I also editorialized: "My respect for somebody stops when they start peddling speed to kids."
Ultimately it was that line that inspired Ruffo to find me on Facebook. Our initial correspondence was fraught with four-letter words and misunderstanding, but as with most issues in life, the more we communicated back and forth, the more we began to see our respective points of reference.
"I'm not a drug dealer, I don't sell speed to kids," he said. "I have a problem. I'm a drug addict. I don't want to be. It's not something I'm proud of or condone. I've made a lot of bad decisions, and I'm living with them now, but I'm not a bad person ... and I don't sell speed to little kids."
And while I can't speak to the issue of Ruffo's drug-world dealings, I can say that the more we talked the more convinced I became that he wasn't a bad person, that he wanted to walk the straight and narrow, but like so many others, he was torn by internal conflict. He offered to go on record and tell his story. "I want everybody to see what I'm going through so they don't have to," he said. "It's a road to nowhere. No more sweeping it under the rug and pretending it's not there. It is, and it needs to be dealt with."
Then our communication ceased. Our routine e-mails all but stopped. I chalked it up to him using again. Why wouldn't he be? Come to find out a month later that thanks to a chance meeting with a woman named Genie O'Malley and her innovative treatment methods, Ruffo had, against his lawyer's better judgment, forsaken his court-ordered rehab in the Rockies for O'Malley's program in the coastal countryside of Amagansett, N.Y. Was it a good decision? To date Ruffo says he is three months clean. As he says, "She changed my life."
"My assistant saw a picture of him on the front of the Santa Cruz newspaper, I had no idea who he was up until that point," says O'Malley, who founded Clear Mind Healthy Planet in 1997 after a "spontaneous spiritual awakening" and eventual nine-month retreat into an Australian rainforest. "He looked so sad, and I thought we could help him. So he came out, made incredible progress, and was living clean after the three-week treatment. And it's kind of picked up steam from there. He's such a figure in the Santa Cruz community, and immediately he wanted to come back west and try to help his friends."
"The approach that Genie writes about and talks about is multifaceted," explains Dr. Alan Hirsch, a neurologist and psychiatrist, as well as neurological director of the Smell and Taste Treatment and Research Foundation in Chicago. "First there is the breathing technique, which gets people into a more relaxed state, where they're more prone to letting their inhibitions down. And the next is a series of positive words and prompts that when concurrent with the breathing, people start viewing themselves in a more positive light. And when you view yourself in a more positive light there's less of a need to find that from an external source, like drugs."
"The problem that I have," Russo says, "the problem that most addicts have, is that there's an issue or feeling that's missing and we medicate ourselves to fill that in. Whether you're sad, depressed, or you're trying to mask some kind of pain, you know, that's how an addict will deal with it. Genie's changed all of that. In rehab it's all about repenting and there's this negative connotation associated with being an 'addict.' This is different. It's positive. It makes you feel good about who you are and what's in front of you -- rather than always looking back and trying to run from it."
A clean, sober and clear-minded Ruffo and I eventually reconnected. "I'm back, and we have to tell this story." And why tell the story? According to statistics from the Santa Cruz County Sheriff's Office, the amount of meth seized by the department almost doubled between 2004 and 2005, and more than half of Sheriff's Office arrests in 2005 -- 365 out of 649 -- were meth-related. Simply put, Surf City to the north has been ravaged by the drug.
On Dec. 9, Ruffo returned to Santa Cruz and invited his most ravaged, down-and-out friends to a Clear Mind Healthy Planet meeting. One hundred and fifty people showed up, 50 stayed afterward, and 40 of those 50 agreed to participate in a two-week cleansing and education program hosted by O'Malley. When it was done all 40 were still there, two weeks clean. "They all came up to us and said thank you, thank you for changing our lives," Ruffo says.
src="http://assets.espn.go.com/i/story/design07/dropQuote.gif" />
Not sure how this is all going to end, but I'm in a better place in my life now than I've been in a long time, and hopefully I can help others get there too.
src="http://assets.espn.go.com/i/story/design07/dropQuoteEnd.gif" />
--Anthony Ruffo
"I was recently contacted by the father of a 35-year-old man that we helped," O'Malley says. "He was so grateful to have his son back. He thought he was lost forever, but it really goes to show that helping one person can have a huge ripple effect and make a profound difference in a lot of people's lives."
"All those church-based 12-step programs have a 95 percent drop-out rate, with a 5 percent success rate of staying clean," Ruffo tells me one afternoon shortly after his seemingly triumphant return to town. "We had 100 percent graduate. I've been to a lot of rehabs, and I've never seen that."
"What happens is when you change your breathing and thought pattern and start to feel better about yourself, analysis of the brain shows that this can change your metabolism depending on what part of the brain is involved -- you can see this in people who are in a state of clinical depression becoming not depressed or people suffering from mania becoming more normal -- and the same thing goes with people using drugs," Dr. Hirsch explains. "It makes a lot of sense if you think about it. Controlling respiration, you don't think about it all day long, but when you do think about it you can control it. The same goes for other aspects of the body. This is a very scientific approach to dealing with these kinds of issues."
Hoping to expand the reach of his message and keep the positivity flowing, Ruffo invited documentary filmmaker Rocky Romano to join him and O'Malley in spreading their new-age gospel. "The Ruffo Story" is currently in production and is expected to be released sometime later this year.
"The more I got into it, the more I got to know Anthony and Genie, as a filmmaker I knew there was a really good story in the works," says Romano. "It's a ruin-to-redemption kind of thing set against the backdrop of a turbulent surf community still reeling from the loss of both a world champion and a big-wave hero in Irons and Davi. I was with them in New York when Anthony was first starting all of this, and then when we came to Santa Cruz and I saw the impact he was having on people. It's profound. This community needs a lot of help, and as somebody that's been through it, he's now on the front lines trying to make good."
But Ruffo's story is far from having a happy ending. He still has his May 9 court date, and given his prior record, leniency may be unlikely. "I'm facing real time," he asserts. But then considering the burden on the California prison system, and all of the progress he's made, there may be hope yet.
"I'm finally doing good, I'm finally making a positive impact on some very needy people's lives," says Ruffo. "I hope the judge can understand that I'm more value out on the street than rotting in some cell. My life is finally on track, I know what my calling is now. The community here in Santa Cruz needs help, I've witnessed it first-hand, and all I'm hoping is that they see what I'm doing and can be optimistic about it."
How much has he changed just in the course of our correspondence back and forth? Last week he went to a local high school to warn against the dangers of drugs. And, when I was fact-checking this story with him, he told me as an aside that he'd recently invited the cops who arrested him over for doughnuts and coffee ... that has to be worth something.