World Tour Surf-tistics: Brazil
A comprehensive statistical guide to Stop 3 of the 2010 ASP World Tour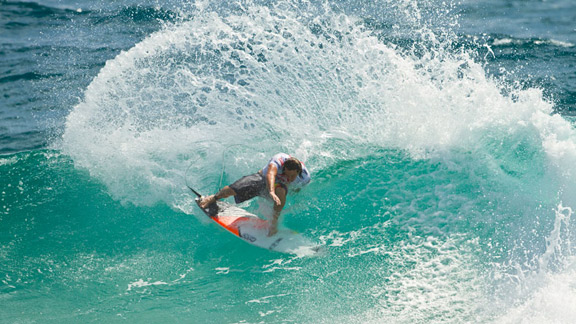 JoliJordy Smith, third in the world and feeling it.
No rest for the weary: Just two weeks after Kelly Slater made things interesting down at Bells ... er ... Johanna, the World Tour circus makes its way to the beaches of Brazil for Stop 3. And no one's wearier than ESPN Surfing's own statistician, Mike Newman. Once again, he's crunched all the numbers to give you some statistical insight on who should be filling out your Fantasy Surfer roster. Check out his analysis and surfer rankings and let us know what you think in the Comments section.
Santa Catarina Preview Gallery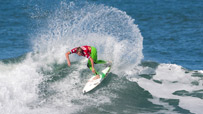 For a more photographic preview of the storylines going into Brazil, click here: Gallery »
Despite a perceived stepchild status as a swell-challenged event that is occasionally skipped by the tour's big names -- Slater, Mick Fanning and Joel Parkinson all have given it a pass in recent years -- Brazil has been a part of the tour since day one. And while no event was held here in 1979 or 1983-85, there were multiple events held here in 1988-1991, resulting in 36 total.
In 2010, 34 of the 45 surfers currently on tour have past results here. Six have won and five have reached the semifinal. Unlike many of the other stops on tour, the group of surfers sharing the biggest points isn't limited to just three or four. There are 17 surfers who have shared the big points available in the quarters, semis and finals.
This is likely due to the variety of beach breaks that have hosted the event over the years. Unlike the classic points and reefs that make up most of the dream tour and favor local knowledge or veteran experience, the venues of Santa Catarina resemble the kind of shifty, fickle sandbars mere mortal surfers contend with at most beaches, which might be why it's the only event on tour that's never seen a plus-19 heat score. It favors strong paddlers able to cover a lot of ground and properly read the currents, but let's face it: There's also a little more luck involved at Brazil than elsewhere on tour.
Case in point: The Aussie contingent features the usual suspects -- Mick Fanning (two wins), with a win percentage of 87, Taj Burrow (three wins) at 78 percent, Bede Durbidge (one win) at 75 percent and Joel Parkinson at 66 percent. But Mick Campbell, Adrian Buchan, Tom Whitaker and Kai Otton all have been runners-up in Brazil. Kieren Perrow has surfed here only five times, but took third once and fifth once.
In the U.S. field, a similar dynamic is obvious. Sure, Kelly Slater has won Brazil three times in 11 tries, with a win percentage of 72. But Damien Hobgood has a one win and a second in eight tries (win percentage of 62), and Brazil is the site of Taylor Knox's lone Tour victory (1996) in his long and illustrious career.
There are comparatively few surfers with four or more starts who have a complete lack of solid results in Brazil. Dean Morrison is one of them -- in five attempts, he's won just four heats. Luke Stedman also struggles here -- just two heat wins in five tries.
Finally, the smart money would probably be on Adriano de Souza to go deep. It wouldn't be a stretch to say that a win on home sand would mean more to the Tour's Brazilians than any other nationality, and in addition to finishing runner-up to Slater here last year, he's coming off two equal fifths this season. The home-crowd advantage could be what he needs to finally earn the win knowledgeable Tour watchers know he's due.
Highest Combined Heat Scores at the Santa Catarina Pro:

34.50: Nathan Hedges 17.70 def Andy Irons 16.80, Quarterfinal 2005
33.87: Taj Burrow 16.97 def Guilherme Herdy 16.90, Round 1 2004
32.87: Mick Fanning 17.50 def Ritchie Lovett 15.37, Quarterfinal 2003
32.61: Kelly Slater 17.94 def Adriano de Souza 14.67, Final 2009
Highest Scores Posted at the Santa Catarina Pro:

18.77: Mick Fanning Final 2006
18.70: Mick Fanning Semifinal 2007
18.67: Kelly Slater Quarterfinal 2003
18.10: Taj Burrow Round 3 2008
18.07: Kelly Slater Round 1 2007
18.06: Jeremy Flores Quarterfinal 2008
Lowest Scores Posted at the Santa Catarina Pro:

3.30: David Weare Round 1 2006
3.87: Roy Powers Round 3 2009
3.90: Peterson Rosa Round 2 2007
4.00: Tom Whitaker Round 1 2006
4.43: Roy Powers Round 3 2008
4.50: Heitor Alves Round 3 2009
2010 Santa Catarina Rookies:

Jadson Andre (BRA)
Adam Melling (AUS)
Nathan Yeomans (USA)
Dusty Payne (HAW)
Brett Simpson (USA)
Tanner Gudauskas (USA)
Marco Polo (BRA)
Blake Thornton (AUS)
Pat Gudauskas (USA)
Mat Wilkinson (AUS)
Luke Munro
Owen Wright
Also See

ESPN Surfing is all over the World Tour. The proof's in the links.
RIP CURL PRO VIDEO
RIP CURL PRO VIDEO
RIP CURL PRO PHOTOS
QUIKSILVER PRO COVERAGE
QUIKSILVER PRO VIDEO
QUIKSILVER PRO PHOTOS
INTERVIEWS
RELATED VIDEO
RELATED PHOTOS
MORE ACTION SPORTS HEADLINES
MOST SENT STORIES ON ESPN.COM