Choppy lips, short trips, and rodeo flips
Round Three finishes small at Billabong Pro Tahiti
Billabong Pro Tahiti Finals Gallery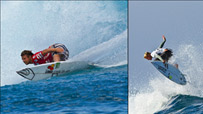 It was a long, emotional week at "the end of the road," and the final day delivered. Gallery

There's an old sailors' saying: "Red at night sailors delight, red in the morning sailors take warning."
The sky this morning at the End of the Road was tinted with pink, which isn't quite red. But it wasn't clear either, and it meant nothing would be predictable this day -- besides the results.
The sailor's warning came true. I'd only been in the photo boat about an hour before I started dragging out the rain jacket. A dumping squall went through the contest site as Andy Irons and Matty Wilkinson were battling out. Cameras went into cases and the media crew in the channel were trying to keep dry the best they could. The only guy working was the webcast camerman and he gets paid like a postal worker -- wind and rain and snow, or how ever it goes.
The day presented very ordinary conditions, but the organizers still pushed the 'go' button. The surf was barley 2-foot and had a weird little chop in the face and across the lip. Despite the conditions, there was a lot going on: multiple rainbows, good light over the mountains, and whales breeching outside the line up.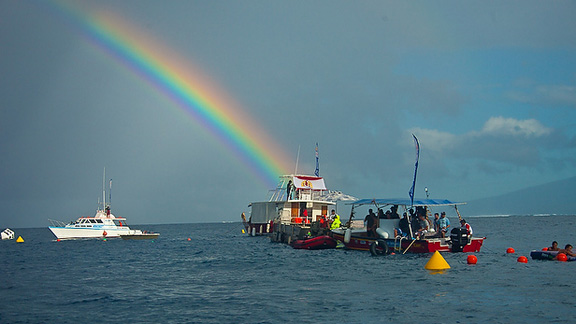 JoliThe weather may have been beautifully unpredictable, but the results were by the book.
If you look at the results of the four heats run before it was halted, you'd have to say the results went according to script. World Champ, Mick Fanning, got past Tamaroa McComb. Former Teahupoo champ, Damien Hobgood, put an end to the Cinderella run of bubble boy Marco Polo, Andy Irons sneaked past Matty Wilkinson, and Pat Gudauskas pulled the rabbit out of the hat with the first successful rodeo flip ever executed in a WCT event. (Perhaps that wasn't in the original script, but it was amazing.)
Matty Wilkinson had his chance against Irons. And if he'd stuck his inverted air reverse, the result would have gone the other way.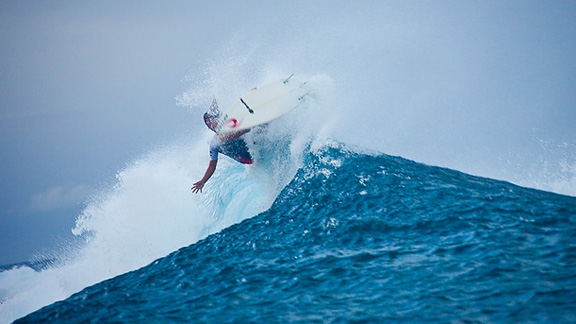 JoliMatt Wilkinson pushing fins where he'd normallly be hanging by them.
"That was the first one I didn't make in six days," said Wilko later, "I've been nailing them, but as soon as I felt my hand sliding down the rail and not grabbing the wax, I knew I'd blown it."
Pat Gudauskas didn't blow it.
"I just did this little double pump before I launched," explained Gudauskas after he returned for lunch, "I felt like I was going to make it and then my foot slipped as I landed. I had to do a little spin to come out of it."
From the boat angle, he landed it perfectly and just spun out, giving a little two thumbs up to either his Pops watching the webcast, or the judges in case they had missed it. Going by the 8.10 points they threw down, they hadn't missed it. It elevated him over Chris Davidson, and he faces Damien Hobgood when things resume.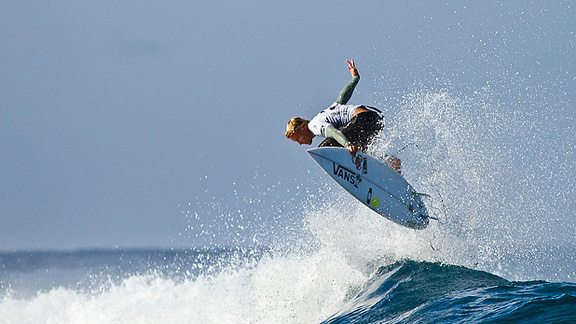 JoliPat Guduaskas reaches deep over the shallows.
Round three is done and dusted, the ASP cut off is finalized and Billabong has only two days to finish this puppy off. Friday, the last day of the waiting period is looking the best right now. Catch Billabong's live webcast here.
BILLABONG PRO TAHITI REMAINING ROUND 3 RESULTS:
Heat 13: Mick Fanning (AUS) 14.50 def. Tamaroa McComb (PYF) 6.83
Heat 14: Andy Irons (HAW) 9.34 def. Matt Wilkinson (AUS) 9.16
Heat 15: Damien Hobgood (USA) 10.77 def. Marco Polo (BRA) 8.74
Heat 16: Patrick Gudauskas (USA) 13.43 def. Chris Davidson (AUS) 13.16
BILLABONG PRO TAHITI ROUND 4 MATCH-UPS:
Heat 1: Dane Reynolds (USA) vs. C.J. Hobgood (USA)
Heat 2: Tiago Pires (PRT) vs. Adriano de Souza (BRA)
Heat 3: Owen Wright (AUS) vs. Fredrick Patacchia (HAW)
Heat 4: Jeremy Flores (FRA) vs. Manoa Drollet (PYF)
Heat 5: Kelly Slater (USA) vs. Adam Melling (AUS)
Heat 6: Adrian Buchan (AUS) vs. Michel Bourez (PYF)
Heat 7: Mick Fanning (AUS) vs. Damien Hobgood (USA)
Heat 8: Damien Hobgood (USA) vs. Patrick Gudauskas (USA)

Also See

ESPN Surfing is all over the World Tour. The proof's in the links.
BILLABONG PRO JEFFREYS BAY COVERAGE
BILLABONG PRO BRAZIL COVERAGE
RIP CURL PRO COVERAGE
RIP CURL PRO VIDEO
RIP CURL PRO PHOTOS
QUIKSILVER PRO COVERAGE
QUIKSILVER PRO VIDEO
QUIKSILVER PRO PHOTOS
INTERVIEWS
RELATED VIDEO
RELATED PHOTOS
MORE ACTION SPORTS HEADLINES
MOST SENT STORIES ON ESPN.COM