"I was a little nervous last night when I went to bed," admitted Kelly Slater, minutes after winning the 2010 Hurley Pro and taking a commanding lead of the ASP World Title rankings. Slater nervous? Given what was on the line, it's understandable.
2010 Hurley Pro Final Day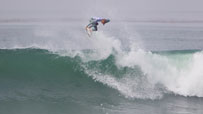 WIDTH="203" HEIGHT="114" BORDER="0" ALT="">
Kelly Slater's your 2010 Hurley Pro champ, and seizing the ASP ratings lead he's well on his way to a tenth world title. "It's not going to be easy," said Slater, and by the looks of things, we'd have to agree. Gallery »
Vying for a record tenth world title, in conditions that had ASP CEO Brodie Carr claiming this was the "best event of the year," the performance bar had long since been sufficiently elevated, and in hot pursuit of a record tenth world title, the embattled champ would have to overcome the youthful vigor of Owen Wright, Dane Reynolds and Jordy Smith.
But just when the butterflies were starting to flutter, Slater was given at gift. At approximately 8:30 in the morning he paddled out for his Round 5 heat and heard over the announcer's PA, "Kelly, Chris Davidson is a no-show for this heat, you are advancing directly into the quarterfinals. You may still stay out and surf if you choose."
Inexplicably Davidson was a no-show. Team managers, competitors, industry wonks, everyone was baffled. Word slowly trickled in that "his people had called the contest director" and reported that "Davo" was down with a serious case of the flu. Speculation blazed through the VIP area like wildfire through a Malibu canyon. Some cited Davidson's absence as a case of the "alcohol flu" after a big Friday night, others thought maybe a female companion still had him handcuffed to the hotel bed, while the conspiracy theorists alluded to a certain payout coming from the Slater champ. The fact is, even by day's end nobody had sufficiently been able to answer the question: Where's Davo?
"The free surf was nice because I was nervous before that heat," told Slater later. "It was good to just go out there and catching some waves and see what the judges were going to score me."
In the past Slater's been known to talk about the little things, the little breaks that have to go in one's favor to actually win a world title This would constitute one such instance ... and heck, maybe it makes up for that call he suffered against Sean Holmes in South Africa.
Regardless, Slater was on into the quarterfinals, where he'd meet -- and beat -- rookie-of-the-year candidate Owen Wright, one of the only surfers on tour with a winning record against the champ. "The heat with Owen seemed like the real game-changer in this contest for me," told Slater. "Looking back at contests I've won [which now stands at 43], I generally have one heat that I'll put together that sets the pace, and for me, I was treating that heat like a final because I know Owen was one of the favorites out here. He's put in one of the top performances out here this week and I just didn't want to let him have any room."
Meanwhile, on the other side of the draw Taj Burrow, Jordy Smith and Dane Reynolds were expected to go haywire in the epic six-foot conditions. But then, as usual, the man nobody talks about but who does all the damage, Bede Durbidge, stepped into the equation. Duh! Bede Durbidge! Of course -- Mr. Consistency. "It's a guarantee he's going to get two eights in every heat," touted Carr. "You have to at least get a 16 in your heat to beat Bede, every time."
"Dane and Jordy have been doing some of the best surfing this week," told Durbidge at day's end. "They have every trick in the book, but they're still young on tour and I figured if I could just put some pressure on them and force them to do something, then I had a chance. That was my game plan, and it seemed to have worked."
By 1:30 in the afternoon Slater had sailed through a no-show with Davidson, reved the engine a bit in beating Wright in the quarters, and then in the semis he dispatched Mick Fanning in a heat he wasn't exactly proud of. "I was pretty bummed on that heat," told Slater afterward. "Tactics came into it, and I don't like to win that way. Mick and I got into it in the water a little bit, he's pissed at me, but we'll talk about it and it'll be fine. That's competition. No friends in the water."
And Durbidge? His path was not so easy. He had to blitz through Ace Buchan in Round 5, Jordy Smith in the quarters, and then Dane Reynolds in the semis. Based on the stats, he had to be the two best surfers of the event. Not exactly good odds, but Durbidge is a man of steely resolve.
"You could see Jordy felt a little bit of pressure," said Bede, "and with Dane you never know, I thought he just might get two three's against me, and he did."
"I felt a lot less nervous when Jordy and Taj lost," Slater would explain. "It's so important to win those quarterfinal heats when you're in a race like this, and I knew once they lost it wouldn't be the end of the world if I made a mistake. And the thing with Dane, if there's a chink in his armor it's that he gets tired. If he has to surf three times in one day and he's under pressure, he gets tired. He's not Mick Fanning. He doesn't come down with the right liquids and vitamins, and he's not sure what to eat before a heat, and all that stuff. He's not worried about that stuff, he just wants to go out, see the lip and blast the lip off. 90 percent of the time he's going to smash you, but every once in a while that's going to happen. When you're tired you don't make good decisions, and that's what happens."
So, in a replay of the 2006 final at Trestles, it the final was set with Slater and Durbige. Up until this point Slater had won at Trestles three times, in 2005, '07 and '08. It was Durbidge that stopped him from winning four straight. "Kelly's got so much experience," said Durbidge after the final. "He's been in every situation. He knows what it takes to win and he'll do whatever it takes."
At 1:45 the two hit the water, and for the first 25 minutes it was more or less it was anybody's final to win, with Slater sitting uncomfortably in the driver's seat for the duration. Then, another gift came Slater's way. It arrived in the form of a well overhead set wave and a proper, top-to-bottom tube. "It was kind of a magic moment for me," said Slater. "It was the biggest wave of the heat, and probably the biggest wave I caught all week out here."
As they say, that's the ball game, folks. Slater won the 2010 Hurley Pro running away ... on a 5'9" Channel Islands that he designed ("It's the first board I've designed from the ground up, so it feels good to get a win on it," he would say.) He was rewarded $105,000 for the effort -- the biggest prize purse of the year. And more importantly, he now takes a 4,500-point lead in his bid for a tenth world title. Simply put, this was his day.
"I feel great. I feel on top of the world. I'm tired and my legs are burning. They're full of lactic acid. I don't think I could surf another heat right now. And to have another final with Bede was nice. It evens things out."
And about he world title shot? "Obviously it's there to talk about, but there's a lot of work left. There's four contests left. I definitely have to have two good results, and most likely three or four, if I'm going to win a world title, so to me the pressure's still on. There's not taking the foot off the gas."
Not more than two hours after winning, our crack lensman Jason Kenworthy spotted Slater hanging at Old Man's at San Onofre State Beach, apparently helping a group of kids learn to surf. The man just stuffed 100 large in his pocket and he's hanging at Old Man's -- he must be more of a San Clemente local than we figured.
HURLEY PRO TRESTLES FINAL RESULTS:
1. Kelly Slater (USA) 18.13
2. Bede Durbidge (AUS) 14.13
HURLEY PRO TRESTLES SEMIFINAL RESULTS:
SF 1:Kelly Slater (USA) 15.87 def. Mick Fanning (AUS) 10.43
SF 2:Bede Durbidge (AUS) 11.67 def. Dane Reynolds (USA) 9.63
HURLEY PRO TRESTLES QUARTERFINAL RESULTS:
QF 1:Mick Fanning (AUS) 12.60 def. Kieren Perrow (AUS) 8.20
QF 2:Kelly Slater (USA) 17.03 def. Owen Wright (AUS) 15.97
QF 3:Bede Durbidge (AUS) 13.27 def. Jordy Smith (ZAF) 11.87
QF 4:Dane Reynolds (USA) 14.80 def. Taj Burrow (AUS) 12.90
HURLEY PRO TRESTLES ROUND 5 RESULTS:
Heat 1:Kieren Perrow (AUS) 13.76 def. C.J. Hobgood (USA) 10.50
Heat 2:Kelly Slater (USA) 17.10 def. Chris Davidson (AUS) N/S
Heat 3:Bede Durbidge (AUS) 11.40 def. Adrian Buchan (AUS) 7.47
Heat 4:Dane Reynolds (USA) 12.04 def. Damien Hobgood (USA) 10.73
ASP WORLD TITLE RACE TOP 5 (After Hurley Pro at Trestles):
1. Kelly Slater (USA) 40,000 pts
2. Jordy Smith (ZAF) 35,500 pts
3. Taj Burrow (AUS) 30,500 pts
4. Dane Reynolds (USA) 30,250 pts
5. Mick Fanning (AUS) 29,500 pts