2010 Quiksilver Pro France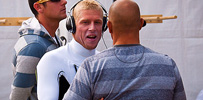 WIDTH="203" HEIGHT="114" BORDER="0" ALT="">
Mick Fanning wins his second Quik Pro France title in a row over Kelly Slater, leading in to a crucial world title race for the end of the season. As he said himself, "Game On." Gallery »
There is a saying in French that goes, "Comme ci comme ça," which in my schoolboy language training translates to something like "so so" or "more or less," which probably sums up the Quiksilver Pro France today.
Three heats of Round 2 were run in less than stellar beachbreak conditions. Surfers and organizers were of two minds whether to start the contest at 8 a.m. When they did start at 9 a.m., there was still debate behind the scenes whether to put it on hold until the waves improved with the dropping tide, cancel for the day, or run more heats.
Kelly Slater had turned up early, described as "sleepy eyed" by one of the web commentators, but was ready to surf.
He wanted to get his second round heat out of the way and put yesterday's (4.0 heat total) performance out of his mind. He still wasn't convincing in his heat win, but maintained a couple of points lead over the wildcard and current world junior champ, Maxime Huscenot (10 to 7.4.)
Fellow Hurley Pro finalist, Bede Durbidge was up next in the sudden-death Round Two. Last week, he finished runner up behind Slater and this week he was dumped out of the event in the second round by sponsor wildcard Julian Wilson by a score of 11.44 to 10.24. Durbidge is now heading home for the birth of his first child and will miss the rest of the Euro leg.
In heat three of the second round, Adriano de Souza and Gabe Kling were in the water when the announcement came over the loud speakers for the surfers to return to the beach. De Souza waved his hands in frustration as they both paddled in. Kling was met on the beach by Contest Director Rod Brooks and asked what he wanted to do, surf or wait.
Adriano had already expressed his frustration as he walked past, saying, "Let's do this thing." Kling agreed to surf and they both headed back to the line up. Adriano might have regretted his haste later, as Kling took the heat 11.20 to 10.10, his first win coming into the revamped Top 32 as an injury Wildcard.
"I knew Adriano was snapping, (to surf) so I thought that might help me," said Gabe later. "We were all ready, so I thought, 'let's go.' Waiting another 30 minutes was not going to make that much difference."
The difference between the two in the water came down to the size of their turns. Adriano's were quick and sharp while Gabe's were open faced with plenty of spray.
"I thought I'd blown it with losing priority at the end," Kling told me after his heat, "but the big punt I was expecting on his last wave didn't come. I'm just stoked to get through the heat."
When the contest was called off, the competitors' area was filled by frothing kids ready to surf in Quiksilver's King of the Groms contest. A few Top 32 surfer stayed to watch, including Owen Wright with his dad Rob. They were supporting the next Wright sibling, 14-year-old Mikey, who came second in his round one heat and will surf again tomorrow.
With the small swell predictions, the King of the Groms will be running before the big guys hit the water again. The Quiksilver France Pro official Magic Seaweed forecast calls for rising swell Wednesday or Thursday, but also potential for onshore winds. You can catch the webcast here
QUIKSILVER PRO FRANCE ROUND 2 RESULTS:
Heat 1: Kelly Slater (USA) 10.00 def. Maxime Huscenot (FRA) 7.40
Heat 2: Julian Wilson (AUS) 11.44 def. Bede Durbidge (AUS) 10.24
Heat 3: Gabe Kling (USA) 11.20 def. Adriano de Souza (BRA) 10.10
QUIKSILVER PRO FRANCE REMAINING ROUND 2 MATCH-UPS:
Heat 4: Damien Hobgood (USA) vs. Travis Logie (ZAF)
Heat 5: Andy Irons (HAW) vs. Luke Munro (AUS)
Heat 6: Bobby Martinez (USA) vs. Daniel Ross (AUS)
Heat 7: Tiago Pires (PRT) vs. Tom Whitaker (AUS)
Heat 8: Jadson Andre (BRA) vs. Matt Wilkinson (AUS)
Heat 9: Michel Bourez (PYF) vs. Roy Powers (HAW)
Heat 10: Chris Davidson (AUS) vs. Dusty Payne (HAW)
Heat 11: Kieren Perrow (AUS) vs. Luke Stedman (AUS)
Heat 12: Adam Melling (AUS) vs. Taylor Knox (USA)