A week ago, Jordy Smith broke three boards in one heat at Trestles. This week, it was his fellow young gun, Owen Wright's turn to snap three sticks before the 20-minute mark of a 30-minute heat.
2010 Quiksilver Pro France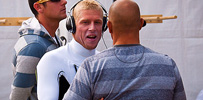 WIDTH="203" HEIGHT="114" BORDER="0" ALT="">
Mick Fanning wins his second Quik Pro France title in a row over Kelly Slater, leading in to a crucial world title race for the end of the season. As he said himself, "Game On." Gallery »
Culs Nus, the main bank for the Quiksilver Pro France was pumping early today with a clean 6-foot plus swell. Pristine barrels greeted the guys in the early heats, but as the tide changed and a light onshore came up, the bank started to live up to its previous gnarly reputation and heartbreak followed board break.
A four-letter expletive was all Owen Wright could get out when asked about the foam carnage in his heat. He'd snapped three boards in his loss to Dan Ross, who had broken one in their 30-minute heat.
Owen declared, "That's the best losing heat I've ever had. They were sick waves. I would have broken 20 boards to get one of those lefts. I took off on three 10's and broke a board on every one!"
[Insert groan from every blue collar surfers who spend two week's earnings on a new stick here.]
Owen and his dad Rob didn't have any back up boards left and when Owen hit the beach for the third time in 20 minutes he was not only without a board but was getting smoked by Ross.
"I was just hoping one of the boys would cough up a board for me," explained Owen.
Mick Fanning wasn't giving up one of his, but he did run one down belonging to Tom Whitaker. The boys in the competitors' area had tossed up taking down a single fin, but figured Owen wouldn't have seen the funny side of it.
"I got the board with ten minutes left in the heat but nothing came through. It's a sick, sick bank, I just wish I had come out of one of those lefts," added Wright.
It was a long day of competition and a lot of the guys are still trying to get their heads around the new heat format. There are no doubts they like the double elimination rounds, but in conditions like today with rip currents, long paddles, gaping pits, and massive wipeouts, some guys surfed three times and were tuckered by the end of the day.
Jordy Smith was complaining about the long walk back through the sand to the competitor's area after his first heat and was completely stuffed after battling low tide conditions in the last heat of the day against Tom Whitaker. He needed to get through to keep his World Title hopes alive, but remains calm.
"I'm pretty relaxed," Smith said. "I think the pressure is on Kelly (Slater) at the moment. I'm just looking at having fun with every heat. Of course I'm thrilled to be where I'm at this season, but there are still a few events left."
During his heat, the beach commentators were explaining to everyone that it was a "tres, tres, tres important" (very, very very important) heat for Jordy. The funny thing is that Kelly Slater had stuck around all day watching the waves, surfed two heats, had a free surf and even watched Jordy paddle out. Ten minutes into the heat he packed his boards and left the beach. Perhaps he'd seen enough to satisfy himself about Jordy's surfing, or maybe he figured Jordy would be somebody else's problem unless they both make the final?
Slater beat Julian Wilson in a much-anticipated match up and then was being slapped around by Michel Bourez before he pulled a very Slater-like comeback.
With Jordy Smith winning the last heat, he now becomes Mick Fanning's problem with a match up in the quarters tomorrow. Fanning had his own little shack-fest in Round Three, posting a 16.93 total. Michel Bourez, of Tahiti, who is a bit of a barrel hound himself, put up the highest heat total of the day, with a 17 in his Round Three heat against Chris Davidson.
Fanning is looking very sharp, very relaxed, much like he was this time last year when he went on a three contest-winning spree. It'll be another interesting day tomorrow and Culs Nus is sure to keep up the heartbreak reputation.
Contest directors will be out at 7:45 assessing conditions on Saturday. Winds could be offshore very early, but sideshores will dominate tomorrow and Sunday. The first quarterfinal heat is Brett Simpson against Daniel Ross.
QUIKSILVER PRO FRANCE ROUND 3 RESULTS:
Heat 1: Daniel Ross (AUS) 16.40 def. Taj Burrow (AUS) 14.33
Heat 2: Taylor Knox (USA) 8.77 def. Damien Hobgood (USA) 7.23
Heat 3: Brett Simpson (USA) 11.34 def. Dane Reynolds (USA) 10.30
Heat 4: Owen Wright (AUS) 16.27 def. Patrick Gudauskas (USA) 6.23
Heat 5: Michel Bourez (PYF) 17.00 def. Chris Davidson (AUS) 8.83
Heat 6: Kelly Slater (USA) 15.53 def. Julian Wilson (AUS) 13.60
Heat 7: Jordy Smith (ZAF) 14.84 def. Gabe Kling (USA) 2.60
Heat 8: Jadson Andre (BRA) 15.83 def. Jeremy Flores (FRA) 12.60
Heat 9: Adrian Buchan (AUS) 12.67 def. Kai Otton (AUS) 9.77
Heat 10: Tom Whitaker (AUS) 8.90 def. C.J. Hobgood (USA) 7.10
Heat 11: Kieren Perrow (AUS) 13.50 def. Fredrick Patacchia (HAW) 8.66
Heat 12: Mick Fanning (AUS) 11.27 def. Luke Munro (AUS) 5.50
QUIKSILVER PRO FRANCE ROUND 4 RESULTS:
Heat 1: Brett Simpson (USA) 10.67, Daniel Ross (AUS) 10.53, Taylor Knox (USA) 6.40
Heat 2: Kelly Slater (USA) 16.20, Michel Bourez (PYF) 15.63, Owen Wright (AUS) 9.26
Heat 3: Adrian Buchan (AUS) 13.40, Jadson Andre (BRA) 8.37, Jordy Smith (ZAF) 6.73
Heat 4: Mick Fanning (AUS) 16.93, Tom Whitaker (AUS) 7.10, Kieren Perrow (AUS) 2.83
QUIKSILVER PRO FRANCE ROUND 5 RESULTS:
Heat 1: Dan Ross (AUS) 15.07 def. Owen Wright (AUS) 10.50
Heat 2: Michel Bourez (PYF) 8.30 def. Taylor Knox (USA) 6.50
Heat 3: Kieren Perrow (AUS) 15.23 def. Jadson Andre (BRA) 10.86
Heat 4: Jordy Smith (ZAF) 14.50 def. Tom Whitaker (AUS) 2.97
QUIKSILVER PRO FRANCE QUARTERFINAL MATCH-UPS:
QF 1: Brett Simpson (USA) vs. Daniel Ross (AUS)
QF 2: Kelly Slater (USA) vs. Michel Bourez (PYF)
QF 3: Adrian Buchan (AUS) vs. Kieren Perrow (AUS)
QF 4: Mick Fanning (AUS) vs. Jordy Smith (ZAF)