There are no sure things in surfing, and there are certainly no guarantees, but heading into the Quiksilver Pro France in lovely Hossegor, Kelly Slater's bid for a record-setting tenth world title may be as close as we're going to come.
When Jordy Smith lost his quarterfinal heat at the Hurley Pro, Slater was already in the semifinals and had regained the number one ranking for the umpteenth time. By the end of the event Kelly had a 4,500 point lead over Smith, which equates to approximately three heat wins worth of points. Even more convincing, going into Lowers the word was that there were up to six different surfers who were still in the hunt for the title, but after the contest there were realistically just two -- Slater and Smith. Why? Because there is a gap of 9,500 points between Slater in first and Burrow in third, which means that to fall out of contention, Slater would have to choke worse than Joel Parkinson did last year.
2010 Quiksilver Pro Preview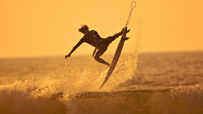 WIDTH="203" HEIGHT="114" BORDER="0" ALT="">
Slater may be back on top, but there is still a hefty list of hopefuls waiting for an upset in France. Gallery »
So, with that in mind, the tour now goes to France, where Slater is ranked the number one surfer of all time. Kelly has competed in France 31 times for four wins, four runner-up results, seven thirds, eight fifths and has competed in 46 final series heats. He first competed in France in 1990, where he finished third behind Tom Curren and Richie Collins -- back in the days when the heat-draw had names on it like Potter, Hardman, Carroll, Ho, Horan, and Elkerton. Now in 2010 he's alongside names like Irons, Burrow, Fanning, Reynolds, and Smith. He's beat all of them.
Then factor in the forecast. Judging by Surfline's long-range charts, there's more than enough swell to run on Saturday, when the contest starts, then it just continues to build all weekend, topping out in the upwards of the six- to eight- to ten-foot range. And should the conditions not cooperate there's more surf stacked up for the end of the week around Sept. 30/Oct. 1. Plus, according to locals in the Hossegor area, the sand bars are really groomed and the wave quality's been top-notch the past several weeks.
A little further down the road, Slater's record in Portugal and on the Search isn't that great, but it's just like the king to want to change that. Even if he bombs in Portugal, the Search is in Puerto Rico, and being a good Florida boy, it's safe to say he's spent more time on the island than just about anybody on tour, save the Hobgoods and Gabe Kling. And then the final event of the season is at Pipeline, and we all know what he's capable of there.
So there you go, there may not be any sure things in surfing, but Slater's never let that stop him before. And you just have to love the man's odds after crunching the numbers.
2010 Quiksilver Pro Event Rankings
A Surfers Ratings Explained:
Add the sum of events surfed to the number of final 16 heats surfed. Divide that number by the surfer's average event result. Then add bonus points for heats surfed in the final 16 (1st = 1.0, 2nd = 0.5, 3rd = 0.25, 5th = 0.1).
SAMPLE: Kelly Slater
(9 events + 13 finals = 22)
(22 / 7.67 ave result = 2.868)
(2.868 + 3.50 bonus points = 6.370)
2010 Quiksilver Pro Rookies (Current ASP Rank):
Owen Wright (9)
Jadson Andre (13)
Adam Melling (20)
Patrick Gudauskas (23)
Mat Wilkinson (25)
Dusty Payne (25)
Brett Simpson (28)
Maxine Huscenot-- Wild Card