Carissa Moore claims 2010 Rip Curl Pro
The humble Hawaiian stands tall for the second ASP tour win of her career
"Dark red turning to purple," was how one official described the swell maps on Friday afternoon, while one UK photographer hanging in the Rip Curl hotel HQ put forward that it was, "All hype. The swell is a hoax. It's only 3 foot at Supertubos because I just checked."
Reality? It was somewhere in the middle and a lot of Rip Curl staff had a sleepless Friday night. High tide was around 4 a.m., which is approximately when the swell arrived. Not quite the 20-foot monster they expected, but big enough for waves to wash into the ground floor of the VIP structure and wash away the beach boardwalks and portable bathrooms.
"The direction of the swell saved us," explained contest organizer Rodrigo Heredia over breakfast. "Last year we got hit by a straight west swell and it trashed the site. This year the storm tracked south at the last minute and the swell had a southwest aspect to it with a slight offshore wind. If either the wind or the swell had been slightly off, we would have been in trouble."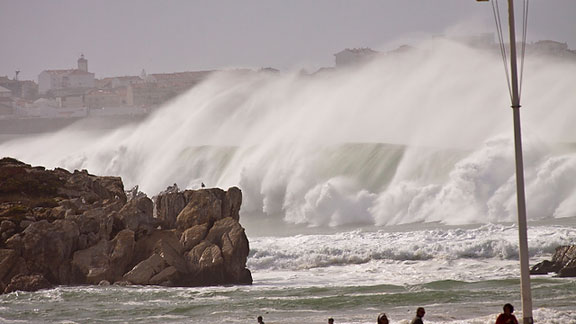 JoliAnd over at the main contest site, well, it was a little too big.
The afternoon's high tide had the Supertubos beach closed off and officials once again on high alert. The ocean was completely out of control and waves were washing right up to the door of the surfers' contest area. Had the Rip Curl Pro been on, the surfers could have stepped straight into the surf.
But if the old adage -- "Never pass up a day of surf" -- is true, it made perfect sense for the ladies' event to move over to Lagide once again. Located on the other side of the Peniche peninsula, it proved a little shelter from the storm, and gave Carissa Moore a perfect opportunity to serve up her own version of the perfect storm. The howling offshore wind held up a 4-6 foot left-hander, which was stormy but contestable, and the size increased with the late afternoon incoming tide.
The quarterfinals matchup between world No. 2 Sally Fitzgibbons and Moore was a one-sided affair for the first 15 minutes. Sally was dominating until Carissa lit up two late rides, leaving Sally needing more than an eight-point score to win. She tried on her last wave, even gave it a little fist pump claim, but it wasn't enough.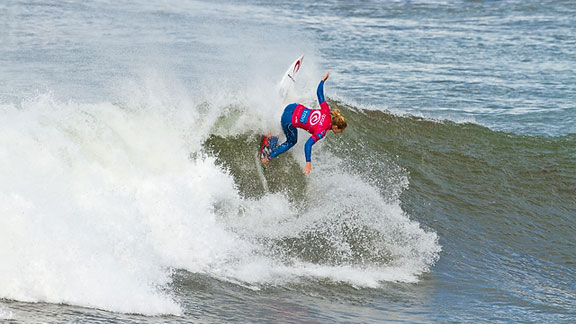 JoliGilmore may have lost the Final to Carissa Moore, but she increased her lead in the overall ratings. And while a historic fourth consecutive title isn't yet a foregone conclusion, she's pretty much Slater-like when she's in this position.
Stephanie Gilmore was making her way through the other side of the draw, never really dominating her heats, but doing enough to win. While Moore whaled Claire Bevilacqua in their semifinal, Gilmore sat in front of the competitors' area with a towel draped over her head. She didn't look comfortable or confident, and it showed when the two hit the water for the final.
Moore had the defending world champ in a combination situation midway through the final, and she never looked back.
"I was feeling very, very tired midway through the final," said Moore afterward. " I didn't have much rest between the semis and final, and I really started to feel it. I had to say to myself, 'Wake up Carissa, you can't go to sleep right now.'"
She didn't.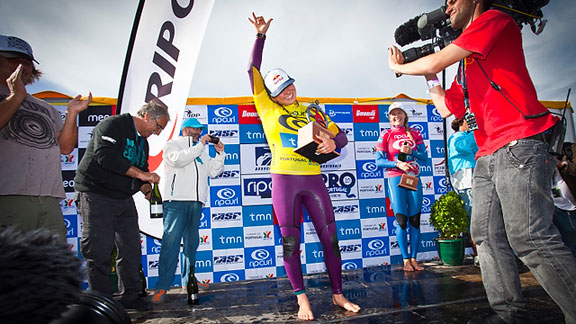 JoliThe action in Peniche began last weekend, when Carissa Moore earned her second-ever World Tour win, besting three-time and defending World Champion Stephanie Moore to do it.
On the other hand, Gilmore couldn't get going. "I didn't really feel that I had surfed well enough all week and I was having trouble with the offshore winds," she said later. "I'm happy to sneak a few points ahead of Sally, but the race for the title is still alive and I've just got to concentrate on doing well in Puerto Rico."
The Rip Curl Pro had survived to run another day, Moore nailed the women's contest, and now it's the big boys' turn to tackle the Portuguese elements.
RIP CURL WOMEN'S PRO PORTUGAL FINAL RESULTS:
1. Carissa Moore (HAW) 17.44
2. Stephanie Gilmore (AUS) 8.60
RIP CURL WOMEN'S PRO PORTUGAL SEMIFINAL RESULTS:
SF 1:Stephanie Gilmore (AUS) 12.93 def. Sofia Mulanovich (PER) 8.80
SF 2:Carissa Moore (HAW) 17.66 def. Claire Bevilacqua (AUS) 8.50
RIP CURL WOMEN'S PRO PORTUGAL QUARTERFINAL RESULTS:
QF 1: Sofia Mulanovich (PER) 12.17 def. Chelsea Hedges (AUS) 6.40
QF 2:Stephanie Gilmore (AUS) 14.34 def. Paige Hareb (NZL) 8.17
QF 3:Carissa Moore (HAW) 15.10 def. Sally Fitzgibbons (AUS) 13.33
QF 4:Claire Bevilacqua (AUS) 12.00 def. Silvana Lima (BRA) 9.10
ASP WOMEN'S WORLD TITLE RACE TOP 5 (After Rip Curl Pro Portugal):
1. Stephanie Gilmore (AUS) 5,688 pts
2. Sally Fitzgibbons (AUS) 4,776 pts
3. Sofia Mulanovich (PER) 4,344 pts
4. Silvana Lima (BRA) 4,164 pts
5. Carissa Moore (HAW) 3,852 pts
Also See

ESPN Surfing is all over the World Tour. The proof's in the links.
QUIKSILVER PRO FRANCE
HURLEY PRO TRESTLES
BILLABONG PRO TAHITI
BILLABONG PRO J-BAY
SANTA CATARINA PRO
RIP CURL PRO COVERAGE
RIP CURL PRO VIDEO
RIP CURL PRO PHOTOS
QUIKSILVER PRO COVERAGE
QUIKSILVER PRO VIDEO
QUIKSILVER PRO PHOTOS
INTERVIEWS
RELATED VIDEO
RELATED PHOTOS
MORE ACTION SPORTS HEADLINES
MOST SENT STORIES ON ESPN.COM