Preview
Day 1
Day 2
Day 3
Day 4
Day 5
Anyone looking for clues to how long we'll have to wait to crown Kelly Slater as the ASP World Tour Champion for the tenth time in his career could read the tea leaves after today's Round 1 action at Middles on the north shore of Puerto Rico: a little bit, yet.
Rip Curl Pro Search Final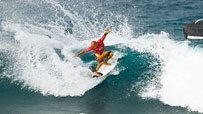 WIDTH="203" HEIGHT="114" BORDER="0" ALT="">
Slater claimed his tenth title, and then went on to win the 2010 Rip Curl Search. Gallery

With Jordy Smith the last man standing in the way of Slater's title, the young South African needed to advance at least to the Quarterfinal at the start of the day. But With Slater dominating his Round 1 heat against Daniel Ross and the sponsor wildcard, Dillon Perillo and advancing easily to Round 3, Smith will now need an equal third or better, depending on how things go. Considering how Smith went in his Round 1 heat, though, the big prize remains in play.
Smith took to the water in heat 5, with the surf a slightly wonky four-to-five foot and pulsing across the Middles reef. It's a wave with a variety of section that rewards local knowledge, which Trials winner and Puerto Rico legend Dylan Graves has by the truckload. Between Graves and Brett Simpson, Smith should have had his hands full. But the 22-year-old tore the bag out of the first wave of the heat, and answered a number of impressive challenges by Graves with gaffs and barrels of his own.
When asked by Rip Curl's Jody Nelson about the fun he appeared to be having both during yesterday's freesurf and today's heat, Smith didn't even wait for a follow up question to get to the point everyone was waiting to hear: "I'm feeling good and having fun, just going out and surfing. He has to lose pretty hard for me to gain the lead, so I'm going to have fun and enjoy it."
Slater, meanwhile, was never seriously challenged despite strong surfing from both Ross and Perillo. The 38-year-old appeared to have a zen-like calm to him all day and was seen joking with fellow competitors in the surfer's area prior to casually dismantling them in the water. Afterward, he referred to the cocoon of support he has around him including his long-time manager and PR rep, as well as some of his closest friends.
"There's just really good energy around," he said. "I already saw friends from home, more are coming in the next day or two and even my friends from Barbados are coming down."
Indeed, the surf world seems to be converging on this island in anticipation of Slater's historic achievement. And while Smith made it clear that he's got some fight in him, it would take an uncharacteristic slip on Slater's part to derail the title train now.
With windswell forecast to slowly back off through the day tomorrow, it's anticipated that men's Round 2 and most of the remaining women's event will. After that, things get a little less clear. ESPN Surfing reports live from the beach from here on it, so check back daily.
RIP CURL PRO SEARCH PUERTO RICO ROUND 1 RESULTS:
Heat 1: Kieren Perrow (AUS) 12.56, Adrian Buchan (AUS) 11.77, Travis Logie (ZAF) 9.13
Heat 2: Dane Reynolds (USA) 14.83, Taylor Knox (USA) 11.80, Roy Powers (HAW) 8.73
Heat 3: Tiago Pires (PRT) 13.70, Taj Burrow (AUS) 13.40, Luke Munro (AUS) 10.60
Heat 4: Mick Fanning (AUS) 14.10, Gabe Kling (USA) 12.93, Patrick Gudauskas (USA) 11.70
Heat 5: Jordy Smith (ZAF) 12.90, Brett Simpson (USA) 12.20, Dylan Graves (PRI) 6.60
Heat 6: Kelly Slater (USA) 16.27, Daniel Ross (AUS) 13.40, Dillon Perillo (USA) 11.80
Heat 7: Bede Durbidge (AUS) 12.70, Fredrick Patacchia (HAW) 12.26, Dusty Payne (HAW) 12.14
Heat 8: Owen Wright (AUS) 13.50, Luke Stedman (AUS) 7.37, Andy Irons (HAW) N/S
Heat 9: Adriano de Souza (BRA) 13.37, Kai Otton (AUS) 10.77, Bobby Martinez (USA) 10.40
Heat 10: Jeremy Flores (FRA) 13.50, Damien Hobgood (USA) 11.00, Matt Wilkinson (AUS) 8.67
Heat 11: C.J. Hobgood (USA) 15.50, Tom Whitaker (AUS) 13.50, Jadson Andre (BRA) 10.17
Heat 12: Michel Bourez (PYF) 11.83, Adam Melling (AUS) 11.33, Chris Davidson (AUS) 9.03
RIP CURL PRO SEARCH PUERTO RICO ROUND 2 MATCH-UPS:
Heat 1: Taj Burrow (AUS) vs. Dillon Graves (USA)
Heat 2: Adrian Buchan (AUS) vs. Dylan Graves (PRI)
Heat 3: Damien Hobgood (USA) vs. Gabe Kling (USA)
Heat 4: Chris Davidson (AUS) vs. Luke Munro (AUS)
Heat 5: Jadson Andre (BRA) vs. Roy Powers (HAW)
Heat 6: Bobby Martinez (USA) vs. Travis Logie (ZAF)
Heat 7: Andy Irons (HAW) vs. Dusty Payne (HAW)
Heat 8: Fredrick Patacchia (HAW) vs. Luke Stedman (AUS)
Heat 9: Taylor Knox (USA) vs. Kai Otton (AUS)
Heat 10: Patrick Gudauskas (USA) vs. Matt Wilkinson (AUS)
Heat 11: Brett Simpson (USA) vs. Tom Whitaker (AUS)
Heat 12: Daniel Ross (AUS) vs. Adam Melling (AUS)
RIP CURL WOMEN'S PRO SEARCH PUERTO RICO ROUND 1 RESULTS:
Heat 1: Chelsea Hedges (AUS) 12.50, Melanie Bartels (HAW) 10.34, Bruna Schmitz (BRA) 7.20
Heat 2: Paige Hareb (NZL) 13.90, Sofia Mulanovich (PER) 12.56, Nikita Robb (ZAF) 9.47
Heat 3: Stephanie Gilmore (AUS) 14.64, Pauline Ado (FRA) 14.53, Rosanne Hodge (ZAF) 8.84
Heat 4: Claire Bevilacqua (AUS) 15.67, Sally Fitzgibbons (AUS) 15.66, Bethany Hamilton (HAW) 9.83
Heat 5: Silvana Lima (BRA) 13.57, Rebecca Woods (AUS) 10.66, Sage Erickson (USA) 9.83
Heat 6: Carissa Moore (HAW), Coco Ho (HAW), Lee Ann Curren (FRA)
RIP CURL WOMEN'S PRO SEARCH PUERTO RICO ROUND 2 RESULTS:
Heat 1: Nikita Robb (ZAF) 11.77, Rosanne Hodge (ZAF) 8.97, Bethany Hamilton (HAW), 7.93
Heat 2: Bruna Schmitz (BRA), Lee Ann Curren (FRA) 11.07, Sage Erickson (USA) 1.84
RIP CURL WOMEN'S PRO SEARCH PUERTO RICO ROUND 3 MATCH-UPS:
Heat 1: Sofia Mulanovich (PER) vs. Lee Ann Curren (FRA)
Heat 2: Chelsea Hedges (AUS) vs. Rosanne Hodge (ZAF)
Heat 3: Melanie Bartels (HAW) vs. Paige Hareb (NZL)
Heat 4: Stephanie Gilmore (AUS) vs. Pauline Ado (FRA)
Heat 5: Sally Fitzgibbons (AUS) vs. Nikita Robb (ZAF)
Heat 6: Coco Ho (HAW) vs. Rebecca Woods (AUS)
Heat 7: Carissa Moore (HAW) vs. Claire Bevilacqua (AUS)
Heat 8: Silvana Lima (BRA) vs. Bruna Schmitz (BRA)