Gilmore's championship mojo
Newly re-crowned world champ thrives in fading swell at Haleiwa
Reef Hawaiian Pro Final Gallery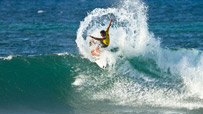 Joel Parkinson's back, but he wasn't the only story from Haleiwa. Gallery

World champs have a weird knack for attracting waves in heats during surf-starved contests. Stephanie Gilmore, who won her fourth consecutive ASP world title last month, displayed that magical skill at Haleiwa yesterday for first day of the Cholo's Women's Hawaiian Pro.
A declining, northwest swell had the guys of the Reef Hawaiian Pro paddle battling for any and everything that came their way yesterday. Six heats of the men's competition were completed. Alain Riou, of Tahiti, had the highest heat total of the day at a 12.83. Then the second round of the Clash of the Legends paddled out.
Fortunately -- or unfortunately, depending who you ask -- there was no Tom Curren or Sunny Garcia drama to speak of. Sunny gave an eggy and entertaining pre-heat interview about Monday's interference call. Occy posted the highest score of the day at 13.33 (higher than any of the actual Reef Hawaiin Pro scores). He sqeaked out a second round victory, Tom Curren is leading the overall Clash of the Legends, Sunny seems to be enjoying the event again, and Tom Carroll is still smiles all around.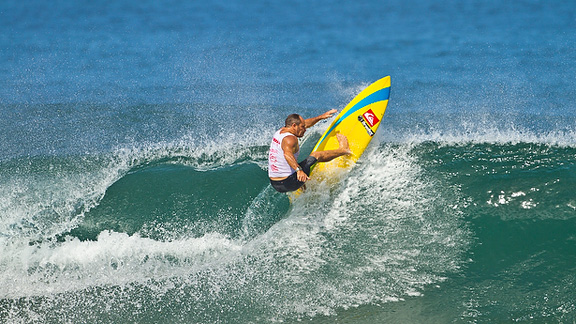 Peter 'Joli' WilsonTom Carroll, relishing his Legend status.
While the men seemed to struggle, Stephanie Gilmore, 22, thrived.
"Conditions were pretty fun actually," said Gilmore of the consistent six-foot wave faces in her first heat of the Cholo's Hawaiian Women's Pro. "The swell is tapering off and its getting slower and slower, but my heat seemed to have a lot of waves coming through with a couple of good sets. I really enjoyed that heat."
Like a proven winner, Gilmore enjoyed herself despite a heat that was arguably the toughest in the second round of the Cholo's Women's Hawaiian Pro. She beat a frothing Tyler Wright, 16, who advanced out of the heat in second place.
"It was a solid heat for a first round heat," said Wright. "I just went out there and had to do what I had to do, I suppose."
The dual Aussie onslaught was too much for France's Pauline Ado, who claimed third, and fourth place finisher Aleesa Quzion, who is one of Hawaii's most promising teenage talents.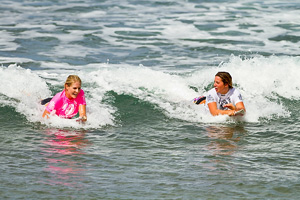 Peter 'Joli' WilsonGilmore and Tyler Wright, enjoying the victory ride.
"I looked at that draw before the heats started and I was like, 'whoa, that's totally one of the hardest heats you can draw in the whole event,'" said Gilmore. "I was pretty nervous, but I held it together and got a few waves."
Actually the 22-year-old, Australian only rode two waves in the heat, netting a two-wave total of 14.83 out of a possible 20 points. Both rides started out with Gilmore cracking the lip with vertical, 12 o'clock hits, and showed that she's surfing freely with nothing to lose. This is the first time in three years that Gilmore is on the North Shore without the pressure of a world title campaign.
"I think it really shows in your heat results when you're just relaxed," explained Gilmore. "You just seem to get in a good rhythm and when you're stressing out about winning world titles it doesn't seem to happen as much. I'm really happy because this is a pretty rare occasion, so I'm going to laugh it up."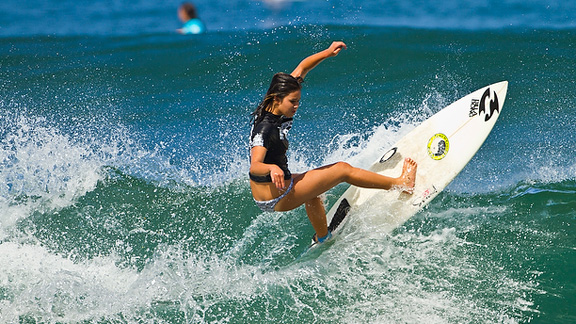 Peter 'Joli' WilsonGilmore was nervous about drawing Aleesa Quizion. How do you think Aleesa felt?
In addition to winning for consecutive world titles, Gilmore is also a two-time Vans Triple Crown of Surfing champion. She's won the past two years, and is proving to be one of the most solid female surfers in waves of consequence ever. In true championship form, Gilmore is very humble when talking about Hawaiian surf.
"The Vans Triple Crown is definitely one of the most honorable things you can win, and is one of the most challenging things to win because in Hawaii the waves are big and hard," she said, "It's hard to win, and I've got a long way to go, but I'll just keep doing my thing and hopefully come out with a win."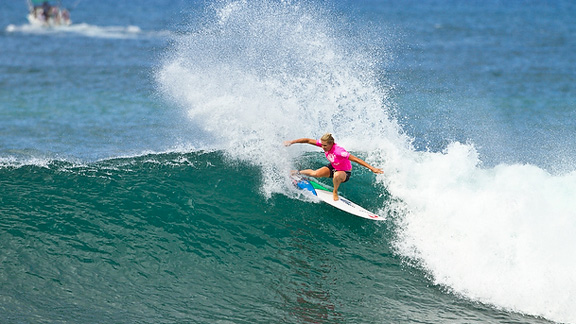 Peter 'Joli' WilsonKeeping in control and throwing big spray, four-time world champ, Steph Gilmore.
Reef Haliewa Pro Round of 128 Results
H14: Evan Valiere (HAW) 11.73; Jay Quinn (NZL) 9.57; Jason Shibata (HAW) 7.36; Brian Toth (PRI) 7.30
H15: Anthony Walsh (AUS) 8.37; Mark Occhilupo (AUS) 6.90; Eneko Acero (EUK) 6.83; Mason Ho (HI) 5.97
H16: Alain Riou (PYF) 12.83; Gavin Gillette (HAW) 10.87; Lincoln Taylor (AUS) 9.97; Flynn Novak (HAW) 8.40

Round of 96
H1: Torrey Meister (HAW) 11.50; Alejo Muniz (BRA) 10.43; Ian Walsh (HAW) 6.86; Royden Bryson (ZAF) 5.07
H2: Messias Felix (BRA) 8.94; Jonathon Gonzalez (CNY) 8.24; Aritz Aranburu (EUK) 7.17; Dege O'Connell (HAW) 6.60
H3: Maxime Huscenot (FRA) 9.50; Jay Thompson (AUS) 7.37; John John Florence (HAW) 7.04; Nat Young (USA) 6.67

Clash of the Legends Bout 2
Mark Occhilupo (AUS) 13.33; Tom Curren (USA) 13.10; Sunny Garcia (HAW) 9.76; Tom Carroll (AUS) 9.27
Cholo's Hawaiian Women's Pro Round of 44 Results
H1: Sage Erickson (USA) 13.66; Nage Melamed (HAW) 12.43; Alessa Quizon (HAW) 11.63; Anne Cecile Le Tallec (FRA) 5.67; Jessica Santorik (NZL) 5.50; Claudia Goncalves (BRA) 4.40
H2: Lakey Peterson (USA) 10.00; Amandine Sanchez (FRA) 9.83; Felicity Palmateer (AUS) 9.66; Justine Dupont (FRA) 9.50; Laurina McGrath (AUS) 8.16; Freya Prumm (AUS) 6.24
H3: Joanne Defay (FRA) 13.16; Valeria Sole (PER) 10.57; Anastasia Ashley (USA) 10.30; Suelen Naraisa (BRA) 10.17; Sarah Beardmore (GBR) 7.00; Gabi Cope (HAW) 6.93
H4: Nicola Atherton (AUS) 14.34; Leila Hurst (HAW) 7.83; Sayuri Hashimoto (JPN) 7.40; Ornella Pellizzari (ARG) 6.90; Mizuki Hagiwara (JPN) 4.46; Natalie Anzivino (USA) 3.93

Round of 32
H1: Stephanie Gilmore (AUS) 14.83; Tyler Wright (AUS) 13.80; Alessa Quizon (HAW) 6.83; Pauline Ado (FRA) 5.63
H2: Nage Melamed (HAW) 6.83; Sage Erickson (USA) 3.33; Rebecca Woods (AUS) 0.93; Paige Hareb (NZL) 0.40
H3: Lakey Peterson (USA) 11.94; Cannelle Bulard (REU) 8.50; Amandine Sanchez (FRA) 7.73; Jessi Miley-Dyer (AUS) 3.93
H4: Felicity Palmateer (AUS) 9.10; Nikita Robb (ZAF) 8.76; Carissa Moore (HAW) 8.67; Bethany Hamilton (HAW) 7.57
H5: Sally Fitzgibbons (AUS) 13.93; Jacqueline Silva (BRA) 13.67; Courtney Conlogue (USA) 12.63; Anastasia Ashley (USA) 5.77
H6: Melanie Bartles (HAW) 12.90; Rosanne Hodge (ZAF) 11.83; Joanne Defay (FRA) 10.10; Valeria Sole (PER) 2.03
H7: Nicola Atherton (AUS) 13.73; Coco Ho (HAW) 13.73; Claire Bevilacqua (AUS) 11.33; Leila Hurst (HAW) 8.76
H8: Alana Blanchard (HAW) 12.33; Silvana Lima (BRA) 12.10; Laura Enever (AUS) 10.40; Sayuri Hashimoto (JPN) 7.63

Also See

ESPN Surfing is all over the World Tour and Triple Crown. The proof's in the links.
BILLABONG PIPELINE MASTERS
O'NEILL WORLD CUP
REEF HAWAIIAN PRO
RIP CURL SEARCH PUERTO RICO
RIP CURL PRO PORTUGAL
QUIKSILVER PRO FRANCE
HURLEY PRO TRESTLES
BILLABONG PRO TAHITI
BILLABONG PRO J-BAY
SANTA CATARINA PRO
RIP CURL PRO COVERAGE
RIP CURL PRO VIDEO
RIP CURL PRO PHOTOS
QUIKSILVER PRO COVERAGE
QUIKSILVER PRO VIDEO
QUIKSILVER PRO PHOTOS
INTERVIEWS
RELATED VIDEO
RELATED PHOTOS
MORE ACTION SPORTS HEADLINES
MOST SENT STORIES ON ESPN.COM