Cooly is in the house
Haliewa report: Gilmore wins Cholo's Pro; Parkinson announces his return (loudly)
Reef Hawaiian Pro Final Gallery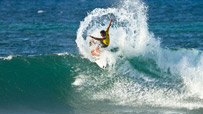 Joel Parkinson's back, but he wasn't the only story from Haleiwa. Gallery

Coolangata, Australia may be thousands of miles from the North Shore, but yesterday, the little Gold Coast town's presence was very real. Stephanie Gilmore and Joel Parkinson, Both "Goldy" natives, claimed firsts at Alii Beach Park yesterday.
Gilmore, 22, won the Cholo's Women's Hawaiian Pro -- her first career victory at Haleiwa Beach. Parko, in the Reef Hawaiian Pro, crushed his first heat since being sidelined this summer by an injured foot.
In double-overhead, bumpy waves, he scored a perfect 10-point ride, backed it up with a 9.87, and posted the highest two-wave total of the event, a 19.87 out of a possible 20 points.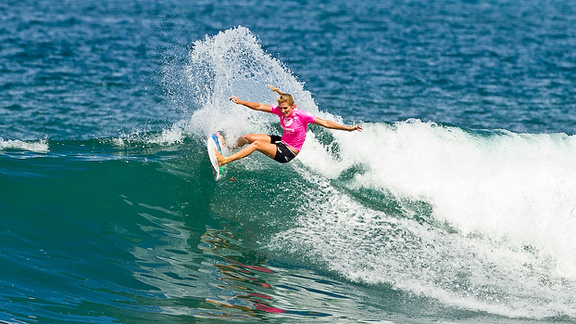 Peter 'Joli' WilsonThat sweet ponytail surfs better than you do.
"The foot feels good. I didn't think it was that good, but it feels good now," said Parkinson, 28, who is the defending Vans Triple Crown of Surfing champ. "I couldn't ask for a better place to comeback after a long injury. It's a lot easier to surf when you have a wave that pushes you hard. It's really hard to surf on small little waves so it feels really good to be back in Hawaii."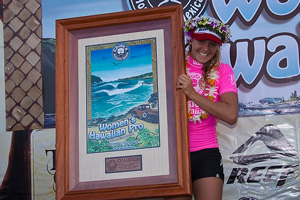 Peter 'Joli' WilsonSteph Gilmore adds another win at the Cholo's Womens Pro at Haliewa.
While Parko is back and looks more deadly than ever in a jersey, Stephanie Gilmore never left. She looks poised to capture her third-consecutive Triple Crown title after dominating the Cholo's Women's Hawaiian Pro yesterday.
Gilmore combed the field halfway through the final, smashing the competition with a two-wave total of 17.77. She admitted that Haleiwa suits her style of surfing well. "It's more about long drawn-out turns and sort of reading the wave really well," said Gilmore of her approach to the 8 to 12-foot wave face heights in the Cholo's Women's Hawaiian Pro final. "Just picking those steeper spots, especially on this deep bank, they're kind of hard to find the steeper spots to get the most critical turn in. I just enjoy right-handers of any kind, and I just felt comfortable out there."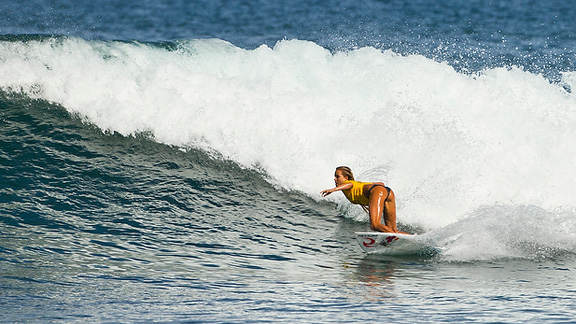 Peter 'Joli' WilsonCholo's Womens Pro finalist, Alana Blanchard.
It was hard to believe that a Hawaiian Pro victory eluded Gilmore since yesterday because her surfing looked like it was built for Haleiwa. She surfed fluidly, throwing down a big first maneuver and utilizing the entire wave. Gilmore fell only once during the final, and put an exclamation point at the end of every wave.
The Reef Hawaiian Pro is likely to continue today with a stacked Round of 64. Cory Lopez and Josh Kerr, both looking to get back on the ASP World Tour, are looking solid. Last year's champ, Joel Centeio, surfs in Heat 16.
Cholo's Women's Hawaiian Pro Reslts
Final:Stephanie Gilmore (AUS) 17.5;0 Tyler Wright (AUS) 13.9; Alana Blanchard (HI) 10.0; Jacqueline Silva 9.96

Semi Finals
H1: Stephanie Gilmore (AUS) 17.50; Taylor Wright (AUS) 16.00; Naga Melamed (HAW) 3.93; Felicity Palmateer (AUS) 3.77
H2: Alana Blanchard (HAW) 11.94; Jacqueline Silva (BRA) 7.23; Sally Fitzgibbons (AUS) 6.43; Coco Ho (HAW) 0.00
Quarter Finals
H1: Stephanie Gilmore (AUS) 18.83; Nage Melamed (HAW) 13.17; Nikita Robb (ZAF) 9.13; Cannelle Bulard (REU) 7.87
H2: Tyler Wright (AUS) 16.93; Felicity Palmateer (AUS) 9.17; Lakey Peterson (USA) 8.93; Sage Erickson (USA) 5.33
H3: Sally Fitzgibbons (AUS) 14.44; Coco Ho (HAW) 13.84; Silvana Lima (BRA) 13.23; Melanie Bartel (HAW) 11.67
H4: Alana Blanchard (HAW) 10.30; Jacqueline Silva (BRA) 8.40; Rosanne Hodge (ZAF) 6.66; Nicola Atherton (AUS) 5.64

Reef Hawaiian Pro
Round of 96
H1: Torrey Meister (HAW) 11.50; Alejo Muniz (BRA) 10.43; Ian Walsh (HAW) 6.86; Royden Bryson (ZAF) 5.07
H2: Messias Felix (BRA) 8.94; Jonathon Gonzalez (CNY) 8.24; Aritz Aranburu (EUK) 7.17; Dege O'Connell (HAW) 6.60
H3: Maxime Huscenot (FRA) 9.50; Jay Thompson (AUS) 7.37; John John Florence (HAW) 7.04; Nat Young (USA) 6.67
H4: Julian Wilson (AUS) 12.5; Sean Moody (HAW) 12.53; Sunny Garcia (HAW) 10.50; Gabriel Medina (BRA) 9.37
H5: Yadin Nicol (AUS) 13.60; Heath Joske (AUS) 9.80; Stu Kennedy (AUS) 7.00; Rudy Palmboom (ZAF) 6.70
H6: Pancho Sullivan (HAW) 11.73; Bernardo Miranda (BRA) 11.53; Hank Gaskell (HAW) 10.77; Nathan Yeomans (USA) 7.27
H7: Cory Lopez (USA) 12.20; Pablo Paulino (BRA) 11.46; Rhys Bombaci (AUS) 10.70; Kamalei Alexander (HAW) 5.70
H8: Raoni Monteiro (BRA) 16.80; Yuri Sodre (BRA) 13.67; Hizunome Bettero (BRA) 11.10; Chris Ward (USA) 9.53
H9: Granger Larsen (HAW) 16.26; Willian Cardoso (BRA) 14.70; Makuakai Rothman (HAW) 11.83; Marco Giorgi (URY) 11.20
H10: Jack Perry (AUS) 13.33; Shaun Joubert (ZAF) 11.34; Rodrigo Dornelles (BRA) 10.74; Heitor Alves (BRA) 6.27
H11: Blake Thornton (AUS) 11.47; Austin Ware (USA) 9.84; Nathan Hedge (AUS) 8.83; Kevin Sullivan (HAW) 7.96
H12: Solomon Ortiz (HAW) 13.10; Richard Christie (NZL) 12.93; Albee Layer (HAW) 12.43; Nic Muscroft (AUS) 10.80
H13: Jay Quinn (NZL) 13.43; Miguel Pupo (BRA) 11.40; Thiago Camarao (BRA); Dion Atkinson (AUS) 8.97
H14: Joel Parkinson (AUS) 19.87; Evan Valiere (HAW) 16.50; Gony Zubizarreta (ESP) 14.33; Myles Padaca (HAW) 6.50
H15: Glenn Hall (IRL) 9.57; Wiggolly Dantas (BRZ) 8.77; Alain Riou (PYF) 8.1; Mark Occhilupo (AUS) 7.74

Also See

ESPN Surfing is all over the World Tour and Triple Crown. The proof's in the links.
BILLABONG PIPELINE MASTERS
O'NEILL WORLD CUP
REEF HAWAIIAN PRO
RIP CURL SEARCH PUERTO RICO
RIP CURL PRO PORTUGAL
QUIKSILVER PRO FRANCE
HURLEY PRO TRESTLES
BILLABONG PRO TAHITI
BILLABONG PRO J-BAY
SANTA CATARINA PRO
RIP CURL PRO COVERAGE
RIP CURL PRO VIDEO
RIP CURL PRO PHOTOS
QUIKSILVER PRO COVERAGE
QUIKSILVER PRO VIDEO
QUIKSILVER PRO PHOTOS
INTERVIEWS
RELATED VIDEO
RELATED PHOTOS
MORE ACTION SPORTS HEADLINES
MOST SENT STORIES ON ESPN.COM