Reef Hawaiian Pro Final Gallery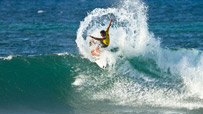 WIDTH="203" HEIGHT="114" BORDER="0" ALT="">
Joel Parkinson's back, but he wasn't the only story from Haleiwa. Gallery

Mick Fanning has never won a Vans Triple Crown of Surfing title or event. It's a shocking statistic, considering that the 29-year-old Australian is a two-time ASP World champion (2007, 2009) and won nine world tour events. Yet, a victory on the North Shore has eluded "White Lightning" during his eight years on the World Tour.
"As soon as I fell out of the (ASP World Championship) race, I shifted all of my focus to the Triple Crown. And this year, I really just want to win an event here in a Hawaii," said Fanning, a.k.a. "White Lightning," who is currently ranked sixth place on the World Tour.
He's no slouch in Hawaiian waters. On the contrary, White Lightning has cracked the final heat at every venue of the Vans Triple Crown of Surfing, demonstrating Fanning's versatility in waves of consequence.
"I've made a couple of finals in each of the events, but never had a win. There's always been somebody better than me in that last heat. I think that if I could come away with the Triple Crown it would be awesome."
Under cloudy skies, on head high waves, White Lighting struck in the fourth round of the Reef Hawaiian Pro yesterday. Fanning convincingly won his first heat, tearing the head high waves at Alii Beach Park to pieces. He posted the highest two-wave total of the day, a 17.54 out of a possible 20 points. Fanning, who has been suffering from a stiff back, used his good mate Joel Parkinson's performance on Wednesday as motivation to shake off an injury and rip.
"Watching Joel yesterday go absolutely nuts, coming back after being out for so long kind of inspired me a fair bit," Fanning admitted.
Advancing behind Fanning out of the heat was Kauai's Alex Smith. The 19-year-old surfed well yesterday. Despite a northwest swell, which was on the way out yesterday, Smith still thought the conditions were enjoyable.
"The conditions totally changed from what they were earlier. There was this little, perfect, crumbly lip and the sets started coming in -- it was a fun heat," said Smith, who earned a 15.37 two-wave total. Perhaps Smith found that heat so enjoyable because, at one point, he was beating Fanning.
"I know (Mick) pretty well and I didn't want to hassle or anything, I'm actually scared to hassle him anyways, but it was pretty intimidating," he said. "But, it felt good when I was beating him for a bit."
Smith is one of six Hawaiians remaining in fifth round of the Reef Hawaiian Pro. While there are 11 Australians, a Tahitian, a Kiwi, four Brazilians, four Europeans and three Americans left in the first jewel of the Vans Triple Crown of Surfing. When the North Shore is pumping, the local surfers have a distinct advantage over the visiting surfers.
"In these conditions it's tough and it's anyone's game," said Patacchia who grew up surfing Haleiwa, and advanced to the next round yesterday at the Reef Hawaiian Pro. "If it was 8-foot and consistent, it would be a completely different story, but it (wasn't) so you gotta take what it is, and you have to be able to win in any conditions."
Conditions may be less than stellar today, pushing the conclusion of this event off until the swell regenerates. Check the live webcast here.
Reef Hawaiian Pro Round of 64 Results
H1: Michel Bourez (PYF) 12.43; Jonathan Gonzales (CNY) 8.50; Torrey Meister (HAW) 8.33; Tonino Benson (HAW) 5.27
H2: Daniel Ross (AUS) 11.40; Alejo Muniz (BRA) 9.33; Messias Felix (BRA) 6.23; Roy Powers (HAW) 5.26
H3: Maxime Huscenot (FRA) 9.03 ; Brett Simpson (USA) 8.86; Sean Moody (HAW) 7.43; Travis Logie (ZAF) 6.13
H4: Julian Wilson (AUS) 11.70; Damien Hobgood (USA) 11.16; Jay Thompson (AUS) 9.54; Neco Padaratz (BRA) 3.70
H5: Yadin Nicol (AUS) 15.00; Ben Dunn (AUS) 13.77; Bernardo Miranda (BRA) 11.46; Taylor Knox (USA) 8.80
H6: Heath Joske (AUS) 13.90; Fredrick Patacchia (HAW) 12.60; Kekoa Bacalso (HAW) 9.90; Pancho Sullivan (HAW) 9.77
H7: Kai Otton (AUS) 13.34; Tom Whitaker (AUS) 11.74; Yuri Sodre (BRA) 10.20; Corey Lopez (USA) 7.73
H8: Mick Fanning (AUS) 17.54; Alex Smith (HAW) 15.37; Raoni Monteiro (BRA) 15.13; Pablo Paulino (BRA) 10.33
H9: Granger Larsen (HAW) 14.26; Taj Burrow (AUS) 11.27; Billy Kemper (HAW) 10.00; Shaun Joubert (ZAF) 3.47
H10: Dusty Payne (HAW) 12.43; Matt Wilkinson (AUS) 11.20; Jack Perry (AUS) 9.77; Willian Cardoso (BRA) 5.20
H11: Blake Thornton (AUS) 10.17; Jadson Andre (BRA) 9.37; Richard Christie (NZL) 8.16; Gabe Kling (USA) 4.23
H12: Austin Ware (USA) 8.40; Kieren Perrow (AUS) 7.90; Solomon Ortiz (HAW) 3.16; Dean Morrison (AUS) 1.50
H13: Evan Valiere (HAW) 13.07; Jay Quinn (NZL) 12.60; Tanner Gudauskas (USA) 9.77; Chris Davidson (AUS) 9.44
H14: Joel Parkinson (AUS) 14.10; Miguel Pupo (BRA) 12.10; Patrick Gudauskas (USA) 12.10; Luke Munro (AUS) 9.67
H15: Adam Melling (AUS) 14.77; Wiggolly Dantas (HAW) 13.17; Josh Kerr (AUS) 13.10; Luke Steadman (AUS) 9.97
H16: Adrian Buchan (AUS) 15.77; Joel Centeio (HAW) 10.44; Glenn Hall (IRL) 8.57; Gavin Gillette (HAW) 8.3