February, 27, 2010
Feb 27
06:37
PM ET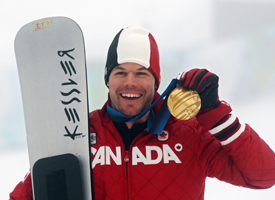 Alex Livesey/Getty ImagesMen's PGS gold medalist, Canadian Jasey-Jay Anderson.
WEST VANCOUVER, British Columbia -- Canadian Jasey-Jay Anderson put the exclamation point on his incredible resume Saturday, winning Olympic gold to slap some sunshine on an otherwise miserable day for snowboarding.
The 34-year-old from Quebec, owner of seven World Cup championships, carved through the rain-sluiced, fogged-in course at Cypress Mountain to make up a .76-second deficit over Benjamin Karl of Austria, the top-ranked rider in the world.
"Shock," Anderson said when asked how he felt. "That's it."
He won the 12th gold medal of the Vancouver Games for Canada, which put the host in good position to win the gold-medal standings with only one day left.
And he won his first Olympic medal in four tries, adding it to his four world championship golds and a career that has done more than anyone's to spread the word of snowboarding across his wintry country. "It's amazing the amount of energy I sucked out of people around me," Anderson said. "And it's amazing to be able to give something back."