Fishing for Gold
One of the few guys to ever beat Shaun White in the pipe, Steve Fisher braces for Vancouver, and this weekend's Dew Tour opener in Breck.
Shazamm/ESPN ImagesFisher is competing at the first stop of the Winter Dew Tour in Breck and hopes to earn a spot on the 2010 U.S. Olympic Team.
Steve Fisher, the 27-year-old snowboard vet, competed the first of five Vancouver-qualifying Grand Prix competitions last weekend. This weekend, the Fish is competing in his home hood of Breckenridge at first stop of the season's Winter Dew Tour, all this in hopes to earn a spot on the 2010 U.S. Olympic Team in February. Here's what the X Games gold medalist had to say about beating Shaun White, the double cork holy grail and freaking out.
You bruised your cheek gunning for the coveted double cork in Sunday night's training session at Woodward. What's the word?
Steve Fisher: Yeah, the word is, this s--- hurts. I've been spending a lot of time on my back the last two days. My face is pretty swollen. I'm just trying to get it together for the first Dew Tour stop here [in Breck] this weekend. I really want to be out there. The Dew Tour is really a pivotal competition in the sport of snowboarding these days. They are a lot of fun for riders. To miss the first stop here at home would just really suck. I think I'll be out there.
So, to be clear, the double cork is the must-have, Tickle-Me-Elmo-type craze under the tree this year, huh?
Yeah. It is, but to be honest, I don't necessarily think you absolutely need it to make the podium. Zach Black proved that last weekend at Copper. Sure, one and two [White and Vito] were double corks, but nobody else did them at all. Danny Davis did it but he fell both runs and everybody else who tried fell, too, so it's just one of those things that's progressing but it's not the end all. My coaches are supportive, they tell me to just do what I do, but yeah, they're pushing me to do this double cork thing. So I tried and I hit my face on my knee and was posted up on my couch for a couple days. There's definitely a lot of risk for some reward of this thing.
Put into perspective the huge American talent pool out there gunning for those four spots on the 2010 U.S. Olympic roster.
Oh man, there is such incredible depth of talent. We have so many remarkable guys, I'd say at least 10 U.S. snowboarders could go and do really well in Vancouver. But only four will make it. It just sucks in a sport like snowboarding because there are really good athletes who won't ever get the attention they deserve. If you don't make the Olympic team your abilities are never recognized by the tons of people who only tune in to that one competition. I grew up in this sport, I've been snowboarding for about 20 years now and I've seen so many incredible people come and go. This is a sport that great talents can really go unnoticed-- that's just the nature of it. Deserving athletes will never get the attention those few chosen guys will find just because of competition and exposure. Guys like Shaun and Louie Vito and myself are really lucky to have the recognition and I totally acknowledge the guys who have earned it but never get it.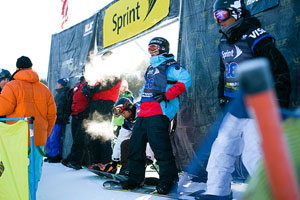 Nate AbbottFish takes a breather at the season opening Grand Prix event at Copper, where he placed seventh.
So, an Olympic trip could turn a guy's world upside-down.
Yeah, the Olympics change everything. It's funny to think that snowboarding wasn't even an Olympic sport until 1998. Since then, our success story has been so huge that now we're pretty much the main event in the winter. It's great, snowboarding as a sport is now becoming what it created. I definitely enjoy more mainstream companies trying to embrace snowboarding this year; of course, I wish that they would realize the potential every year, not just every four years. That's my biggest pet peeve about this scenario. But I'm still thankful for it. The Games add a lot of energy and extra attention.
Danny Davis told The New York Times that we're not going to see the best snowboarding at the Olympics. Do you agree?
Yes. You're absolutely not going to see our best. That is, there's just not enough room for all of the best guys to be there. Kevin Pearce is not out of contention by any means but he wasn't in the Finals at Copper. If anybody could be on the team it's Kevin. Mason Aguirre didn't make the cut, either. These are phenomenal athletes. I wouldn't count anybody out yet, there are still four qualifying events left, but that's just to say that there are more worthy riders than there are spots on the U.S. team.
Shaun White had an interesting quote regarding Olympic qualifying comps. He said, "Events like this, you can see some of the greatest riders kind of freak out over something they know how to do." You are a pretty easy-going guy. Do you freak out in Olympic years?
[Laughing] To be honest, I think Shaun was talking about me! Not just me, literally, but yeah, it's true, pretty much everybody out there in that first Grand Prix had some sort of a mental breakdown from the amount of pressure and everything going into this season's start. At Copper, I was the most nervous as I've ever been at any contest in my life. Everybody wants this. It's big. Last year I just went at it and I didn't care; I just wanted to snowboard and have fun. Now there's all this added thought process, like, 'If I do well here I might go to the Olympics. And if I go to the Olympics than this might happen.' It makes for a lot going on in your head and yeah, Shaun's right, it makes guys just sort of freak out.
You're one of the two guys who has beaten Shaun. What does that 2007 X Games gold mean?
Well, you said it, only two guys -- which includes myself -- have ever been able to beat him in competition. Of course it means a lot. Beating Shaun is like beating Tiger Woods at the U.S. Open. He's that good and he's been on quite the tear. Shaun is an incredible talent and he is under tremendous pressure to win the Olympics again. There is so much expectation riding on his abilities but he responds to that so well; I think he is going to be incredibly tough to be this year and for the next few years to come.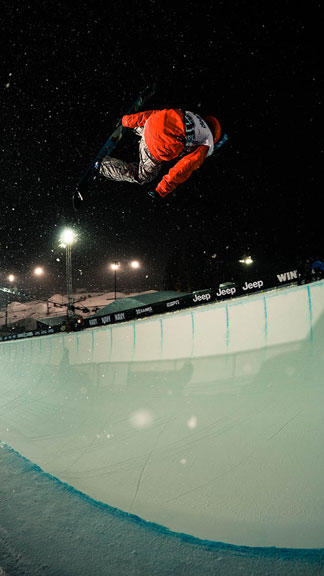 Shazamm/ESPN ImagesFish has good style and is consistent -- two things a Gold medal looks for in the folks who wear them.
[two more]
What do you think of Burton's 2010 Olympic Uniforms?
I sat on the design table that contributed to the Burton Olympic uniforms. Everyone involved had a pretty clear vision of what American style is and how we would incorporate that into the plan. We all agreed on keeping it pretty basic and classic cool. It's obviously snow outer wear, but the pants look just like a pair of jeans because they use a photo print pattern of denim, and then the jacket looks like a red, white and blue plaid flannel. It's pretty neat. I definitely think it says what we wanted it to.
You got engaged in August, what's your advice to your brothers having relationship struggles?
It's really easy -- don't cheat. That's rule number one in making a relationship work. After that, my advice is good communication; you gotta talk to each other. Finally, take your time, don't get into something you're not into.
Also See

Keep it locked here for the latest from the Winter Olympics Vancouver 2010.
FIVE-RING CIRCUS BLOG
MORE ACTION SPORTS HEADLINES
MOST SENT STORIES ON ESPN.COM