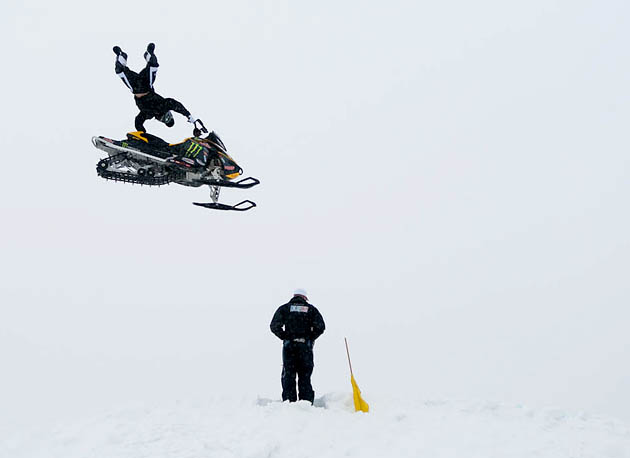 Josh Duplechian/ESPN Action Sports
The first session of freestyle snowmobile practice just wrapped up, and if it's any indication of things to come, we're in for a showdown with more gunslingers than have ever been in the fight for a medal in freestyle.
While the course is similar to last year in that it contains four super kicker ramps and one BAR (Big-Ass Ramp), it is definitely an upgrade. The entire freestyle snowmobile area holds a lot more snow and the landings are quite big, allowing riders to focus more on their tricks rather than landing cleanly.
Levi LaVallee was the "test dummy" -- the first rider to hit the course. Predictably, he was able to hit all of the ramps cleanly after only a few attempts. Always one to start the excitement before anyone expects it,
Heath Frisby
flipped the BAR ramp at just over 100 feet after just a few jumps. Other riders to flip early were
Daniel Bodin
and
Caleb Moore
. The elder Moore brother stuck an impressive heelclicker flip off the BAR ramp and shed any doubts that he is not in medal contention.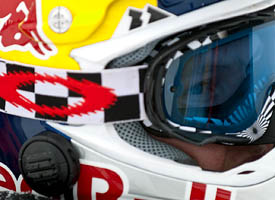 Josh Duplechian/ESPN Action Sports
Last year
Paul Thacker
struggled with the course, but he came out this afternoon and looked like he had gained back a lot of confidence. Thacker did provide some carnage as he had the worst wreck of the session under rotating a flip and getting tossed face first into the landing. All indications are that Thax will be back out for the next practice round.
LaVallee busted out a series of no less than four flips in a later practice run, and defending gold medalist
Joe Parsons
threw down a couple nac nac flips. Other riders who looked good with their upright tricks were
Isaac Sherbine
,
Jeff Mullin
, and alternate Cody Borchers whose lanky stature makes for some huge extension.
Freestyle practice round 2 is coming up in a couple hours, we'll keep you updated as to how the boys do under the lights and after some course adjustments.