Commentary
X Games 16 takes over downtown L.A.
STAPLES Center, Nokia Theatre at L.A. LIVE and Los Angeles Coliseum hosts event.
Updated:
July 30, 2010, 4:35 AM ET
By
ESPN Action Sports
Pierre-Luc Gagnon Retrospective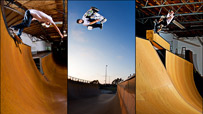 Gagnon has spent the better part of the past two decades well above the deck. Gallery »
Goodbye, Carson, Calif.; hello, downtown L.A.
ESPN celebrates its 16th annual action sports event, July 29-Aug. 1, entirely downtown between the STAPLES Center, Nokia Theatre, the Los Angeles Coliseum and L.A. LIVE. This year's event marks the seventh consecutive year that the X Games is in Los Angeles. Thirty-one hours of live HD programming on ESPN and ESPN2 will be aired over the four days of the event, as well as on ESPN International, ESPN.com\action, ESPN Classic, ESPN3.com, and X Center.
ESPN.com/Action will call Los Angeles home for the week of the event, bringing you live results, commentary, ahtlete interviews, daily reviews and previews, feature stories, photo galleries and original video from each day at X16.
Tickets for X Games 16 are available at all Ticketmaster locations and the box offices at STAPLES Center and Nokia Theatre. The complete list of invited athletes can be found here.
Spectators who plan on visiting the L.A. area for X Games 16 can find venue, transportation and other event info here.
2010 X Games 16 disciplines and locations
| STAPLES Center | L.A. LIVE Event Deck | Nokia Theatre | L.A. Coliseum |
| --- | --- | --- | --- |
| Moto X Speed and Style | BMX and Skateboard Park | BMX Vert | Moto X Freestyle |
| Moto X Step Up | BMX and Skateboard Street | Skateboard Vert (M, W and Ams) | Super X (M, W and Adaptive) |
| Moto X Best Whip | Skateboard Park Legends | Skateboard Vert Best Trick | BMX and Skateboard Big Air |
| Moto X Best Trick | Women's Skateboard Street | | Skateboard Big Air Rail Jam |
| | | | Rally Car Racing |
SPONSORED HEADLINES
MORE ACTION SPORTS HEADLINES
MOST SENT STORIES ON ESPN.COM
ALSO SEE

Everything you need to know about X Games 16.
---
Results
---
Daily Coverage
---
Photos
---
BMX Video Highlights
Moto X Video Highlights
Skateboarding Video Highlights
Rally Video Highlights
---
12 skaters. 12 videos. Their vision. Their way. All for X Games gold. This is Real Street.
A new medal event for X Games 16, Real Street is the first contest of its kind. Twelve of the top individual pros in street skating each filmed 60-second video parts on street terrain for X, and all 12 video parts aired on the final day of the X16 telecast. A panel of pros -- Pat Duffy, Ed Templeton, Jamie Thomas and Geoff Rowley -- chose the winning part and awarded $50,000 and an X Games gold medal to Nick Trapasso. You, the fans, picked Zered Bassett as the fan favorite.
---
X16 Previews
---
Past X Games
---
30 For 30 X Games Special
---
More Action Sports
Be sure to check out ESPN.com/Action for all the latest in Skateboarding, Surfing, Snowboarding, Freeskiing, FMX and BMX.
X Games home | Action Sports home