Men's Skateboard Street Final preview
Will Skateboard Street finals be dominated by Sheckler?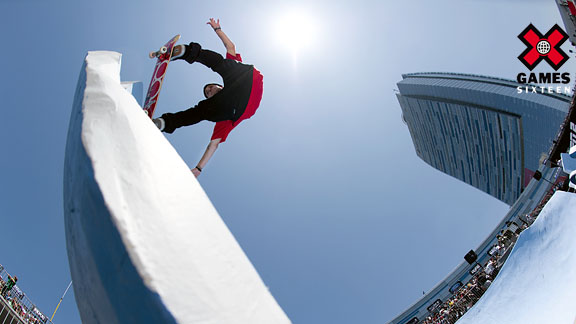 Mark Kohlman/ESPN Action SportsThe new life of Ryan Sheckler.
The big question for Skateboard Street finals is whether, with Paul Rodriguez and Chris Cole absent from the lineup, will Ryan Sheckler dominate the day? Though Sheckler did look very comfortable on the course during practice and eliminations, some of his competing peers were looking solid out on the course as well.
Newly anointed Zoo York pro Chaz Ortiz has got solid tricks on the course's rails, hubbas, stairs and even the unique broken teacup transitions.
I and I skateboards' Nyjah Huston looks very comfortable on the rails, stairs and gaps but may be lacking on the transition.
Darkstar's Ryan Decenzo is fiercely consistent and, in the past year, has been showing that he's a dominant force in contest environments.
Bastien Salabanzi is having a renaissance in his career of late. The former child-wunderkind has laid low in Europe over the past few years but re-emerged recently with an outstanding performance in the Maloof Money Cup NYC contest. Salabanzi could be one to keep an eye on for a potential upset.
Creature pro David Gravette breezed through eliminations in his first ever X Games. The kid from Washington state may have surprised spectators with his consistent and diverse performance in the elimination round but it came as no surprise to those who've followed his career closely. Gravette's strengths are gnarly rails and big transitions, a unique combination of divergent skills that work particularly well with the layout of this year's street course.
As for Sheckler, the man, mogul from San Clemente, Calif. Handles the course's double set and rails with ease and had no trouble adjusting to the return of transition elements to the street course here at X. With his drive and ability to really turn it on in front of a crowd, I have to put Sheckler as the favorite to win gold but you never know until that last run is done.
ALSO SEE

Everything you need to know about X Games 16.
---
Results
---
Daily Coverage
---
Photos
---
BMX Video Highlights
Moto X Video Highlights
Skateboarding Video Highlights
Rally Video Highlights
---
12 skaters. 12 videos. Their vision. Their way. All for X Games gold. This is Real Street.
A new medal event for X Games 16, Real Street is the first contest of its kind. Twelve of the top individual pros in street skating each filmed 60-second video parts on street terrain for X, and all 12 video parts aired on the final day of the X16 telecast. A panel of pros -- Pat Duffy, Ed Templeton, Jamie Thomas and Geoff Rowley -- chose the winning part and awarded $50,000 and an X Games gold medal to Nick Trapasso. You, the fans, picked Zered Bassett as the fan favorite.
---
X16 Previews
---
Past X Games
---
30 For 30 X Games Special
---
More Action Sports
Be sure to check out ESPN.com/Action for all the latest in Skateboarding, Surfing, Snowboarding, Freeskiing, FMX and BMX.
X Games home | Action Sports home
MORE ACTION SPORTS HEADLINES
MOST SENT STORIES ON ESPN.COM