Garrett Hill Real Street interview
Garrett Hill is a rookie on the rise and has some serious tricks for Real Street.
Garrett Hill filmed a banger part for Real Street right in the middle of filming his last tricks for "Strange World" and for the independent video, "Feel Free." But don't think for a second that Hill gave Real Street his throwaway footage; he doesn't operate like that. Hill worked overtime to bring you some of the best skating out and the result is raw power.
Tell us a little about filming for this Real Street video. How did it feel to film for this compared to filming for other video parts you've worked on in the past?
It was the first time I have ever filmed for this much at one time. I was filming for [Zero's] "Strange World," my friend's video "Feel Free" and Real Street all at the same time. I've never been under that much pressure before. It turned out good, though, because now I know what I can juggle.
That sounds like a lot of work. What are you filming for now?
I finally have a break -- a much needed break. I'm loving it.
What filmer/editor did you work with for the Real Street vid and what's you're relationship like with that guy?
Ty Evans filmed an HD trick in there and Mike Gilbert, the Fallen filmer, filmed some tricks. Aleks Lewandowski filmed a lot of the tricks. He's the guy who put together "Feel Free." We went to high school together.
What do you think of the concept of video part for cash and prizes as opposed competing in a structured contest environment?
It's super cool. It takes out a lot of that structure and puts it all on your time, which is what skateboarding is all about anyways. Skateboarding has always kinda been backwards compared to normal work. You skate on the weekends and the weekdays are usually the days off, but I had so much to work on that I had to skate every single day.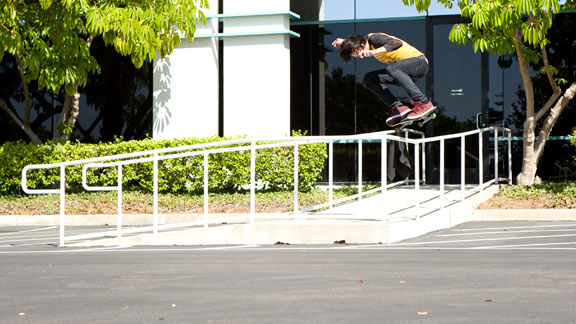 ShigeoGarrett uses his big snaps to navigate this switch backside 180 over a tall bar.
Did any one trick or line make for a memorable experience: either a battle or really memorable session?
Yeah man, the last trick did. It's a nollie grind on a concrete handrail. We were on the Zumiez Couch Tour up in Washington. Every day there was a demo. It was super hot and every off day we had it was pouring rain. Finally we got to skate one day but the school where we went was packed. It was, like, literally 10 minutes between each try. I got it in the end, though, and it felt super good. I worked for it, you know?
Was there anything you wanted to get for this part that you couldn't?
[Laughs] You ask any skateboarder this question and they're all going to have the same answer. They'll all say, "I wish I had three more months ... my part would have been so much better." In the end, though, you are given a certain amount of time and that is what you have to work with.
That brings a bit more of a contest feel into it too right?
Yeah. I'm happy with what I came out with. You always wish you had more time.
Of the other skaters in the Real Street contest, whose part are you looking forward to watching? Apart from yourself, who would you put your money on to win the whole thing?
Well [Corey] Duffel is the best. He is a good friend of mine and he is just the best. I have always loved his skateboarding. It's really good to see him back from his injuries and skating so hard.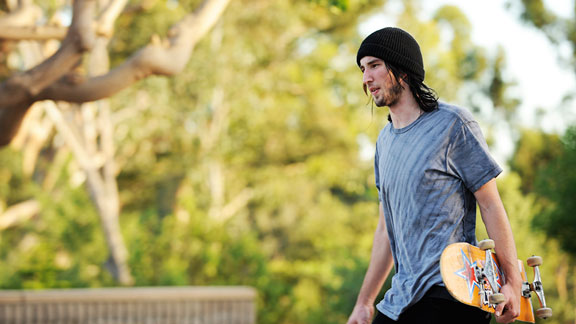 ShigeoGarrett Hill keeping his eyes on the prize.
Yeah, Corey told me he filmed his whole Real Street part in six weeks. That's gnarly.
That is how he is. He does the gnarliest stuff and he's always been super good under pressure. So I have my money on him for sure.
If you win, what will you do with the $50,000?
Maybe buy a Cadillac.
Everyone on Altamont has Caddy's. That seems fitting.
They do ... huh. I'll buy the Cadillac and get it customized with a big Altamont sticker or something rad like that.
Who would you like to see in next year's Real Street contest?
Theotis Beasley. He's just the raddest skater and the nicest dude ever. Seeing ten more tricks of Theo would be tight for sure.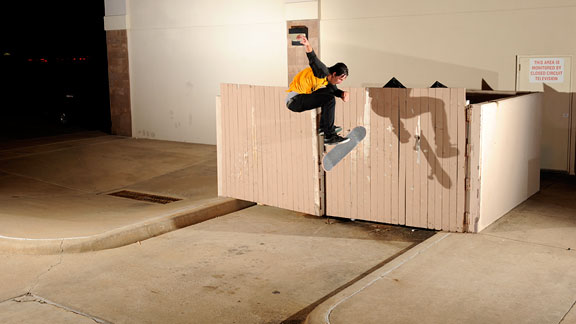 ShigeoThis bump to street gap has taken more than one person out in the past. Garrett isn't fazed and handles a 360 flip with ease.
ALSO SEE

Everything you need to know about X Games 16.
---
Results
---
Daily Coverage
---
Photos
---
BMX Video Highlights
Moto X Video Highlights
Skateboarding Video Highlights
Rally Video Highlights
---
12 skaters. 12 videos. Their vision. Their way. All for X Games gold. This is Real Street.
A new medal event for X Games 16, Real Street is the first contest of its kind. Twelve of the top individual pros in street skating each filmed 60-second video parts on street terrain for X, and all 12 video parts aired on the final day of the X16 telecast. A panel of pros -- Pat Duffy, Ed Templeton, Jamie Thomas and Geoff Rowley -- chose the winning part and awarded $50,000 and an X Games gold medal to Nick Trapasso. You, the fans, picked Zered Bassett as the fan favorite.
---
X16 Previews
---
Past X Games
---
30 For 30 X Games Special
---
More Action Sports
Be sure to check out ESPN.com/Action for all the latest in Skateboarding, Surfing, Snowboarding, Freeskiing, FMX and BMX.
X Games home | Action Sports home
MORE ACTION SPORTS HEADLINES
MOST SENT STORIES ON ESPN.COM