Johnny Layton Real Street interview
Toy Machine's king of the near-miss, Long Beach's Layton always entertains
Johnny Layton is an amazing skateboarder. Not one for the gimmicks or trends that have propelled more mediocre skaters into popularity and the limelight, Layton earned his place in skateboarding the old fashioned way; he skated his tail off. Deep into filming the upcoming Toy Machine video, "Brainwash" and grabbing clips for the Vans video as well, Layton made time to get original footage for the X Games Real Street contest that, as usual for him, is a cut above. You'll see much more from Layton sooner rather than later because he keeps it rolling all day every day.
Who's got your favorite Real Street part so far?
I saw the first few guys parts and they were all really good but Nick Trapasso, Tommy Sandoval and Corey Duffel's are rad. I like Nick Trapasso's the best so far.
You skate contests pretty often how is this one any different?
It's different because you're not being judged on your live performance. You're being judged by street legends on a mini video part. It's rad.
Do you like this new style of contests?
Yeah, because even if you're not a contest skater you have a chance to get some cash.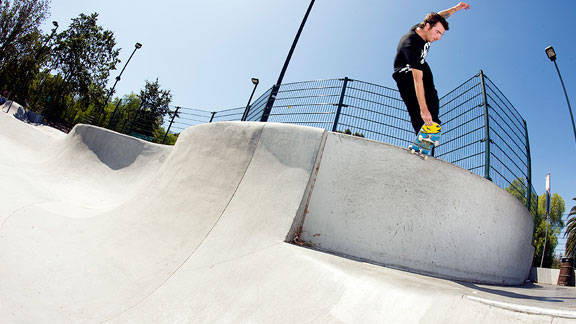 Michael BurnettOut of the tranny and into the street course, Layton takes a different approach with this creative backside crailslide.
What would you do with the 50k prize money?
I'd buy season tickets to watch the Lakers.
How much more do you need to film for the upcoming Toy Machine video, "Brainwash?"
I took a few tricks from that video part to use for this contest so I just have to replace a few things and finish it up.
How's "Brainwash" looking?
Matt Bennett has an amazing pro part. Dan Lutheran has a super rad part and Jordan Taylor has his first full part in there. But I want to see more Ed Templeton footage.
When was the last time you skated with Ed?
Just the other day at Cherry Park and it was good to see him skating since he's so busy. It was a treat.
How long has it been since the entire Toy Machine team was all together?
Just this past week at Cherry, the whole squad was there. It was epic.
You picked up a new truck sponsor recently. How are Theeve trucks treating you?
Go get some. They're great. They turn perfectly.
Do you carry that super thin skate tool Theeve makes in your wallet?
Nope, I leave it in my car.
Why does almost all of the Toy Machine team live in Long Beach, Calif.?
You can't beat Long Beach. A bunch of fools live here. It's tight.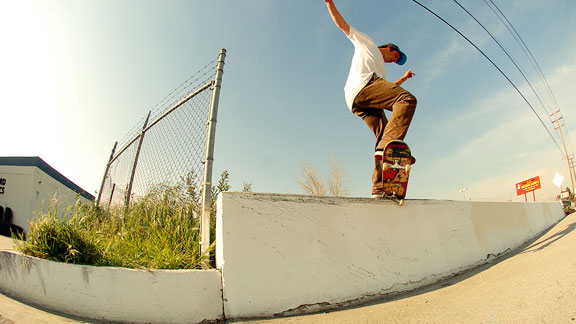 Michael BurnettJohnny gets up to get down on a tall crooked grind.
Who doesn't live there that rides for Toy?
Billy Marks is stuck in the Inland Empire for life. Diego Bucchierri spends his time in Spain even though he owns a place in Long Beach, and Ed holds it down in Huntington Beach.
Whose house is the meet up spot?
It depends on where we go skate. My house, Matt B's or (Toy Machine filmer) Kevin Barnett's usually.
How often do you skate Cherry Park?
I go there a couple times a week. It's another meet up spot.
Who's there every time you go?
Matt Bennett.
What's the secret to being able to ollie so high?
Practice.
Last words?
KOBE!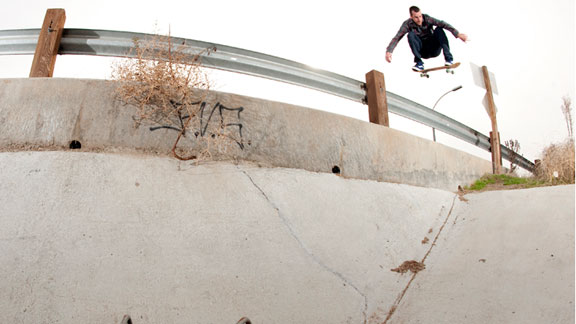 Michael BurnettFinding a new line is what Layton's all about. Ollie the guard rail into the ditch.
ALSO SEE

Everything you need to know about X Games 16.
---
Results
---
Daily Coverage
---
Photos
---
BMX Video Highlights
Moto X Video Highlights
Skateboarding Video Highlights
Rally Video Highlights
---
12 skaters. 12 videos. Their vision. Their way. All for X Games gold. This is Real Street.
A new medal event for X Games 16, Real Street is the first contest of its kind. Twelve of the top individual pros in street skating each filmed 60-second video parts on street terrain for X, and all 12 video parts aired on the final day of the X16 telecast. A panel of pros -- Pat Duffy, Ed Templeton, Jamie Thomas and Geoff Rowley -- chose the winning part and awarded $50,000 and an X Games gold medal to Nick Trapasso. You, the fans, picked Zered Bassett as the fan favorite.
---
X16 Previews
---
Past X Games
---
30 For 30 X Games Special
---
More Action Sports
Be sure to check out ESPN.com/Action for all the latest in Skateboarding, Surfing, Snowboarding, Freeskiing, FMX and BMX.
X Games home | Action Sports home
MORE ACTION SPORTS HEADLINES
MOST SENT STORIES ON ESPN.COM