Five-point star
Travis Pastrana getting set to compete in a record five X Games events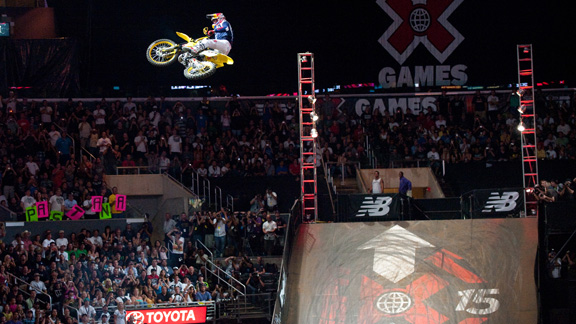 ESPN/ShazamPastrana's never entered an X Games
without
something crazy planned, like last year's TP Roll.
When talking about himself, motocross-turned-rally-turned-TV star Travis Pastrana likes to joke he's a jack-of-all-trades, master of none. This summer, he'll put that tag to the test. Pastrana is scheduled to compete in five X Games disciplines, the most any athlete has competed in during a single X Games. In 2006, he competed in four and won gold in three. This year, he's on the roster for Rally Car Racing, SuperRally, Moto X Best Trick, Speed & Style and Freestyle -- an event he hasn't competed in since those 2006 Games.
Pastrana began talking about his plans for a five-event sweep this spring. Then, in early June, he re-broke the collarbone he broke back in late January, and with only two months to heal, he seemed unlikely to participate in five events. Then again, this is Travis Pastrana we're talking about. "Everyone's trying to talk me out of it, but I'm competing in five," he said in mid-June, after returning to the States from a two-month stint in Australia performing in the Nitro Circus Live tour.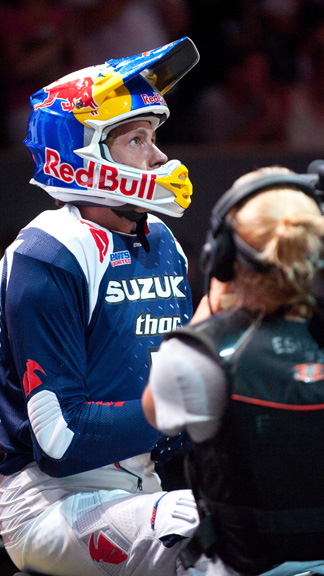 ESPN/ShazamIt's been a few years since Pastrana's medaled in moto. Care to bet against him?
Pastrana said he broke the bone the day of the second-to-last Nitro Circus Live show in Melbourne, and the bone broke so violently, it snapped one of two plates (and 16 screws) already holding his surgically repaired collarbone in place. That night, after a dare from fellow rider Cam Sinclair, he landed only the second double backflip of his career. "The next day, the doctor told me the bone was too fragile to ride a dirtbike without having it fixed," Pastrana said. "Guess I proved that wrong."
Pastrana says he should be healed within four to six weeks and he will be back on his bike at full speed by early July. "Three weeks out from X, I can get back to riding hard and then practice for real a couple weeks out."
Of all the events, Pastrana's late entry into Freestyle was the most surprising considering he hasn't been training for the event, and it's not one he likes to lose. But he's got $5 worth of motivation, which apparently is plenty. "When we were in Australia, I made a bet with Bilko [Blake Williams] that I could beat him in Freestyle," Pastrana said, clarifying that he doesn't have to win, just beat Bilko, to collect the cash. "He's got a blown-out knee, I've got a broken collarbone. That evens things up. I have to beat him."
In Best Trick, expect to see Pastrana back with the TP Roll, a rodeo 720. He crashed attempting the trick last year and it nearly knocked him out of the rest of Rally Car Racing. "I have to figure out that trick," he said.
Pastrana will compete in Freestyle Thursday night, Best Trick Friday night, Rally Car Racing and SuperRally Saturday, and Speed & Style on Sunday, plus a slew of qualifiers and practices. "I have to skip one of the Rally practices Saturday afternoon to watch Lyn-Z skate," said Pastrana of his girlfriend and Women's Vert competitor Lyn-Z Adams Hawkins.
If he makes it to the starting line of SuperRally, Pastrana will also set another X Games record by competing in his eighth discipline. "That will be pretty epic," Pastrana said.
Follow Alyssa Roenigk on Twitter: @ESPN_Alyssa
ALSO SEE

Everything you need to know about X Games 16.
---
Results
---
Daily Coverage
---
Photos
---
BMX Video Highlights
Moto X Video Highlights
Skateboarding Video Highlights
Rally Video Highlights
---
12 skaters. 12 videos. Their vision. Their way. All for X Games gold. This is Real Street.
A new medal event for X Games 16, Real Street is the first contest of its kind. Twelve of the top individual pros in street skating each filmed 60-second video parts on street terrain for X, and all 12 video parts aired on the final day of the X16 telecast. A panel of pros -- Pat Duffy, Ed Templeton, Jamie Thomas and Geoff Rowley -- chose the winning part and awarded $50,000 and an X Games gold medal to Nick Trapasso. You, the fans, picked Zered Bassett as the fan favorite.
---
X16 Previews
---
Past X Games
---
30 For 30 X Games Special
---
More Action Sports
Be sure to check out ESPN.com/Action for all the latest in Skateboarding, Surfing, Snowboarding, Freeskiing, FMX and BMX.
X Games home | Action Sports home
MORE ACTION SPORTS HEADLINES
MOST SENT STORIES ON ESPN.COM