It's on at X
There's no shortage of big potential stories coming into X16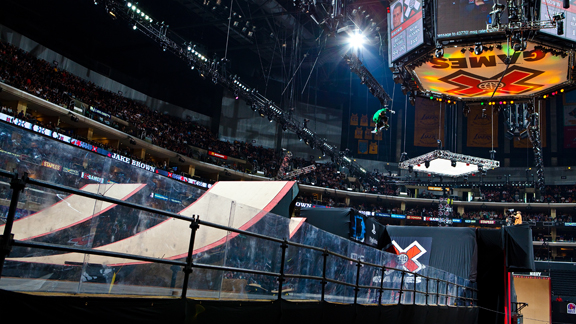 Markus PaulsenShazamm/ESPN ImagesJake Brown floats a huge backside 180 at X Games 15.
Thursday, July 29: 8-11 p.m. ET
Up until last year, only two athletes could claim Skateboard Big Air domination: mega ramp inventor Danny Way and mega ramp owner Bob Burnquist. That all changed when Aussie rider Jake Brown -- perhaps you remember his 47-foot fall on the mega ramp back in 2007? -- dethroned Way and Burnquist for his first gold medal in 11 X Games appearances. "Last year, guys were holding back on the mega ramp because of the injuries the two years prior," says skate icon and X Games commentator Tony Hawk. "This year, someone is going to step it up." In the past 12 months, pilgrimages to Burnquist's backyard -- home to the only permanent mega ramp in the continental 48 -- have become more frequent. Look for more backflip tricks from everybody and for Brown to finally land a 900 on the quarterpipe, the finale that eluded him last year. But perhaps the most dangerous skater in the field is 15-year-old Pedro Barros of Brazil. He's talented enough to pull big spins over the 70-foot gap and young enough to still feel invincible on that ramp.
ALSO WATCH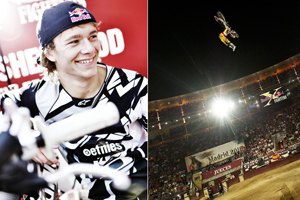 Red BullCan youngster Levi Sherwood shine at X16?
In 2009, Blake "Bilko" Williams won his first X Games gold medal, in Moto X Freestyle, and then tore his ACL celebrating his win. This year, his bad luck started before the event began: Bilko announced Tuesday that he was pulling out of X16 due to a torn labrum and some ripped-out sutures from a recent collarbone repair. Looks like Travis Pastrana will collect on the $5 bet he made with Bilko this spring (highest Freestyle finisher wins), even though Pastrana hasn't competed in the event since winning it in 2006. "A bet's a bet," TP says. "And it's $5 Australian, which is about $3 U.S." Our money is on another young dark horse, Levi Sherwood. Called the Rubber Kid for his gymnastics-like extension and flexibility, Sherwood could be the first rookie to win the event. Last month, he mowed down most of the X Games field -- including Nate Adams, Adam Jones and Mat Rebeaud -- at X-Fighters Moscow.
Christian Pondella/Getty ImagesKyle Loza contorts his way toward a gold medal in Moto X Best Trick at X Games 15.
Friday, July 30, 7-11 p.m. ET
Last year, Moto X Best Trick was more demolition derby than progression session. The last rider standing, for the third year in a row, was Kyle Loza with the Electric Doom Tsunami, basically the same trick that won him gold in 2007 and again in 2008. Although Loza came to X promising a new varial called the bike flip -- the rider stays upright, holding onto the left handlebar grip with his right hand, and flips the bike, wheels over handlebars -- he injured his right wrist and had to shelve the trick. After three surgeries to repair his wrist, Loza is back at the bike flip. If he lands the trick, chances are he'll four-peat. Pastrana returns to Best Trick to land the TP Roll, a rodeo 720, which he crashed attempting last year. Paris Rosen, who broke his tailbone attempting the frontflip last year, is back with a frontflip variation, as well as Jackson "Jacko" Strong, who says he will add the frontflip to his future freestyle runs.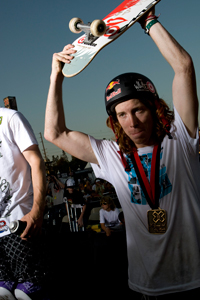 Christian Pondella/ShazammWhite won Men's Skateboard Vert back at X14.
Cameron Sinclair
will be a crowd favorite with the double backflip. Only the second rider to land the trick in competition,
Sinclair crashed attempting the trick
in his run at X-Fighters Madrid last summer and nearly died from his injuries, which included a ruptured liver, bruising on his brain and several broken bones. He now says he has the trick on lock and might even bring a variation of the double to X.
ALSO WATCH
The BMXers and skateboarders take to the vert ramp, the marquee event at summer X. Jamie Bestwick is still the rider to beat in BMX Vert, and Pierre-Luc Gagnon, the two-time defending skateboard champ, is seemingly unbeatable in Skateboard Vert. Still, all eyes will be on 2010 Olympic snowboard champ Shaun White, who returns to summer X with his eyes on another X Games gold medal -- and the 1080.
Saturday, July 31, 7-11 p.m. ET
Ask any athlete his or her favorite moment from last summer's X Games, and the answer undoubtedly will be Anthony Napolitan's landing his sport's first double frontflip in BMX Big Air. (Trust us: We asked.) Ask fans, and they might or might not remember the moment. That's because while the trick was one of the most progressive and innovative -- and downright gnarly -- action sports has seen, Napolitan didn't follow it up with a trick on the quarterpipe, which is worth about half his score. He made history but finished fifth, and the moment fizzled. This year, Napolitan wants more than to make history. He wants to do it from the top of the podium. Thing is, this year he's not the only rider with the double front.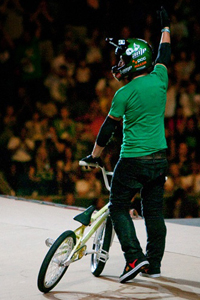 ESPN Event MediaAnthony Napolitan looks to perform as well on the quarterpipe as he can on the mega ramp itself.
Andy Buckworth
, 20, landed the trick on a mega ramp-like setup on the Brisbane, Australia, stop of the Nitro Circus Live tour and has since learned a variation of the trick. Says sponsor
Dave Mirra
, who is not competing in Big Air this year: "I think he'll take his hands off. He's just that good." Napolitan also promises a variation, so gold will come down to who does what on the quarterpipe. "That's what's awesome about these young guys," Mirra says. "They pull out all stops when they need to."
ALSO WATCH
Former IndyCar star and defending Rally Car Racing champ Kenny Brack returns to take on World Rally Championship rookie Ken Block, two-time gold medalist Travis Pastrana, BMX crossover driver Dave Mirra and 2007 winner Tanner Foust. That's the greatest group of all-stars to hit the Los Angeles Coliseum since Reggie Bush and Matt Leinart. Oh, and did we mention there's a brand-new Rally event this year? SuperRally consists of four cars racing at the same time, and it's sure to be full of crashes, bashes and smashes.
Sunday, Aug. 1, 7-11 p.m. ET
W2W4
In one word, Moto X Speed And Style -- a hybrid of freestyle motocross and motocross racing -- is fun. And it features some of the best storylines at X.
Deegan Channels Speed -- Lately, Metal Mulisha honcho and AFMXA founder Brian Deegan is all about speed. He has been off-road racing for a few years, recently landed a NASCAR ride and even built a small course similar to the X Games Speed And Style course at his Temecula, Calif., home to prepare for the only event he's competing in this year.
The Godfather Returns -- Mike Metzger promised a return to X Games this year but broke his right femur, shattered his right elbow and broke his right hand in a crash back in May. Several surgeries later, "The Godfather" says he still plans to race, despite having only two months to recover.
A Rivalry Is Renewed -- The Racer (two-time defending X Games Super X champ Josh Hansen) takes on The Freestylers (Nate Adams, Jeremy Stenberg, Ronnie Renner, Mat Rebeaud) in what's sure to be a heated contest.
Pastrana Lines Up, Sets Record -- If Pastrana makes it to the start, he will become the first athlete to compete in five events at one X Games and the only athlete to compete in eight disciplines at X. If he crosses the finish line first, he wins.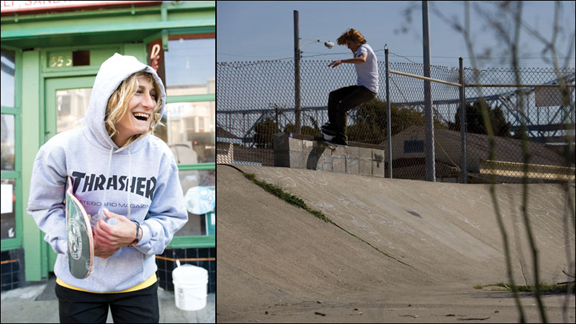 Gabe MorfordElissa Steamer looks for her fifth X Games gold medal this year.
ALSO WATCH
The only women's event televised live, Women's Skateboard Street, features the most progressive female skateboarders in the world. In the six years the event has been part of the Games, it has been won by only two women, four-time champ Elissa Steamer, and two-time defending champ Marisa Dal Santo. Both are back to take on a field of young up-and-comers including Leticia Buffoni, 17; Lacey Baker, 19; and Evie Bouilliart, 20.
Follow Alyssa Roenigk on Twitter: @ESPN_Alyssa
ALSO SEE

Everything you need to know about X Games 16.
---
Results
---
Daily Coverage
---
Photos
---
BMX Video Highlights
Moto X Video Highlights
Skateboarding Video Highlights
Rally Video Highlights
---
12 skaters. 12 videos. Their vision. Their way. All for X Games gold. This is Real Street.
A new medal event for X Games 16, Real Street is the first contest of its kind. Twelve of the top individual pros in street skating each filmed 60-second video parts on street terrain for X, and all 12 video parts aired on the final day of the X16 telecast. A panel of pros -- Pat Duffy, Ed Templeton, Jamie Thomas and Geoff Rowley -- chose the winning part and awarded $50,000 and an X Games gold medal to Nick Trapasso. You, the fans, picked Zered Bassett as the fan favorite.
---
X16 Previews
---
Past X Games
---
30 For 30 X Games Special
---
More Action Sports
Be sure to check out ESPN.com/Action for all the latest in Skateboarding, Surfing, Snowboarding, Freeskiing, FMX and BMX.
X Games home | Action Sports home
MORE ACTION SPORTS HEADLINES
MOST SENT STORIES ON ESPN.COM