Commentary
Part 6: Nitro City Panama
Travis Pastrana opens action sports-themed resort in Panama
Travis Pastrana has a busy summer ahead. By August, he will have brought his Nitro Circus Live show to the U.S., filmed for a 3-D movie full of first-time stunts, competed in Moto X Best Trick and RallyCross at X Games 17 and made his NASCAR debut in the Nationwide Series. And we'll have chronicled it all here, in a weekly(ish) column by Alyssa Roenigk, senior writer for ESPN The Magazine and author of The Big Jump: The Tao of Travis Pastrana. So much for a summer vacation. Or sleep.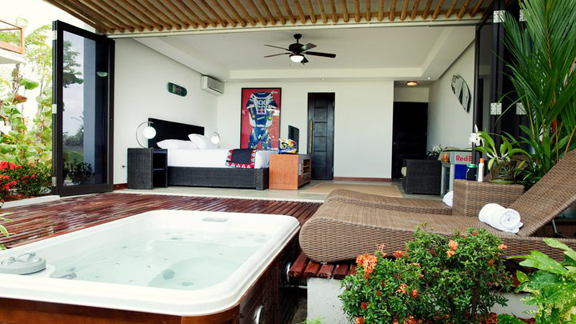 Nitro City PanamaNow action sports enthusiasts can relax at the beach (and skydive, ride dirt bikes and windsurf) at Nitro City Panama.
Question: Where do action sports enthusiasts go to relax?
Answer: Okay, that's a trick question. Action sports enthusiasts don't relax. But when they want to vacation, and maybe bring along someone who would like to relax, they now have a resort just for them: Nitro City Panama.
Yes, it's exactly what it sounds like: a resort hotel in Panama partially owned by Travis Pastrana that caters to people who want to get away, eat good food, stay by the beach ... but also skydive, windsurf and ride dirt bikes while they're there. The resort is located about an hour from Panama City, Panama, and opened to the public in June, but Pastrana and his friends have been testing it out for the past couple of months. The Nitro Circus crew even filmed a few stunts for its upcoming 3-D film on the property.
"Picture a resort on a peninsula that's an hour away from everything, quiet, with good food and normal girlfriend or wife stuff to do," Pastrana says. "But if you want to skydive or ride motocross or use the cable park, you can do that, too."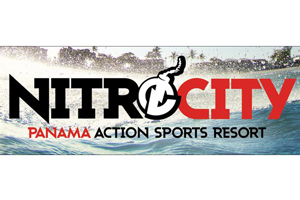 Nitro City PanamaPastrana has tested out the resort with his friends and is happy to offer the experience to new visitors.
The website lauds Nitro City as being the closest white, sandy beach to Panama City and having luxurious beachfront rooms, two restaurants and a bar, a waterfront pool with waterslide, a motocross track, an extreme water sports center and a cable park. Pets are welcome, too! So how did Pastrana come to own an extreme version of Club Med?
"Hayes, one of the top guys at Red Bull North America, was a barefoot skier, worked at Sea World and Sandals before Red Bull and was my first contact at the company," Pastrana says. "He wanted to open an action sports resort, a place for adults to play, and we started talking about it. When we go somewhere, most of us aren't going to lay on the beach. But it's hard to get a girlfriend to go somewhere that's all motocross tracks. So we have the best of both worlds."
Each room in Nitro City is themed with a different action sport and the year is broken up into four different sports seasons. So, Pastrana says, if it's "motocross season" at Nitro City, guests will be able to hit the motocross track (which is open year-round) and ride alongside pros like Chad Reed, who will have their stays at the resort comped in exchange for spending time there. "It's an interesting concept," Pastrana says. "It will be fun to see if it works out." And, if it doesn't, at least he's got a nice honeymoon location on lock.
ESPN The Magazine senior writer
Alyssa Roenigk is a senior writer for ESPN The Magazine and ESPN.com whose assignments covering action sports, Olympics and football have taken her to six continents and caused her to commit countless acts of recklessness. In 2012, she joined the X Games TV broadcast team and ordered additional pages for her passport. Follow her on Twitter at @espn_alyssa.
RELATED CONTENT
X Games 17 is a wrap. Here's what went down.
X Games 17 home »
X17 in Review
Photo Galleries
Skateboard
BMX

Moto X

Rally

X Games 17 on ESPN.com

Year-round X Games news and info

---
MOST SENT STORIES ON ESPN.COM