It's not often that the past walks up and fist bumps the future. But a few minutes after Wednesday's X Games Skate Park practice, that's exactly what happened. Still sweaty from his late afternoon session, last year's winner Pedro Barros was standing in the staging area outside Staples Center chatting with a member of the media. Out of the corner of his eye, he spotted Christian Hosoi walking by with his son. But it wasn't 16-year-old Barros who flinched when he saw Hosoi, one of the most iconic and influential skaters of all time. It was Hosoi who altered his path, offered a polite, "pardon the interruption," and held up his fist for Barros.
Skate Park Gallery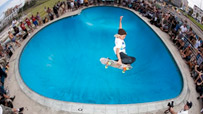 WIDTH="203" HEIGHT="114" BORDER="0" ALT="">
Meet the concrete killers in the Skateboard Park field. Gallery

"Looking good, kid," Hosoi said, and then continued on his way.
"It's amazing. I feel like I'm in a movie or a videogame," Barros said a few moments later. "I'd seen videos of those guys and got super hyped as a kid and it's so cool to see them and skate with them here." And while he is hesitant to say it, he could add, "and beat them, over and over again."
Last year, of the five riders to make the final in Skateboard Park -- the X Games name for an oversized all-concrete discipline similar to pool and bowl contests -- four were teenagers. Barros, a native of Florianopolis, Brazil, who was competing in his first X Games, won with huge, powerful tricks and also took fourth in Big Air, a discipline few kids his age have ever even tried. In the year since, he has won every contest he's entered except two and finished 2010 as the #1-ranked pool skater in the World Cup Skateboarding standings. Last weekend, he won the Bowl event at the first stop of the Dew Tour and took fourth in Vert. It is an understatement to say he is the favorite to win Thursday's contest.
Kevin Kowalski, a 19-year-old from Seal Rock, Oregon, took the bronze medal last year just a few months after graduating from high school and is one of only two skaters to beat Barros head-to-head in the past year. Curren Caples, now 15, finished fourth last year, but was one of the most exciting skaters to watch all week. His biggest mistake was having the energy of a 14-year-old and skating so much between contest runs that he wore himself out and fell when it mattered. "I won't do that this year," he says. So what is it about youth that has such an advantage in a discipline that seemingly favors experience, strength and man-sized nerve?
src="http://a.espncdn.com/i/story/design07/dropQuote.gif" />
They're not followers or trying to imitate anyone else's moves. They have their own flavor.
src="http://a.espncdn.com/i/story/design07/dropQuoteEnd.gif" />
--Christian Hosoi
"The big-name guys are getting older are wiser and don't want to take risks," Hosoi says. "I remember being that young kid who knew I could just spring back. The differences between those three guys are amazing, but what they all have in common is that they're pushing the boundaries of skateboarding. They skate every discipline, vert, pools, mega-ramp. And they are doing it without pads. I come from the pad generation and what they're doing takes a whole next level of confidence." Only one competitor, Andy MacDonald, wears a helmet and pads while competing in Park. But he turns 38 on Sunday.
When Caples was 10 years old, he says his dad, Evan, a former pro surfer, sat him down after a skate session one day. "'Time to take off the pads,'" he told me. 'You're done. The pads are coming off.'" From there, Caples began skating street without them, followed by vert ramps and pools, where the consequences were even higher. "I'm used to it now," he says. "You learn how to fall. I skate better with pads on, but when you learn tricks without them, it's another level. Now, when someone does a 540, they say it was a 'padless 540' instead of just a 540." That mentality means something on a course as big as this year's X Games course. So does individuality, something Hosoi says has been fading from the sport, until skaters like these three began showing up.
"They're not followers or trying to imitate anyone else's moves," he says. "They have their own flavor. When we started, there was such a small group of skaters and we were all different, but it was easy to be different. Now there are so many good skaters, it takes someone really special to stand out."
These three certainly do that. And their styles couldn't be more different.
Caples is the blonde-haired, tanned-faced surfer from Southern California known for his technical skating and flip tricks. Kowalski is the skinny jean-wearing rock star who floats around the course. And Barros is hard to categorize. He's built like an athlete, skates faster and bigger than his competitors and has the serious demeanor of a competitor, yet the ambivalent attitude of a laid-back Brazilian totally indifferent to the scene. "It's not about winning contests," he says. "It's not even about skating in contests. It's just about being here and skating." Last year, after winning the X Games, Barros gave his gold medal to his friend, Hawaiian surfer Kalani David, for a simple reason. "He wanted it," Barros says.
This year, though, he might keep his medal. Not that he cares if he wins.