Commentary
Forest Bailey wins Snowboard Street
Rookie shows up in time to beat out Nick Visconti, Ryan Paul
Originally Published:
January 26, 2012
By
Colin Bane
| XGames.com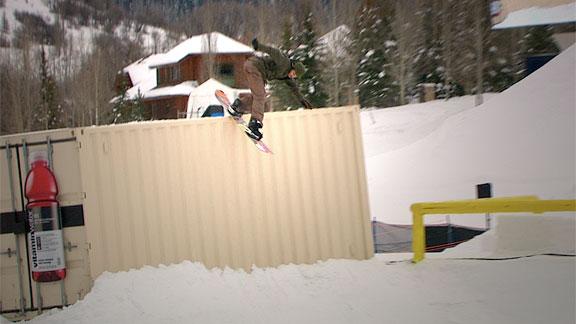 Snowboard Street Recap
Forest Bailey threw down on the cargo container and the rail to take gold.
Snowboard Street Recap
NEXT VIDEO
Snowboard Street Recap

Snowboard Street Recap

Forest Bailey threw down on the cargo container and the rail to take gold.

Gold Medal Recap: Forest Bailey

Gold Medal Recap: Forest Bailey

Forest Bailey talks about how he used the cargo container to secure the gold in Snowboard Street.
ASPEN, Colo. -- Winter X Games rookie Forest Bailey won gold in Snowboard Street at Winter X Games 2012 on Thursday, beating out Ryan Paul and Nick Visconti after making the most of street-inspired features like a metal cargo container, a concrete Jersey barrier, and a set of handrails and ledges.
"I definitely can't believe it," Bailey said, after Thursday's final. Bailey is better known for film parts than as a contest rider, and had a standout part in the Givin crew's 2011 film "One."
"I never thought I'd even come to X Games in my whole life, but I guess we're here and I guess gold will do," said Bailey.
Bailey lead after Round 1, making it into the five-man final with Paul, Visconti, Ethan Deiss, and Phil Jacques. His 270 to frontside on the cargo container was a highlight of the competition, and his win was doubly impressive becuase he missed practice on Wednesday and showed up on course just one hour before Thursday's elimination round. For the past two weeks he's been busy riding powder at Mount Baker in Washington.
"It was probably one of the best rail set-ups I've ever ridden," Bailey said. "It was mellow, not super gnarly or super scary, just really fun so everyone could throw down their best tricks. It was weird coming from Baker, where no one was around, to this kind of crowd. Everyone was killing it. It was a great contest."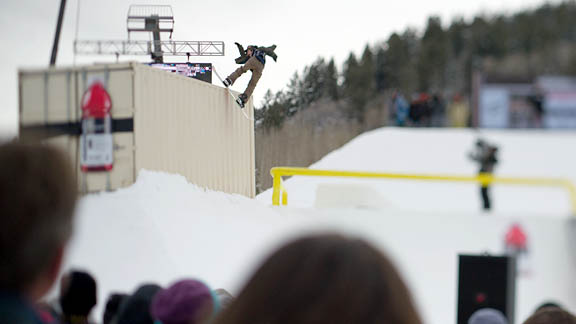 Mark Kohlman/ESPNForest Bailey had a dream performance Thursday in the Snowboard Street final.
Paul had the most surprising tricks of the day, with a 270 on the Jersey barrier to 450 out and a gap to 50-50 on the down-flat ledge feature to wildcat backflip out. As the last seconds of the finals jam session wound down, he stepped it up with a Cab 180 to 50-50 on the ledge to backside rodeo out.
"I have a trampoline and when I wake up every morning I just backflip over and over again," Paul explained, after the competition.
Visconti spent most of the finals jam terrorizing the rails with tricks like a switch hardway frontside 270 on the down rail, a 270 onto a curved C-rail, and frontside 50-50 to 180 out on the cargo container.
"Forest's style is unmatched and it was rad just to watch him out there snowboarding today," Visconti said. "Yesterday, while we were all out here in practice, Forest was out getting after it in the powder. He's a true snowboarder and he deserved the win today."
Check out full results from the Snowboard Street finals.
Colin Bane writes for ESPN.com Action Sports.
ALSO SEE

Winter X Games is a wrap in Aspen, Colo. Here's what went down. WX 2012 home » Winter X blog »
---
Winter X Games Aspen 2012
---
Winter X Games Aspen 2012 Recaps
Remembering Sarah Burke
---
Winter X Games Tignes
---
Year-round X Games news and info