Follow-cam man
Talking with a Winter X Games Tignes follow cameraman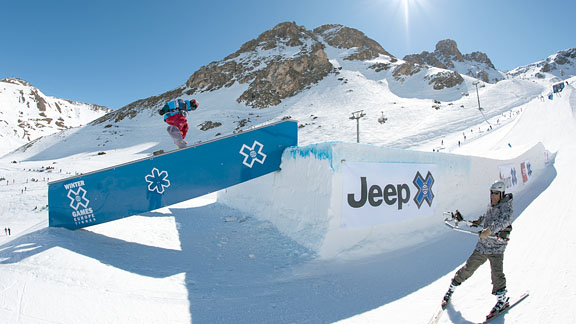 Brett Wilhelm/ESPNA follow cameraman chasing an athlete down the Slopestyle course at WX Tignes.
When you watch the Winter X Games, your eyes are on the athletes, so you may not notice them. But trust us, they're important.
They are the follow-cam skiers. And at Winter X Tignes this week in France, there is a crew of six of them, chasing skiers and snowboarders down the SuperPipe and Slopestyle courses to capture the point-of-view footage that brings the televised broadcast to life. We spoke to follow cameramen Reid Nelson and Bo McWilliams about one of the best jobs on skis.
I'm a skier first ... for 30 years. I was a photo minor in college and learned TV basics. I skied 20 years for more than 100 days per year, including many years of competition. -BM
Besides X Games, I also shoot Colorado Rockies games, ESPN college football, NFL, NBA, tennis, volleyball and World Cup Skiing. -BM
Most of the riders are awesome. Fortunately, we haven't had any collisions with the riders. Safety and noninterference are our No. 1 priority. -RN
I've wrecked some nice gear, but not much. -RN
I have misguided a drop off or two. It usually happens when I'm too focused on my framing and I get slightly lost on the course. Then my timing is bad. That usually results in me sailing off the knuckle and launching down the landing hill. If you're out of position in the air, you're doomed. -RN
Good wax, a good ski tune and a high level of skiing skills are important. A racing background helps. -RN
I bring a collection of iron-on and rub-on wax and at least three temperature ranges. We pre-wax at night for the next day and then rub on to adjust during the event. I ski in mountaineering boots because they are easy to walk around in when we're working on the course. -RN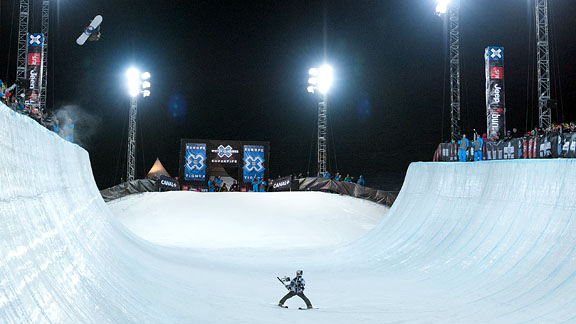 Brett Wilhelm/ESPNIt's all about having the right wax on your skis, the follow-cam guys say.
I try to memorize the course so I don't have to look at it too much. Keeping the framing right even when my body is out of position is one of the most difficult things to do. I can tolerate looking awkward on my skis, but the pictures must be perfect. -RN
Helmet cameras have a totally different look than what we're using. Both perspectives are unique but a follow cam is more like a cable camera -- it can be used live. -RN
My favorite athletes to film? Simon Dumont, Chas Guldemond, Bobby Brown, Eric Willet and most of the top-ranked riders, because they have mad skills and great flow. They have a higher level of concentration and confidence and are less bothered by follow cams. -RN
I wish I had more time to freeski. Early in the year, I focus on GS and Super G skills for pure speed. I will hit the park some. Bump skiing is great for quickness and endurance. And I love to ski deep backcountry pow. -RN
Have there ever been any women or snowboarders on the crew? No ... -BM
The follow-cam guys, we all respect each other. But nobody is safe from getting the hook and being pulled from a few runs when their performance isn't top-notch. -RN
How do you get into the biz? Someone has to die! We're grandfathered in, luckily ... -BM
WINTER X GAMES TIGNES 2012

Winter X Games Tignes just wrapped up in France. Here's what you missed.
Winter X Tignes home » Winter X Blog »
---
Winter X Tignes 2012
---
Winter X Tignes 2012 Full Results
---
Winter X Games Aspen 2012
---
Winter X Games Europe 2011
---
Year-round X Games news and info
MOST SENT STORIES ON ESPN.COM