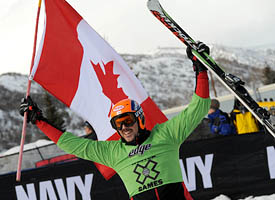 Joshua Duplechian
Here at Buttermilk Mountain, the proper name may be SkierX, but these days might as well be called the Daron Rahlves Power Hour for all the attention afforded the US alpine great. Not Sunday afternoon.
"It kind of spoil's ESPN's show here, doesn't it?" Canada's Stanley Hayer asked with a smile.
Sure, but don't worry about us. Big corporations are folding left and right, there are family folk on the payroll with doe-eyed children who need shoes& but we'll be fine, right?
I kid. Hayer, who won silver in '08, earned every prong on his snowflake shaped hardware, overcoming snowfall that turned the course into a leg burning Bataan Death March. (During the first quarterfinal run, ESPN's crack course photog Josh Duplechian heard nothing but unprintables from the racers. "It looked like a Nordic Track course." Hayer was quick out of the gate in all three of his runs and managed to avoid the trouble that eliminated many of his competitors, including Rahlves in the Final.
Still, Hayer almost ran out of real estate. Coming over the final hit, Japan's Hiroomi Takizawa and Switzerland's Andreas Steffen were closing fast. "I skated down the last pitch, and if I hadn't I don't think I'd have won. They'd have passed me on both sides. I was fast, fast, fast, and I got to those last turns and my skis died," Hayer said.
Rahlves cruised through the quarter and semi-final rounds, and looked good coming out of the first turn and seemed content to draft behind the 6'4" Hayer, but then Steffen stole the draft and later Rahlves was rubbed out as racers lobbied for position further down the course. "I was going to pull into Hayer, pass him, and then walk away. I had good momentum camped next to him, got by him, and then I couldn't go. The skis weren't running," he said. As for the contact, Rahlves called it "part of the fun. But that last bit blew it for me."
All part of Rahlves' continuing education in the world of ski cross. "He's earned the reputation of not being the cleanest ski crosser. Daron complains when someone cuts his line, but he does the same thing. It's just a matter of racing enough," Hayer said. "You can't just force your way in, which Daron does sometimes. He's getting better for sure, but he's also using his arms a lot more."
The grind of ski cross catches up with everyone, Hayer notes. "It's been a year out of Alpine for him and you can tell. He's starting to lose his touch a bit. Give him a couple more years, and he'll start looking like us. He's gonna start skiing like a wacko with knocked knees."