Five nuggets of knowledge about Week 16:
Help wanted: The defending champion Pittsburgh Steelers (7-7) aim to keep their playoff hopes alive in a rivalry game against the Baltimore Ravens (8-6). Pittsburgh needs a lot of help and victories over Baltimore and the Miami Dolphins (7-7) in the final two weeks to have a chance at the wild card. Beating the Ravens won't be easy. They are playing their best football of the season, outscoring their last two opponents 79-10. The Ravens also won the previous meeting against Pittsburgh, 20-17 in overtime on Nov. 29.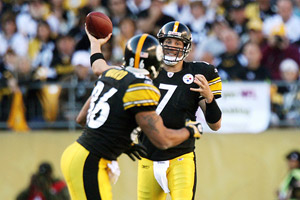 Jason Bridge-US PRESSWIRE
Pittsburgh quarterback Ben Roethlisberger is coming off a career-best performance last week against Green Bay.
Secondary issues: Pittsburgh's best shot at victory Sunday is to attack Baltimore's ailing secondary. Rookie cornerback Lardarius Webb (knee) is out for the season. Pro Bowl safety Ed Reed (groin, foot) has missed the past three games, so his status is up in the air, and former starter Fabian Washington (knee) was put on injured reserve last month. It also helps the Steelers that quarterback Ben Roethlisberger is on fire. He threw for a career-high 503 yards last week in a victory over the Green Bay Packers.
Holmgren is watching: This will be an interesting two weeks for the Cleveland Browns now that Mike Holmgren is the team's president. Holmgren has a lot of work to do to fix the Browns (3-11). That's why he will be watching the final two games closely to get a feel for players and coaches he wants to keep in 2010. With new leadership, Cleveland's stretch run has become a team-wide audition.
Frye returns: An interesting subplot when the Oakland Raiders visit Cleveland on Sunday is the return of former Browns quarterback Charlie Frye. He was a third-round pick in 2005 and once considered the future of the franchise. But things didn't pan out for Frye in Cleveland, and he spent the rest of his Browns career as a backup. Frye is getting another chance to start with the injury to Bruce Gradkowski (knee) and poor play of former No. 1 overall pick JaMarcus Russell.
Time to clinch: The Cincinnati Bengals (9-5) can do themselves a favor by ending a two-game skid and beating the lowly Kansas City Chiefs (3-11). A win at home would clinch a playoff berth and the AFC North title. That would be a big relief for the Bengals heading into Week 17. A loss Sunday could create a scenario where Cincinnati has to beat the New York Jets (7-7) on the road to clinch.