Hawks' third period woes continue
January, 15, 2011
1/15/11
10:58
PM CT

By Jesse Rogers
ESPNChicago.com
Archive
Maybe when the Chicago Blackhawks play at home they can have the scorekeeper put a "2" on the scoreboard when they take the ice for the final 20 minutes. Third periods have been that rough.
The season-long problem reared its ugly head again in Nashville on Saturday night when the Hawks gave up a 2-0 third period lead, only to lose the game, 3-2, in a shootout.
[+] Enlarge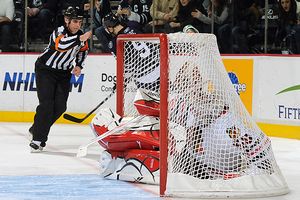 John Russell/NHLI via Getty ImagesCorey Crawford's impressive shutout streak ended Saturday night.
Corey Crawford
probably deserved a better fate after going 176:09 without giving up a goal. He was about a half-period away from a third consecutive shutout before things fell apart.
"We had them right where we wanted them," Joel Quenneville said on Comcast SportsNet after the game.
The Hawks have regained the NHL lead (53) for goals given up in the third period. That doesn't sound like a championship type statistic, does it?
It would be one thing if the Hawks were a below .500 team that gave up games in many different ways at different times. Saturday illustrated as good as any contest this season the contradiction in play from the first 40 minutes to the final 20.
They got better as the first two periods went along, outshooting the Predators 23 to just 12. And the scoring chances had at least that kind of ratio in favor of the Hawks. But it all changed in the third period.
They were outshot 13-7 and were caught scrambling in their own zone, which led to the Predators tying the game.
"They got a little life off their goal and the building got loud," Quenneville said. "They had a good third period. We should have nailed it."
"Nailed it" is a phrase Quenneville has used before in describing what has or has not happened in third periods this season. It's a general term but it says a lot.
The Hawks are simply not bearing down and it doesn't make a lot of sense. They are far from an arrogant team that thinks any lead is safe. This isn't October or November when those thoughts could have made sense. They are in a season-long dogfight for the playoffs.
"That was a good opportunity for us," Quenneville said. "You know they are going to have their turn at some point in the game and they did."
Having a "turn" is one thing, giving up the game is another. Including the four overtime losses, it's the 16th time this season the Hawks have been tied in the third period and not won the game. It's hard to imagine these points not coming into play later in the season.
The team's biggest regret would be if results like Saturday's cost the Hawks a return trip to the playoffs. It's still a real possibility.
Slappers
• Jonathan Toews had one of his worst nights in the circle, winning just three of 11 faceoffs. He lost a crucial third period draw that led to the tying goal. The Hawks won 44 percent of their draws as a team.
• Corey Crawford's scoreless streak of 176:09 is the third longest in team history and longest since Tony Esposito had 192:29 in 1972.