December, 4, 2013
Dec 4
11:21
AM CT
CHICAGO --
Derrick Rose
's latest injury may have closed the
Chicago Bulls
' championship window this season, but GM Gar Forman does not believe the window is closed for good.

"From a long-term perspective, we still feel like we're in a really good place," Forman said Tuesday on "The Waddle & Slvy Show" on ESPN Chicago 1000. "I say that because we still feel we've got good players that are in their 20s in
Taj [Gibson]
,
Joakim [Noah]
,
Jimmy [Butler]
and
Tony [Snell]
, who we're really high on and is playing well. We've got a Charlotte pick coming [from the Tyrus Thomas trade in 2010]. We've got all our picks into the future.
[Nikola] Mirotic
at some point in the future. And then we will have a level of flexibility that we haven't had under this new CBA because we had a lot of contracts from this previous CBA that put us in a spot where there wasn't a lot of financial flexibility.
"So, long term, there's not a whole lot that changes. We already ... we've planned out some moves that we think we need to make and want to make going forward, and that's something we'll continue to evaluate as far as building this team to what our ultimate goal is -- to compete for a championship year in and year out."
As it pertains to Mirotic, Forman and the Bulls are still confident that the European star will be able to come over to the NBA next summer, but the process to get him out of his current deal is complicated.
"He's still under contract there [with Real Madrid]," Forman said. "But we've talked about once a guy is three years out from his draft class, then he's no longer restricted to the rookie-scale contract for the slot that he was picked. So that begins this summer, which means our hope is we'll be able to have dialogue this summer with the possibility of getting him over."
Cautious with Butler
: Butler still has not practiced while he recovers from turf toe, and Forman made it seem like he would continue to be out at least a few more days.
"We'll be conservative with his rehab," Forman said. "So far, he's making good progress. There hasn't been any setbacks. I think if we brought him back too early, it could be something that could linger. But there was nothing structurally wrong. It's turf toe, which is basically a sprain. So the big thing was getting the swelling out and now getting the mobility back and the strength back. It still is a week-to-week process, but he's making good progress."
The last word
: Tom Thibodeau, before Tuesday's game, on the progression of Snell:
"I think he's done a really good job, actually, from the point that we drafted him. He worked extremely hard all summer. He did a good job in the preseason, and even when he wasn't playing he was practicing well and he was really preparing himself to play. So, usually what happens with those guys when they work like that, and they prepare themselves that way, when the opportunity does roll around, they're usually ready for it, and he's done that. And he's not satisfied. Each day he comes in, he tries to improve. When he makes a mistake, he tries to correct it and not repeat the same mistake twice. He's done a good job for us."
December, 4, 2013
Dec 4
2:00
AM CT
ESPN.com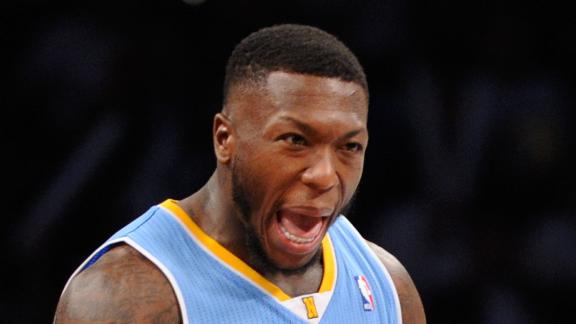 What are your team's chances of making the playoffs? Hollinger's Playoff Odds have the answer. How do our writers see things shaping up?
1. Fact or Fiction: The Pacers will finish with the NBA's best record.
Tom Haberstroh, ESPN.com: Fiction. Yes, the Indiana Pacers have jumped out to the league's best record but I don't see that lasting a full season. Why? This is pretty much the best-case scenario right now. Most of their key players are healthy and have made big strides since last season. I'm guessing "regression to the mean" rears its ugly head at some point and a Western powerhouse prevails after 82 games.
Curtis Harris, Hardwood Paroxysm: Fiction. The Pacers have the inside track on the best record. However, the Heat, Spurs and Thunder are nipping at their heels, so it's a little much to guarantee Indiana finishes first.
James Herbert, Hardwood Paroxysm: Fact. The Pacers are consumed by the chase for the No. 1 seed in the East -- if there's a Game 7 in the Eastern Conference finals this season, they desperately want it to be on their court. Their dominant defense will keep them consistent, and the Spurs have a tougher schedule by virtue of being in the West.
Andrew Lynch, Daily Dime Live: Fact. The key for Indiana is its consistency. Night in and night out, you know what you're getting with the Pacers, particularly on the defensive end. Their defense simply doesn't take nights off. The same can be said for San Antonio this year, but facing weaker competition in the Eastern Conference should be enough to propel Indiana to the top record in the league.
December, 3, 2013
Dec 3
4:47
PM CT
CHICAGO -- General manager Gar Forman is still hopeful the
Chicago Bulls
can work out an extension with
Luol Deng
.
"We value Luol a lot," Forman said on "The Waddle & Silvy Show" Tuesday on ESPN Chicago 1000. "And Luol is a big piece of the success we've had the last several years though we haven't gotten to our ultimate goal. We think Luol is going to continue to be a big piece, a big part of what we're doing. I know a lot was said about that we couldn't come to an extension last summer but if you guys really study the NBA, especially since this new CBA -- going into the CBA and since the new CBA has been in effect, it's very, very rare that extensions get done so the fact that one didn't get done was not an indicator of where we're at with Luol at all."
Deng, who is in the final year of his contract, couldn't get an extension worked out last summer. He told ESPN.com's Chris Broussard earlier this year that he would like to retire as a Bull but his name has surfaced as a possible trade target given the fact that the Bulls' championship aspirations evaporated when
Derrick Rose
went down with another knee injury.

"Lu is valued here and continues to be a big part of what we're doing," Forman said. "Obviously once we get into the offseason we're going to have to sit down with Luol and have to come to terms on another contract, but Luol is a big piece of what we're doing, and he has been, and our feeling is he'll continue to be."
Forman acknowledged that teams have been calling about some of the Bulls' pieces after Rose went down.
"The phone's ringing," Forman said. "And that's other front offices' jobs and our job to stay in touch with people and get a feel for what the market is and get a feel for who may be available and what teams are trying to do. Just like in any sport, there's buyers and there's sellers, so [we're] just trying to get a feel for what's going on out there. But I wouldn't say a whole lot more than usual."
December, 3, 2013
Dec 3
2:23
PM CT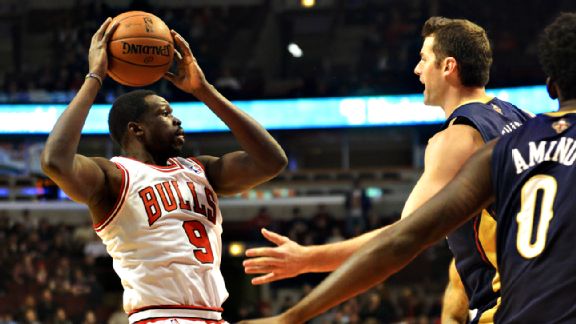 Matt Marton/USA TODAY SportsLuol Deng is averaging 27.4 points over the past five games.
Luol Deng
can't play much better than he has over the past week, averaging 27.4 points, 6 rebounds and 6.2 assists a game over his last five contests. That's why there is no better time for the Bulls than the present to deal Deng as fast as they can and get back the best offer possible.
As Bulls general manager Gar Forman and executive vice president
John Paxson
watched their team lose a 131-128 triple overtime affair to the
New Orleans Pelicans
on Monday night, two things should have been clear to them. First, the Bulls, no matter which players are on the floor, still play with plenty of heart without
Derrick Rose
. Secondly, and most importantly in the short term, the Bulls must deal Deng sooner rather than later.
This team's championship aspirations disappeared this season when Rose went down, so why hang on to Deng now in the final year of his deal? It would be one thing if the Bulls still had hopes to re-sign him in the future, but it's become apparent that Deng doesn't want to give the organization a "hometown discount" and the Bulls don't want to pay Deng anywhere close to the $14 million he's making this season.
With that in mind, the Bulls run the risk of getting nothing in return for Deng if he were to get injured. That should be even more apparent to Forman and Paxson after watching Deng play almost 56 minutes on Monday night.
December, 3, 2013
Dec 3
11:32
AM CT
[+] Enlarge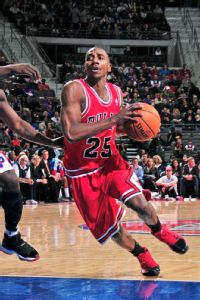 D. Williams/Einstein/NBAE via Getty ImagesMarquis Teague hasn't been able to crack the rotation even with Derrick Rose lost for the season.
Editor's note:
After being sent to the D-League earlier in the day,
Marquis Teague
was recalled by the
Chicago Bulls
after veteran backup
Mike James
underwent an MRI on a knee injury, according to a league source. James is expected to miss a week or two, allowing Teague another chance to play himself into coach Tom Thibodeau's good graces. The Chicago Tribune earlier reported news of Teague's recall.
CHICAGO -- The Chicago Bulls announced Tuesday that they have assigned second-year guard Marquis Teague to Iowa Energy, their affiliate team in the NBA Development League.
The move comes as somewhat of a surprise given how many times Bulls coach Tom Thibodeau has said over the years that he prefers for his players to stay in the NBA and practice with his team rather than go to the D-League. Teague, who was the 29th pick in the 2012 NBA draft, had fallen out of Thibodeau's rotation over the weekend as veteran
Mike James
took his spot backing up
Kirk Hinrich
.
"I think we knew when we drafted him he was a 19-year-old kid," Bulls general manager Gar Forman said Tuesday on "The Waddle & Silvy Show" on ESPN Chicago 1000. "He's 20 now. And I think we've seen potential; he's a talented kid, he had a really good summer. I thought he did some good things in the preseason. There hasn't been a lot of time for him. Tom and I discussed it and John (Paxson) over the weekend. And our thought was let's get him to our D-League affiliate and give him some time on the floor. But in our minds, it's not a long-term thing. And it's something we may do several times throughout the season. Send him down for a game or two, or three to get some time and then bring him back. But we still think there's a lot of potential there and we just want to see him continue to grow as a player."
When
Derrick Rose
went down with a torn medial meniscus in his right knee on Nov. 22, many believed Teague would assume the backup role behind Hinrich. Problem is, Teague struggled badly and looked uncomfortable running the offense. He is averaging 1.2 points per game this season.
Teague remains on the Bulls' roster during his stint with the Energy, but since the Bulls started the season with just 13 players on the roster, the organization could decide to sign another player or two and put one of them on the active roster.
The Bulls have to decide whether they want to pay the luxury tax in a season in which their championship aspirations disappeared when Rose went down.
December, 3, 2013
Dec 3
10:40
AM CT
ESPN.com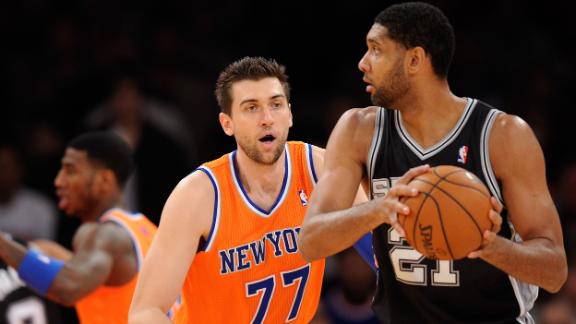 Only three teams in the Eastern Conference have a .500 record or better compared to 12 teams out West. Why is the East struggling so badly? Our 5-on-5 team weighs in.
1. What's the worst thing about the East?
Kevin Arnovitz, ESPN.com: Aside from the weather, the absence of star power once you get past Miami and Indiana. Most of the teams out East are engaged in teardowns and compensating for deep flaws. We're not watching exhibitions of elite NBA ball; we're watching a disaster relief effort.
James Herbert, Hardwood Paroxysm: It doesn't look like this will change in a meaningful way. With Derrick Rose gone for the season, the only team that has the talent to make a series against the Pacers or Heat interesting is the Nets. And the Nets look like a disaster.
Danny Nowell, TrueHoop Network: The bitter disappointment. Many of these teams fancied themselves contenders, and what a bummer that's turned out to be. Everywhere you look, you see the wreckage of misplaced hope: Andrew Bynum and Cleveland's depressing season, the high-priced calamities in New York ... the list could go on.
Kevin Pelton, ESPN Insider: The fact that even the teams that loaded up this summer to try to win haven't been able to do so. For all the talk of tanking, the bottom four teams in the East, including both New York squads, were teams that expected to make the playoffs or better.
December, 3, 2013
Dec 3
10:00
AM CT
CHICAGO -- Monty Williams learned firsthand this summer just what kind of basketball life Tom Thibodeau leads.
As has so often been the tale throughout Thibodeau's rise to prominence with the
Chicago Bulls
over the past four seasons, Williams couldn't help but smile while reminiscing about his time around Thibodeau last summer in Las Vegas with Team USA.
"Really cool," said Williams, the head coach of the
New Orleans Pelicans
and an assistant with Thibodeau for Mike Krzyzewski's Team USA staff. "I learned a lot just being with him every day for a week. Just talking basketball, family, some of the people he knows that I know, and just listening to the way he goes about his business, for me, was beneficial."
There was one particular encounter with Thibodeau that stuck out in Williams' mind.
"We had to compete against each other in the blue-and-white game," Williams said. "And he snuck a trade in on me the day before the game. Thibs is a slick dude, man. He caught me in the hallway in the hotel in Vegas. I'm just trying to get to my room and get away from all that stuff, and he comes up to me with a trade and I'm like, 'OK, Thibs. Whatever, man. I want to get to my family upstairs.' He got me, but I learned a lot from him.
"And I'm sure we're going to become even closer as the years go on."
As for Thibodeau's plight with the hard-luck Bulls, Williams can empathize with what his counterpart is going through.
"We know better than anybody what injuries can do to your team," Williams said. "You just got to figure out ways to put guys on the floor to help your team compete. I just remind guys all the time: It's the NBA. Nothing's changed from that standpoint. Guys have to step up.
"All the guys that wanted more playing time, they're going to get it. So they got to back up all that stuff they've been talking or thinking. That's the nature of the NBA."
Don't expect to see Butler yet:
Jimmy Butler
has been out for two weeks now because of turf toe, and Thibodeau doesn't sound optimistic about his return in the next couple of days. He said Butler still hasn't practiced and is just able to take some shots. With the recent solid play of rookie
Tony Snell
, Thibodeau is going to have a decision to make whenever Butler is ready on whether to put him back into the starting lineup.
"I'm just concerned Jimmy's been out a long time," Thibodeau said. "So when you miss a lot of time, it's hard to come back."
The last word:
Mike Dunleavy
on the recent Bulls' woes, having lost six of their past seven games.
"We're finding a good rhythm; we're doing well. We're really unselfish offensively. Defensively, we're doing a pretty good job protecting the paint and rebounding, for the most part. Our Achilles' heel right now is the 3-point shot. We're just giving up so many 3s at such a high clip, that's really been our downfall. That's what got us tonight. We had some untimely -- and in their case timely -- 3s that were too much to overcome."
December, 3, 2013
Dec 3
1:09
AM CT
CHICAGO -- The
Chicago Bulls
' locker room looked and sounded exactly the way fans would expect it to after a gut-wrenching 131-128 triple overtime loss to the
New Orleans Pelicans
late Monday night:
Some players sat in their chairs in silence, others spouted expletives and a few others quietly walked back and forth between the shower and the cold tub with looks of depression written all over their faces.
[+] Enlarge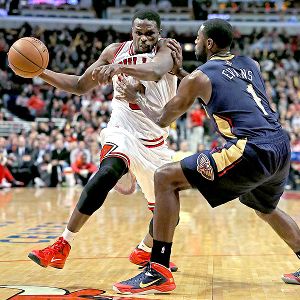 Jonathan Daniel/Getty ImagesLuol Deng must continue to acclimate to the role of closer for a Bulls team with missing parts.
Bulls assistant trainer Jeff Tanaka walked out to pay the ball boys some cash for their night's work and couldn't help but feel sorry for the young men.
"Sorry you don't get paid for the extra sessions," he said.
Monday's game encapsulated the entire Bulls' season to date. This team has plenty of heart and hustle, but it's missing too much talent to close out games.
Whether it's making a shot down the stretch or finding a way to come up with a big stop, the Bulls are instead finding ways to lose games.
"Obviously it's tough," guard
Mike Dunleavy
said. "But it's nothing new, unfortunately. Whether it's triple overtime, single overtime, last-second plays, we've kind of gone through it all thus far.
"It's not going to change our approach. We're going to bounce back, and we've got one coming up on Thursday. And we don't know any better. That's the only thing we know is just to get over it and come back and try and get the next one."
The Bulls are not going to stop fighting under coach Tom Thibodeau. They haven't thrown in the towel on the season, despite the fact that so many different things have gone the wrong way.
The problem for the Bulls is that they don't have that one game-changing player who can close games for them like
Derrick Rose
did.
As solid as
Luol Deng
is -- and he was great on Monday to the tune of 37 points, eight rebounds and seven assists in almost 56 minutes -- he still doesn't have the type of game that can push his team over the hump late. He admitted he is still getting used to trying to fill the role that Rose played as late-game savior, and that was evidenced by his seven turnovers Monday.
"I'm fine with it," Deng said. "I got to make smart plays. I think I'll get better with it. It's something that lately we've been going down to the wire. We're going to be in that position a lot more. And every time I'm in that situation, I try to make the best out of it but at the same time learn from it. And next time try to really make a better play. And try to be smarter and get us a good look.
"Whether I miss or not or someone else gets the shot, as long as it's the best look out there."
The problem for the Bulls is that they aren't getting the best looks. They don't know where to turn down the stretch -- a problem compounded by the fact that they continue to give up head-scratching baskets in the most inopportune times.
Jrue Holiday
's driving layup with a couple of seconds left was the latest in some jaw-dropping miscues for a team that prides itself on its defense.
"We definitely have to get better executing down the stretch," Bulls center
Joakim Noah
said. "But it's definitely a different team. We don't have Derrick. We don't have Nate [Robinson]. So other guys have to step up."
For now, Deng knows he must continue to learn how to be the kind of player he has rarely been asked to be during his nine-year tenure in Chicago -- a closer. It's a role he's starting to accept and one he knows he will continue to fill as long as he stays with the Bulls this year.
"I think we just got to expect it," Deng said of all the close games the Bulls have been playing. "You can't go into a game thinking you're going to blow out teams. I think having Derrick and having
Jimmy [Butler]
, we're able to do that. I think when Jimmy comes back ... we'll be a better team.
"But as of right now every game we go to we got to expect that it's going to go to the wire and be mentally ready for that."
December, 2, 2013
Dec 2
10:39
PM CT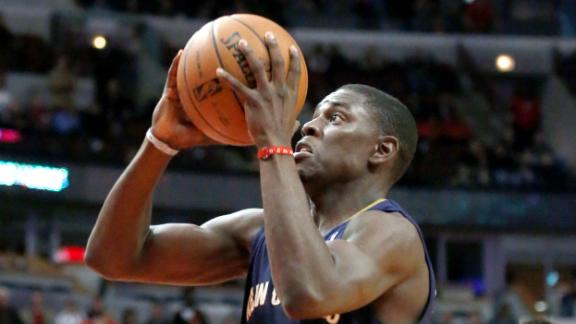 CHICAGO -- Let's take a quick look at how the
New Orleans Pelicans
pulled out a 131-128 triple-overtime win over the
Chicago Bulls
Monday night at the United Center:
How it happened:
Ryan Anderson
led the Pelicans with 36 points, while
Eric Gordon
added 23 points as New Orleans made one more big play than the Bulls when it mattered most.
Luol Deng
played another all-around great game for the Bulls, scoring a game-high 37 points, pulling down 8 rebounds and dishing out 7 assists in 56 minutes. Less than a week after setting a career high in points,
Taj Gibson
set another one with 26. He also had 14 rebounds.
What it means:
Deng and Gibson played very well in this game, but the Bulls' biggest problem remains the same -- they don't have a closer to go to down the stretch without
Derrick Rose
on the floor. When the Bulls needed a big shot at the end of regulation and in the overtimes, they didn't have anywhere to turn and allowed the Pelicans to make plays. The Bulls have plenty of heart under Tom Thibodeau; they just don't have enough talent to close out games without Rose. They also had a bad defensive breakdown that allowed
Jrue Holiday
to get to the rim to score the winning basket.
Stats of the night:
The Bulls shot 59 percent from the field in the first half -- and still lost.
Joakim Noah
,
Kirk Hinrich
and Deng combined to play 159 minutes.
Hits:
Mike Dunleavy Jr
. had a big game off the bench, scoring 23 points.
Misses:
Hinrich was just 4-for-15 from the field.
What's next:
The Bulls have a couple days off before facing off against the
Miami Heat
on Thursday night.
December, 2, 2013
Dec 2
4:32
PM CT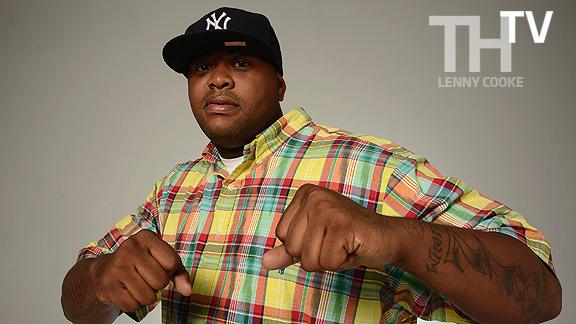 CHICAGO -- Back when Lenny Cooke was Lenny Cooke, Joakim Noah was his biggest fan.
Cooke was just a teenager, but to a young, gawky French kid who had just moved to New York City, he was Noah's Michael Jordan.
"This guy was my hero," Noah said.
As that skinny benchwarmer on Cooke's AAU team, Noah had the best seat in the house for a truly American story. He watched the story again Sunday night with more than 200 other people at a viewing of the long-delayed "Lenny Cooke" documentary at the Gene Siskel Film Center.
If you're a basketball fan of a certain age, you remember that back in the early 2000s, the wiry, 6-foot-6 Cooke was hyped to be something like the next Kobe Bryant.
After going undrafted in 2002, he wound up being New York City's successor to Chicago's Ronnie Fields, the fallen Farragut Academy star; a "Where Are They Now?" candidate with no happy ending.
Now that his movie is out, Cooke is a bleak update to Fly Williams in Rick Telander's "Heaven is a Playground" and Arthur Agee and William Gates in the immortal film "Hoop Dreams."
The movie is a sobering look at the life of Cooke, from his teens to his 30s. It is occasionally funny, often infuriating. Movie producer Adam Shopkorn and his camera followed Cooke early on as he became famous, and then after a long hiatus, caught back up with him as an unemployed adult full of ruminations.
As Hemingway once wrote, Cooke's dream died, "gradually and then suddenly."
Noah's basketball dream was realized much the same way.
December, 2, 2013
Dec 2
1:06
PM CT
He was once ranked ahead of LeBron James and Carmelo Anthony, but now he's off the NBA radar entirely. What happened to Lenny Cooke?