Quade reserving judgment on Cubs' D
March, 1, 2011
3/01/11
6:20
PM CT
The Cubs have made nine errors in the first three games of spring training, but that fact hasn't upset Cubs manager Mike Quade the way it would during the regular season.
[+] Enlarge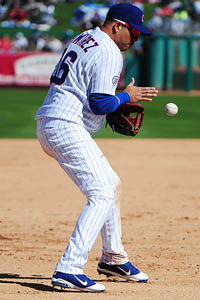 Kyle Terada/US PresswireAramis Ramirez has yet to make an error in spring training, but seven other Cubs have.
"I'm trying to stay true to my word," Quade said before the Cubs made three errors in Tuesday's 3-2 win over the Giants. "I'm going to watch the guys play for a week. I want to watch and see. I always thought that was the best way to approach guys, if you're going to make adjustments and corrections. We'll let them show us for a week and see where it goes.
"If I start raising hell after Game 1, first of all it goes against who I am, and I don't know if you can lose 60 guys at once, but it's possible."
The team's early struggle on defense have been wide spread. Tyler Colvin and Blake DeWitt each have committed two errors. While Jeff Baker, Starlin Castro, Carlos Pena, Bobby Scales and Andrew Cashner have one error each.
"Pitching and defense is going to win you championships," Cubs pitcher Ryan Dempster said. "That's when [we] as pitchers have to do our job, and we can only do our job. The rest is let the chips fall when they fall."
Dempster joked about the possibility of Quade getting angry early in spring training and starting to hand out reprimands for errors.
"Quade said he's going to start cutting off fingers one at a time for every error a finger is cut off," Dempster said. "So they better start making plays, or they won't have a glove hand."